Graham Reid | | 2 min read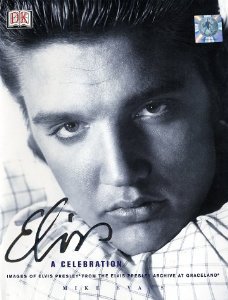 In a recent interview with Elsewhere, Memphis author Robert Gordon, who has often written on Elvis Presley, had a smart rejoinder when asked if the King might not become like Marilyn Monroe, an icon better known for his image than what he did.
"Well, Marilyn Monroe didn't have the Sun sessions," he said, referring to those classic rock'n'roll sessions of '54.
But Gordon also noted it wasn't just the sound of Presley that has ensured his longevity. "He was a startling handsome man."

It is that Presley which is captured in a fat hardback Elvis: A Celebration, a chronological collection of photographs compiled from the archives at Graceland by Mike Evans.

From the 6-year-old child in striped pants outside the family shack in Tupelo, Mississippi, to reproductions of the American postage stamps issued in 1993, 16 years after his death, here is the life of the man Q magazine last month said "invented sex".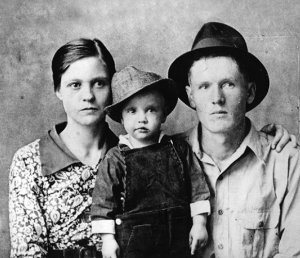 Images of the child with his family recall the painting American Gothic - a grim intensity fed by failed dreams is visible in the faces of his parents.
Then the boy emerges as a teenager with hooded eyes, greased hair and sideburns like the truck driver he would briefly become.

Before those seminal Sun sessions you can see the rock'n'roll animal being formed: a panther-like stillness, penetrating eyes and a sense of self-possession that is almost palpable.

Then the music kicks in and we see him with the sensual sneer, signing autographs, and posing with his rock'n'roll contemporary Bill Haley who looks like an uncle from an earlier generation alongside the poised and youthful Presley.

And so the pages and years roll by in posed studio shots, the army year, movie stills, marriage, with Richard Nixon and so on.

This being authorised by the estate, it is hardly surprising the final few years - the decline into prescription drugs and bloated flesh - are barely registered. But there he is in the famous Aztec jumpsuit, webbed jumpsuit, American Indian jumpsuit and gypsy jumpsuit - all clothing now the domain of Elvis impersonators. Yet even in the final years the humour of the man is apparent, he mugs at the camera, laughs at himself and teases his Vegas audience.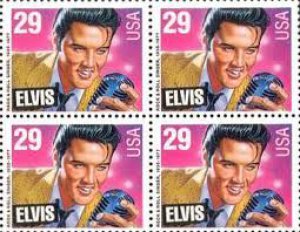 Then he is gone.

The funeral cortege, Graceland, the tomb, the graffiti, the tacky merchandise, the appalling commemorative stamps from St Vincent, the classy one from the US postal service ...

At its price Elvis: A Celebration is a book for only the most avid fans, 600 pages of pure Elvis filtered through the lens and watchful eye of his estate.

But even the most cynical, looking at the King in his prime between '54 and '60, cannot help being moved by his intuitive poise and easy grace.

Yes, like the movie idols of that period, especially James Dean, Elvis Presley was a startling handsome man.
But unlike them, he also had the Sun sessions.