Graham Reid | | 3 min read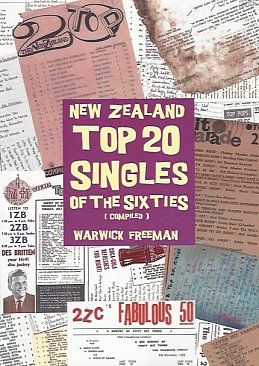 This may be the silliest, most obsessive but singularly important book on New Zealanders' music listening and buying habits in the Sixties ever written.
And it is just lists.
But what Freeman has done is, by using an interesting mathematical formula (more of that in a minute), determined just what the top selling singles were – even in the era before the charts started in '66. And consequently he can tell us what artists were the most popular in the country in that long and diverse decade.
Turning to the artists as assessed by Freeman's maths it is no surprise to see the Beatles at the top . . . but then things get odd. Cliff Richard and Elvis Presley (almost tying for second) seem unexpected in an era we remembers as being dominated by British Beat-era pop artists (Kinks, Who etc) and the fight-back by Americans (Byrds, Jefferson Airplane and numerous Motown acts) . . . and of course towered over by the iconic figure of Bob Dylan.
Well, the latest Nobel literature prize-winner is nowhere in the top 50 (although Connie Francis, Tommy Roe, the Cowsills and many others are).
The Rolling Stones come in at four followed by Herman's Hermits, Gene Pitney, the Shadows, Bee Gees, Hollies and Manfred Mann.
The only local acts in this top 50 are Mr Lee Grant (number 15 behind Tom Jones), the La De Da's (at 31 between Petula Clark and Donovan) and the Avengers at 48 (beating out Frank Ifield and Dion).
That's who was dominating our charts, the music we actually went out and bought.
Black artists out of Motown? Only the Supremes at 34 (between Gerry and the Pacemakers and the Small Faces).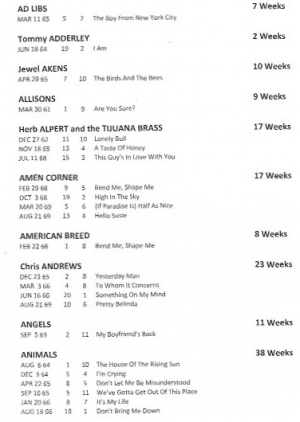 Any way you cut it, when we went to record shops our taste in the Sixties was very, very white . . . and yet those who were there would say the Temptations, Four Tops, Marvin Gaye and others were all over radio.
But, it seems from Elsewhere's conversations with others, only in Auckland.
In his "hits chart" the Supremes make it to 25= alongside Petula Clark, Rick Nelson, Peter and Gordon, Helen Shapiro, Sandie Shaw and Dusty Springfield.
In his chart of artists' total number of weeks who knew Connie Francis (at 14), Bobby Rydell (at 18) and Neil Sedaka (31=) spent more time in the upper reaches than Simon and Garfunkel, the Small Faces and Dusty Springfield?
And this is why Freeman's research is so important.
Memory can cloud perception and although Dylan was hugely important we only gave him four top 20 songs and just one number one (Like a Rolling Stone). Donovan had twice as many chart hits (no number one, however).
Jefferson Airplane had none. The same number as Moby Grape.
But here's the thing, there is an interesting divide post-Beatles. It looks like pre-Beat era artists could chart more singles (sometimes for a shorter period) than – aside from the big names like the Animals, Stones etc -- artists later on in the decade.
Also bands from the late Sixties/hippie-era sold albums not singles.
Jimi Hendrix had just two singles on the charts (Purple Haze and All Along the Watchtower) for a total of just eight weeks, Herman's Hermits had 18 for a total of 140 weeks.
Hendrix might have changed the course of rock music and be considered a legend, but Peter Noone – singer with the Hermits – was the guy we put on the charts.
Freeman's formula in allocating points is interesting and – unless you are a maths graduate – probably quite valid. Rather than the expected method of denoting 20 points to a number one hit and working down to one point for a number 20 (because that puts the same margin between numbers one and two as it does between 19 and 20) he rewards higher chart placings with more marks.
However the raw figures of "the number of weeks on the chart" throws Gene Pitney in at number four (after the Beatles, Elvis and Cliff) and has Johnny Tillitson (of Poetry in Motion and seven other hits between '61 and '64) at 45= above Dusty Springfield at 50.
So a book of lists?
Fascinating.
And it makes you remember that things aren't always as you remember them.
Freeman not only lists artists who enjoyed top 20 hits (She's a Mod by Ray Columbus and the Invaders only peaked at 17 by his analysis?) but also offers lists of just the number one singles (and how many weeks they stayed there), the top 100 singles of the era (Shane's St Paul in at number two between Beatle songs, the Cowsills' Hair at number 10) and more . . . including a week-by-week listing of the top five songs during that decade.
The Sixties started with Paul Evans' Seven Little Girls Sitting in the Back Seat and closed with the Beatles' Come Together.
What a strange – and strangely white – decade it was.
And, thanks to Freeman's obsessiveness, now we know.
Warwick Freeman's New Zealand Top 20 Singles of the Sixties is self-published but available through Marbecks, Trade Me and at the Auckland museum's Volume exhibition: $25