Graham Reid | | 2 min read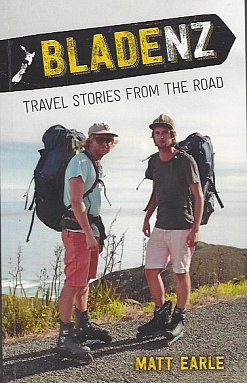 Well, someone had to be crazy enough to do it, to rollerblade the length of New Zealand.
And that task fell to the self-appointed Matt Earle and his pal Josh who cracked onto this somewhat hare-brained scheme – they began at the start of winter and Josh particularly had few skills on the wheels – but they did have the smarts to film their adventure.
Their seven-part series of 12-minute episodes Blade NZ was picked up by the Travel Channel and was broadcast in 74 countries.
So good on them.
But . . .
And this is the big but, from this account they did rather less blading than the series made out.
Maybe "Hitching NZ" doesn't have neither the right ring or left-field crazy-bro factor.
Although their series acknowledged the hitching, these pages are full of trying to get rides, getting rides with sometimes interesting people and few hardly worth mentioning, joining Stray Bus at times, and even delivering a mate's van across the strait to the South Island.
There is considerably less blading here than you might expect, so basically this is just the expanded diary of two blokes – less hardcase and worldy than you might think – who took to the road with a decent but impossible idea and stuck their thumbs out at Cape Reinga.
Hitching around the country is something any number of young Kiwis have done so the Matt'n'Josh journey needs to have something special going for it . . . and, regrettably, mostly it doesn't here.
Certainly they encounter some interesting characters – the alternative lifestyle people at the top of the South Island, the bisexual who wants to take them to the next public toilet and introduce them to his world – but these characters flit across the pages as Matt'n'Josh need to move on, find somewhere to sleep . . . or where they can blade and film themselves doing so.
Sometimes author Earle is obliged to imagine what might happen – they could be killed by this guy who has given them a lift, for example – but that's no substitute for something actually happening.
Matt and Josh seem like decent if hapless characters, but when tasting a Bluff oyster gets a few pages – neither had eaten an oyster before, and they were 28 – you know things are stretched thin.
As is an account of drinking beer out of their blading boot.
Many will think, "Uh-hu, I guess you had to be there". Or be them.
Perhaps because Earle explains the mud baths and smell of Rotorua, the popularity of Fergburger in Queenstown, the Pancake Rocks at Punakaiki and other familiar sights around the country this book is maybe intended more for overseas consumption.
Many local readers will have their own stories of adventures around the country, and many will be more dangerous, interesting or weird than much of what fills these pages.
Many people have their own bunji story.
But if this book, essentially the long version of the series, is intended more for the off-shore fans of their series then it isn't especially well written – everywhere Earle "jumped" out of bed or into it, onto buses and so on – and it reads more like a yarn than a travel book.
The screen series – which is available at TVNZ on Demand – is much more fun but this book (which perhaps unintentionally strips away the magic and boyishly joyful humour of their films) isn't an especially interesting travel story.
It is merely the account of trip which often strains for effect, rarely offers much insight into people or places (the descriptions are cliched and the facts seem lifted from Wikipedia) or has quite the sense of adventure it thinks.
Check out the series here, it has that Kiwi dickhead factor from the frontmen, beautiful footage of the country and some interesting cameos.
And the mundane stuff in these pages is edited out.