Graham Reid | | 2 min read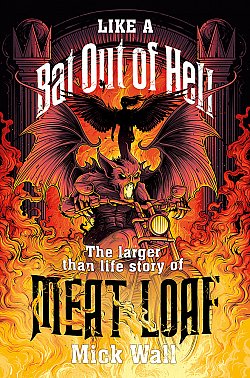 The cover is awful, the subtitle misleading ("The Larger Than Life Story of Meat Loaf") and writing by the prolific rock journalist Mick Wall sometimes reads like a potboiler knocked off at speed.
But for all that, and especially for those who don'y know the backstory of the fraught relationship between Meat Loaf and songwriter/creative director Jim Steinman, this is a racy read.
Wall -- who has interviewed the protagonists a number of times and admits he draws on Meat Loaf's autobiography, the excellent analysis of Meat and Jim by Sandy Robertson, The Phenomenology of Success and many other sources – dispatches the early lives of the two fairly quickly (pointing out their utterly dissimilar backgrounds) and then dives headlong into Steinman as a creative genius who brought bombast, opera heroics, rock'n'roll excess and memorable songs to the forefront at time of prog-rock then punk.
In Meat Loaf – who could sing powerfully and had a manic stage presence – he found his vehicle.
The Bat Out of Hell album in '77 was so over the top it was bound to be dismissed by critics (many of whom heard it as a lesser but more ambitious Born to Run) and its songs so long they would never get on radio.
The album was certainly a slow starter but once people got hooked into its emotional overload and sonic extravagance (by producer Todd Rundgren) it was impossible to shake off. It sold about 45 million copies . . . and that's when the Meat'n'Jim relationship really hit the skids.
Meat Loaf, so his increasing rage, was seen by many as simply the monster that Dr Frankenstein(man) had created.
They fought, litigated each other, didn't speak for years, Steinman went on to write numerous hits for others, recycled songs from his solo album Bad for Good for the follow-up with Meat Loaf on Dead Ringer in '81, and became a Svengali figure of Wagnerian sonic excess.
For his part Meat Loaf toured, drank, got into uncontrollable rages, lost his voice, released unsuccessful solo albums, ended up playing small rooms and taking on lousy bit parts in movies.
There was a 16 year break between Steinman and Meat Loaf – during which time Meat released a whopping 27 unsuccessful singles – before they finally came back together for Bat Out of Hell II: Back into Hell in '93 . . . again with many songs recycled from previous Steinman projects.
By that time Meat Loaf had been so far down anything would look like up, but Bat II went stratospheric (15 million, the massive hit I'd Do Anything For Love), toured again, fell out with Steinman again, then went into a credible film role in Fight Club (by which time he'd lost so much weight he had to put on a fat suit to play the part).
Wall's book centres on the separate but inseparable careers of these two compelling characters who often couldn't live with each other but both realised, albeit reluctantly, they couldn't be as successful in the same heroic way without each other.
Inevitably there was Bat Out of Hell III – a sorry affair in 2006 subtitled The Monster is Loose with songs by Diane Warren, Desmond Child and others alongside more Steinman recycles.
Today Meat Loaf is 70 and in increasingly poor health, cancelling shows again and nowhere near the powerful singer and stage presence he once was.
Jim Steinman, the same age, is also in sometimes ill-health but remains – whether you like it or not – one of the great and most successful of all rock songwriters.
There is Bat Out Of Hell musical. Of course there is.
So if Wall's book reads like a knock-off it hardly matters because the story of these two people – both of whom insist they never made money out of the first Bat album because of litigation, Rundgren did well they note – is so remarkable that it always bears retelling.
Like a Bat Out Of Hell; The Larger Than Life Story of Meat Loaf by Mick Wall is through Hachette New Zealand, $38