Graham Reid | | 1 min read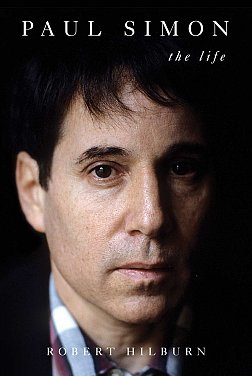 For someone who can be prickly in interviews, defensive when criticised and whose private life has been off-limits, Paul Simon offered rare and unfettered access to longtimeLos Angeles Times music critic Robert Hilburn for this account of his life from childhood to this year.
In more than 100 hours of interviews over three years, giving permission for Hilburn to speak with his friends, (Art Garfunkel conspicuously not interviewed) and allowing the author to write without interference, 76-year old Simon – now retiring from touring – appears to be considering his legacy.
His next project mooted in the final pages is to revisit some of his lesser known songs although his friend, the artist Chuck Close, is dismissive: "He'll never finish that album, it won't be challenging enough".
He's probably right. Simon's constant quest has been for new and different musical possibilities, it wasn't about fame or acclaim: "I found out relatively quickly that fame is bogus," Simon says.
And, "the lyrics of pop songs are so banal that if you show a spark of intelligence they call you a poet . . . . The people who call you a poet are people who never read poetry".
Simon is a voracious reader and his music has drawn from doo-wop, the Everly Brothers, traditional folk, African and South American musics, gospel, classical (American Tune is based on a 16thcentury hymn by Hans Leo Hassler via J.S. Bach) and recently electronic music with Brian Eno.
In the beginning as a serious young folkie he was better received in Britain (where he wrote Homeward Bound) than in Greenwich Village clubs where he was just the kid from Queens when Dylan had blown in from the mid-West trailing romantic tales of having been a hobo.
That snub, alongside his short stature (which he mentions frequently, as does Garfunkel in a more disparaging way), pushed him further into himself.
Yet he also possessed an intuitive ability to capture the American zeitgeist; The gloom after Kennedy's assassination in The Sounds of Silence; the despair among his peers after Nixon's re-election in American Tune ("I don't know a soul who's not been battered, I don't have a friend that feels at ease") and the prescient imagery of The Boy in the Bubble("the bomb in the baby carriage is wired to the radio"). He can convey ineffable sadness (Still Crazy After All These Years) and unrestrained joy (Me and Julio Down by the Schoolyard).
In the early 90s, a New York Timesreviewer wrote, "No other American songwriter of his generation has so consistently renewed himself while still acting his age. He's the rare pop songwriter who . . .
To read the rest of this review see the current print issue of the New Zealand Listener or subscribe to it here.
PAUL SIMON, A LIFE by Robert Hilburn. Simon and Schuster, $37.99