Graham Reid | | 1 min read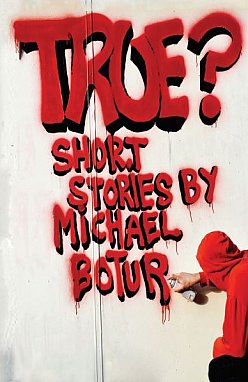 Northland writer Michael Botur is certainly prolific and hard-working. True? is his fifth such short story collection (and he wrote a novel) but he is also a columnist, blogger, writes corporate communications and advertising and now in his early Thirties has been making a living from writing since he was 21.
Given all that background – and a Masters in Creative Writing from AUT and a graduate diploma in Journalism from Massey – it is perhaps hard to second-guess what manner of stories there might be in this collection . . . although the cover (of his own design) offers the strongest hint.
These are mostly stories about outsiders and those on Struggle Street, those who have – in the jargon of the day – made "poor choices" or are the victim of circumstance, writers envious of the success of a peer (a familiar and large cohort) and . . .
Gang members, therapists, the put-upon and the rest all populate these densely detailed stories where, for the most part, Botur inhabits the character and, through that accumulation of small detail, creates persuasively real – if sometimes unpleasant – people and lives.
These are worlds of alcohol, dope, cigarettes and often rage and disappointment, but every now and again there is some kind of low-rent redemption (or revenge) which satisfied the hunger and need.
These stories are not summertime reading . . . unless you happen to teach English at NCEA level and are looking for hard-edged stories to engage unwilling students.
If that is you, then this is definitely your book.
You'll get to discuss "poor choices" in depth.
For more information on Michael Botur and True? go to www.MichaelBoturWriter.com