Graham Reid | | 4 min read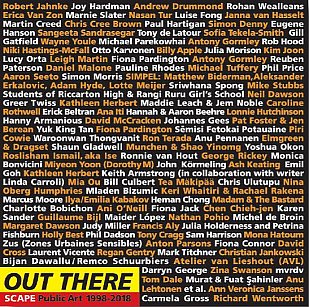 For many years I have taken music classes at the University of Auckland in a lecture theatre which isn't that easy to find.
So when I have guest speakers I tell them I will meet them on Symonds St outside the Engineering building, the one with huge Paul Hartigan abstract neon sculpture in the lobby, which is visible from the road.
In five years not one guest as ever needed any other direction that that.
The Hartigan isn't public art in the strictest sense but from its position it enters public space. And it seems very many people like it, even if only just as a landmark.
Pure public art – that which is in public spaces and most often commissioned or donated for the sole purpose of being there – is much more problematic.
Public space is "owned" by the public and so the art which is in it can, and often does, invite considerable public comment. As it should.
Michael Parekowhai's Lighthouse construction on the ocean end of Queens Wharf, prime land on the edge of Auckland's Waitemata Harbour, is a case in point: it is a meagre and largely inconsequential thing which means very little to most Aucklanders who visit it (other than to go "Wow" about the Captain Cook sculpture within it, another of which is in the Art Gallery of New South Wales in Sydney).
My guess is it means less than nothing to tourists, even if they notice it from the deck of their cruise liner. It just looks like what it is: a house plonked on the end of the quay.
I certainly wouldn't have been the first to note that on such a site Sydney had a world class opera house and we had a state house.
But there it is, and the art critics very quickly got in first to acclaim it . . . so we can guess it is now an immovable object.
This interesting book by art historian and commentator Warren Feeney looks at public art in Christchurch in the past two decades: how it got there; what kinds of art pieces were placed; how successful they were with critics (the public's opinion is marginalised down to a few letters-to-the-editor type comments); how art and commerce worked hand-in-hand; something about the curatorial process (not always successful) and much more.
Including of course what effects the major quakes had on the SCAPE projects.
It is a book which seems obliged to serve a number of masters, not the least the lengthy list of sponsors at the end as well as the numerous SCAPE personnel involved over the years.
This is only right and proper that these people – without whom etc – should be acknowledged, but for most readers all attention falls on the how and why of SCAPE, a unique project in public art, and the curators and artists involved down the decades.
And therein lies the tale of how a few threads coincided in the early Nineties when Deborah McCormick -- who had graduated from Christchurch's School of Fine Arts -- was inspired by an alliance of commerce and art by Warren Pringle of Artworks. A public meeting of arts advocates took the idea forward (and why would they not?) and the small city council document on the arts was gradually expanded and deepened.
Art works like Neil Dawson's enormous and controversial Chalice in the square near Christ Church Cathedral brought attention to using public spaces. Although as Feeney notes, not all such proposals got off the ground. Money was often the issue although Parekowhai's huge and Disney-cute rabbits planned for the square were rejected by public opprobrium.
The debate was on about the nature and purpose of public art.
But then emerged Art & Industry, sponsors coming on board, a lot of paperwork (applications, proposals, essays and such) and some wonderful public work ensued, not the least Bill Culbert's neon artwork Blue on the Convention Centre which, as with Hartigan's similarly eye-engaging piece in Auckland, became a landmark.
However SCAPE's agenda was different, the public art was not meant to be permanent.
Because of that many artists felt free to make whimsical pieces, use materials which had a limited lifespan, and make work which provoked a public that could take comfort in the fact the noisome thing wasn't go be there always.
Not all the curators or artists were successful and some who appear in these well illustrated pages seem to be downright lazy, glib, limited in artistic intelligence or out of touch.
Inevitably there were works which looked like construction sites which were of questionable worth and those which artists said were there to raise questions, that old shibboleth and refuge of the artist who isn't quite sure what the questions are or possible answers might be.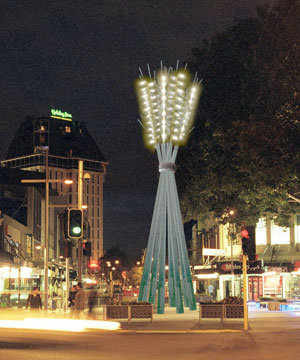 It is noticeable that artists who use that transparent ploy rarely condescend to entering the debate about their work and it's pleasing to note in these pages such artists are taken to task by critics from home and abroad.
Captain Cook in full uniform standing in a bathroom shower?
Give us a break!
But some exceptional or even just interesting art did emerge to enliven the public spaces, provoke useful discussions, and inspire others.
Those works outnumber the rest by a considerable margin.
And then the quakes came.
Suddenly Callum Morton's surprising 2008 piece of a (polystyrene) rock which appeared to have crashed through the roof of a suburban fruit shop -- like a Magritte conceit made real -- didn't look quite so amusing. Or offer the same frisson of unexpected juxtaposition in a city in ruins.
Maybe Parekowhai's huge bunnies could have been revived to cheer people up?
In these well presented pages full of comment from artists and critics, necessary overview, criticism, problems at the interface of art and commerce, and scores of photos, the weight and breadth of SCAPE and its ethos (and issues) are held up for others to learn from.
It might at times appear to serve many masters, but if everyone in the sponsors and personnel lists at the end were to buy a copy – not to mention all those artists on the cover – then this would top the non-fiction best seller list for months.
.
OUT THERE; SCAPE PUBLIC ART 1998-2018 by WARREN FEENEY Published by SCAPE Public Art Trust, distributed by Nationwide Book Distributors $79.95