Graham Reid | | 2 min read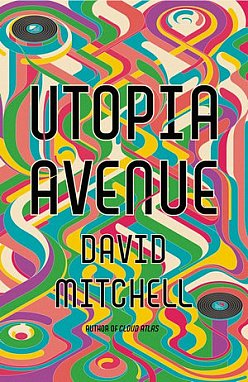 Around the midpoint of this 560 page doorstop by the acclaimed writer David Mitchell, anyone who has a loose working knowledge of how Sixties pop and rock bands like the Beatles, Stones, Who and others formed will be wondering what the point of this book is.
Mitchell here writes of a fictional British band Utopia Avenue, pulled together by a manager who is astute, gay (as were Beatles' manager Brian Epstein and Who manager Kit Lambert) and Jewish (Epstein again).
The band is made up of very different characters: blues bassist Dean Moss; singer Elf Holloway who has had some prior success on the folk circuit with her former boyfriend; jazz drummer Griff Griffin and the intense, troubled and gifted guitarist Jasper de Zoet who is from a wealthy Dutch family.
Pick a real artist for each of those cyphers.
These four are woven together as a group – Mitchell delights in writing song titles for them – and they walk through the world of the London's Sixties encountering all the heroes from those days, each performing to type: a stoned Lennon, Bowie on the stairs (he's going up and they are coming down), an addled Brian Jones, Little Richard in a flamboyant stage act . . .
So it goes, a lot of dead rock stars – and Bert Jansch, John Martyn and others from Elf's folk world – get brief cameos.
And here's another clue for you all: in a sly aside Mitchell includes the fictional musician Robert Frobisher from his previous novel Cloud Atlas.
Events of the period are peppered about too – the Grosvenor Square demonstration and march to the US Embassy also has a walk on role, de Zoet stays in the Chelsea Hotel in New York and meets its owner Stanley Bard, a dapper Leonard Cohen is there in the lift and at the party . . .
This shuffling of a fictional narrative with a few real characters (and the album by Frobisher which influences the sensitive de Zoet) and plenty of pop culture references goes a very long way.
But for far too long in no particular direction.
By the time the band is successful they are in San Francisco (where of course they hole up with the Grateful Dead) and in LA they go to the Troubadour and party at Mama Cass' house where Joni Mitchell plays, the Plaster Casters appear as does Frank Zappa . . .
And so it goes, and goes.
The five protagonists – manager Lawrence included – have interesting lives outside the band and Mitchell draws them as fully-formed characters (de Zoet's troubled story keeps circling in and out) but to what purpose?
The end is entirely predictable for those who read the Reissue reviews in rock magazines.
This is a big read and an astute friend pointed out that Mitchell, who recreates this period with an eye for detail – although the accumulation of characters and places is wearying – was born in 1969.
He missed the Sixties and early Seventies so here recreates it for himself. And the dead rock stars are not around to contradict him.
An odd and oddly pointless book, other than as a diversion back to a time when giants stalked the earth.
I wonder if there's going to be an album?
UTOPIA AVENUE by DAVID MITCHELL. Sceptre Books NZ$38