Graham Reid | | 2 min read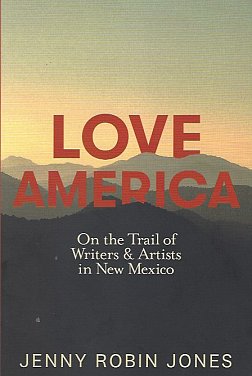 What an odd book.
Although nominally a travel book if you are to believe the subtitle "On the Trail of Writers and Artists in New Mexico", the author hardly went anywhere in New Mexico in the very short time there (just days) and even when in Taos (three days) didn't get to see what she was looking for.
She and her traveling companion – an older man, seemingly a former partner/husband who is largely incidental and referred to throughout as "the o-m" – were doing things on the cheap and relying on the kindness of strangers.
Fortunately these strangers had cars and helped them get to a couple of destination – they didn't drive, he too old and she too timid, a major drawback in the vastness of the US – because without them they would have seen even less.
Outside of that assistance it was interstate trains and buses which, as we all know appeal to some people but race past interesting opportunities and digressions.
But that does not trouble the Wellington writer – a teacher and former chair of Peppercorn Press – because even though they passed Los Alamos and looked briefly at the town from the distance she gets a chapter out of the history of the town and the nuclear testing there by researching it on the internet.
So, not a travel book in any real meaning of the genre and here the smallest of encounters (buying a necklace from a pueblo woman selling jewelry on the street) is extrapolated into something with deeper if strained resonances. And by stopping for the necklace she didn't get to the Georgia O'Keeffe museum on time.
And O'Keeffe was one of the main reasons for this journey.
And odd book indeed.
However, if we set aside expectation of any real engagement with the world of New Mexico and its inhabitants beyond the briefest of encounters, the "trail" which the writer follows is interesting even if conducted mostly through research when she is back home.
Admitting to prejudices about America – ideas formed through Westerns, its materialism, an earlier visit to LA and Disneyland, bad politics, shootings etc – she finds her rhythm when writing about the intersecting lives of the writers (DH Lawerence, his wife Frieda and their somewhat incestuous circle prominent), artists (O'Keeffe) and her chance discoveries of others who had gravitated to that remarkable, and back then remote, landscape.
By good fortune their accommodation in Taos was a hotel dating back to the Twenties where this changing cast had often stayed.
Central to the story then is Mabel – nee Ganson, who married Native American Tony Luhan (sometimes Lujan) – because she founded the literary colony in 1917 and that attracted Lawrence, Willa Cather, Aldous Huxley, O'Keeffe and others.
So this book is an account of these lives, something about pueblo Indians (with whom the writer had scant contact but was profoundly moved by), digressions into the life and work of writer Frank Waters whom she – and not this writer either – had heard of . . .
Waters' ideas of how differently indigenous people see and experience the world is rewarding to read.
So here is a book written after passing contact which encompasses literature and ethnography, colonialism (the land of the pueblo Indians overrun by Spanish and the settlers), male interpretations of O'Keeffe's paintings and more.
So an odd book -- without any photos -- and the author seldom in the physical milieu of these artists and writers.
Love America is more about some brief encounters and near misses which the author admits she studied back at home and wove them into the fabric of fleeting glimpses of Taos, Los Alamos, a pueblo . . .
Odd, but in places very interesting.
Jones saves you going to Google or a library yourself
LOVE AMERICA by JENNY ROBIN JONES, Calico Publishing, $37