Graham Reid | | 1 min read
Anyone coming to this book – as this writer did – for a glimpse inside the late George Harrison's eccentric Friar Park home will be disappointed.
Despite billed as American photographer "Feinstein captured George Harrison at home, in his garden, onstage, and in the studio" and that "nearly all the images are previously unpublished", most of the home shots are variants of photos which appeared with the album All Things Must Pass.
Yes, there is Harrison in his 36-acre garden which he lovingly nourished, but five images of him by a pile of branches and cuttings ready for a bonfire, or squatting yogi-like in a candlelit grotto, don't really add much to our knowledge or understanding of the man.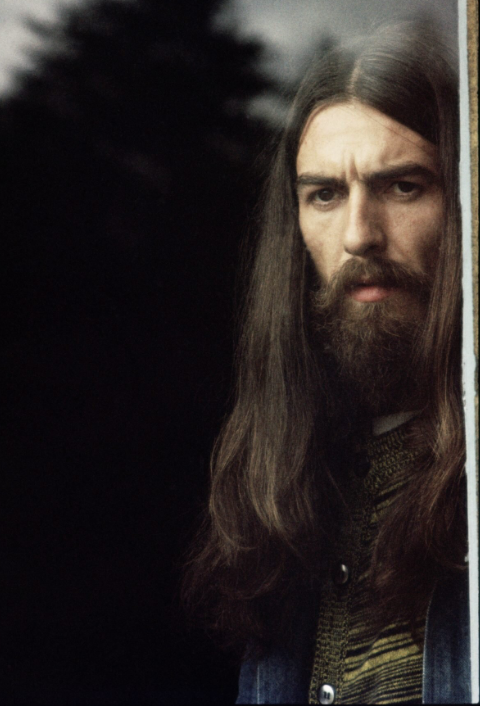 There are also outtakes from a Harrison fancy dress birthday party in LA at a dinner table on a lawn at the time of the Living in the Material World album.
And that these, as well as the live shots at The Concert for Bangladesh, and some of Harrison and Phil Spector in the studio, all go without captions (admittedly most are self-explanatory) just makes for a casual page turner.
Donovan – once again very quick to point out he was in Rishikesh and was Harrison's songwriting "mentor" who taught him descending chord structures used in While My Guitar and Something – writes a short intro which touches on their shared interest in Vedic wisdom, the sitar (generously mentioning Shawn Phillips) and meditation.
The informative main text – just 10 pages of the 200 – belongs to Govinda Gallery owner Chris Murray who writes of Harrison being the vanguard of so much during the Beatles and his post-Beatle, and of photographer Feinstein career.
Although most would be familiar with Harrison's All Things Must Pass and the Bangladesh event.
So a collection of some interesting photos but, as always, a snoop around that extraordinary Friar Park remains very much off-limits.
Disappointing but understandable because aside from increasingly rare public appearances, George Harrison was private man.
And his home was, quite literally, his castle.
.
GEORGE HARRISON: BE HERE NOW photographs by BARRY FEINSTEIN. (Rizzolo, c.$NZ45)
.
Photo of George Harrison courtesy of the Barry Feinstein Estate