Graham Reid | | 3 min read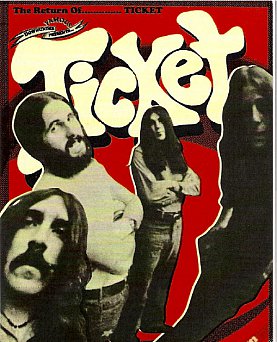 Two things I remember clearly about Ticket: their hair was long and their songs were even longer.

And back in the early 70s those were two very good things indeed.

In truth I don't remember much else – definitely not the names of the long gone Auckland clubs I saw them at – but they were at that Elton John show at Western Springs in late '71 because I dragged some friends along early to see them.

To be honest, my Elton-fan friends didn't get Ticket – but then again a band whose first two singles were called Country High and Stoned Condition probably weren't for those who liked the piano player.

When you saw Ticket live in a club it seemed to me they had extended the contract of tough blues-rock into free-flowing acid-rock (before we actually had acid) and Eddie Hansen was a local guitar hero alongside Harvey Mann of the Underdogs and Billy TK of Human Instinct.

They were all great individual musicians, as witnessed by their subsequent careers: drummer Ricky Ball went into Hello Sailor and bassist Paul Woolright was in Cruise Lane and Rainbow with Ball, then Graham Brazier's Legionnaires and Dave McArtney's Pink Flamingoes. After more than a decade in the UK playing with various bands (with Chris Thompson from Manfred Mann, live at Ronnie Scotts with Midge Marsden), Woolright came home and he and Ball have been the heart of Hello Sailor engine room for the past 10 years.

Singer Trevor Tombleson became Trevor Keith and joined the acclaimed Keef Hartley Band in Britain (which had also had expat Kiwi Gary Thain as its bassist) for a while; and Eddie Hansen . . .

Well, as with a few of my friends in the early 70s, Hansen became interested in the Krsna philosophy (never joined and signed on the dotted line as legend has it) and was with Harvey Mann on the Living Force album which I have but rarely play.

Hansen went to Sydney and played in a few bands but mainly concentrated on song writing, arranging and record production. He became a producer for Warners then RCA during the 80s, built his own studio and produced albums for Australian artists, and wrote/played music for documentaries and movie soundtracks which he still does. He's currently signed to BMG publishing as a songwriter and plans to release a self titled album.

So that's their present and the future, but in the past . . .

Ticket weren't around for a long time – little more than two years at a guess, successful and acclaimed in Australia too – but they certainly provide a good time when we really needed it.

Then they broke up and went their separate ways – until now.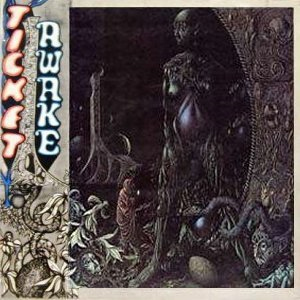 They are coming back for two shows – – and their suitably psychedelic rock album Awake from '72 is being re-released by the Melbourne's 70s reissues speciality company Aztec.

There are too many bands from previous decades reforming these days, but Ticket are one I'd make the case for.

Ticket were there at exactly the right time – and if the Las De Das had been like having the Rolling Stones from your own hometown in the mid 60s, then Ticket in the early 70s were our Cream.

Theirs was music which took flight and dragged you along for the magic carpet ride.

And because they had formed in Christchurch (and also played in Wellington) they were a hard rocking band with a national profile. So it makes sense they should play Christchurch and Auckland for these shows.

I'll be there. I want to hear this band soar again – and, to be honest, I'm curious about how much hair they might still have.

Footnote: Ticket played a blinder of a show at the Kings Arms in Auckland, November 13, 2010. They all had hair.