Graham Reid | | 7 min read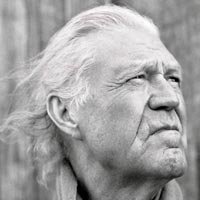 The truth about Billy Joe Shaver is much more interesting than anything anyone might make up about the guy. Shaver has lived on the hard edge of life.

Born in Corsicana in Texas in late 1941 or '39 depending on where you read it ("just a cotton-gin town, the same one Lefty Frizzell came from") and raised in Waco, he lost two fingers in a sawmill accident when he was 26 ("the Lord was telling me somethin' "), was married three times -- to the same woman Brenda ("she's an idiot, she kept accepting so that makes her dumber than me") and considers himself a Christian ("but I'm still a sinner," he laughs in a creaky voice).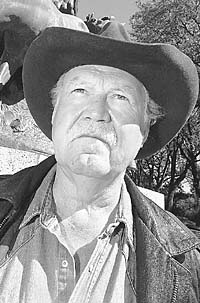 Shaver is also one of the finest contemporary songwriters whose lyrics reflect the scuffs of life. His country style with a tough blues input has drawn favourable comparisons with Hank Williams and his songs have been recorded by Waylon Jennings, Willie Nelson and most other country singers in search of an authentic lyric.

And in the early Nineties Shaver didn't have a recording contract of his own.

"Yeah, Columbia dropped me," he told me at the time. "I didn't bounce so good this time so I just went off and wrote a few songs and came out fightin' again."

Being dropped by a record company is no big deal. Shaver has seen worse times.

He was raised by his grandmother and by his own account they barely survived. Even when times got good and his grandmother got a radio they "still had to pinch pennies so I didn't get to listen to it except at certain times."

He started singing at age five and "down at the general store they'd extend credit on my grandmothers bill if I'd sing. They'd stand me up on a crackerbarrel and I'd sing just whatever I could remember from off peoples radios. I'd make up the bits I couldn't remember."

When Shaver was 12 his grandmother died and he moved closer to his mother who "was a honky-tonk gal and ran a place called The Green Gables with another gal named Blanche. To tell you the truth I grew up in those places. They were kinda rough but I didn't notice that at the time."
It was experiences in such places that gave Shaver the impetus later to pen Honky Tonk Heroes, the song Waylon Jennings chose as the title track of his '73 album which featured all but one tune written by Shaver. (Another song off it co-written with Jennings, You Ask Me To, was later recorded by Elvis Presley.)

And Shaver says a memorable incident one night as a child also gave his life direction.

"I heard Homer and Jethro and the Light Crust Doughboys were playing at the Wonderbread factory so I snuck out the house and walked the five miles down the railroad track to see them. They let me in for free 'cause I was barefoot and looked kinda pitiful, I guess.

"Because the county was dry all the bootleggers came along and got everyone half-lit, then some guy came on and said, 'Here's a new guy y'all don't know -- but you soon will' and they brought on Hank Williams.

"Nobody paid much attention to his two songs but he looked me right in the eye and sang them to me. I got so moved by that I decided that's what I wanted to be from then on, so I started writing -- but it was considered a bit sissy."
It also took a lot of strange turns in his life before he was writing in a way which satisfied him. A few years in the navy, some time as a cattle puncher and then the period in the sawmill which lead to the accident.

"A chain pulled a couple of my fingers off and I nearly lost my arm. I realised then I wasn't doing what I was supposed to do. So I went to Nashville in '66 but it was hard getting in because you had to be good and the older songwriters had a lock on everything.

"I worked for Bobby Bare's publishing company and got paid $50 a week. But the cheque would sometimes bounce – Bobby was in as bad a shape I was."

The job meant turning in a couple of songs a week and early on he met Waylon Jennings. It wasn't exactly overnight success but Shaver songs started getting attention.

In rapid succession his songs were covered by Kris Kristofferson (who did Good Christian Soldier and later produced Shaver's debut album Old Five and Dimers Like Me in '73), Tom T. Hall, Jerry Reed, Tex Ritter, Johnny Rodriguez and John Anderson ("He just about wore out l'm Just an Old Chunk of Coal").

"I guess I knew I'd sort of 'made it' as a song writer when Bobby Bare did Ride Me Down Easy because that song was so close to me I didn't even recognise it could become a hit. It was about me and I didn't think anyone else would be interested."

But increasingly people did become interested in Shaver-penned tunes. His songs are sometimes controversial in country circles: Black Rose was about an interracial relationship and contained the lines "the Devil made me do it the first time, the second time I done it on my own".

He fell victim of drink and drugs to the point of failing to record an album for MGM, hated live performances in the Seventies, had songs written about him by Kris Kristofferson (The Fighter) and Tom T. Hall (Joe, Don't Let The Music Kill You) and wrote about Willie Nelson in Willie the Wandering Gypsy and me. In the late Seventies he turned to religion.

With only six albums in his first 20 years, he was often passed over by mainstream country audiences at a time when there were maybe too many "outlaw" artists, but Shaver was the real deal and his earthy lyrics have made him a champion in the eyes of working people.

"A lot of country singers have been doing it since they were kids and that's been very much all they did. I worked right up until my accident and even after I messed my fingers up I was still working. I fell off a house when I was building and broke my back. I think the Lord had a message for me but I'm kinda dumb and took a long time to catch on."

These days Shaver is very much a full-time singer/songwriter although he has appeared in a few films (among them The Apostle of the mid Nineties opposite Robert Duvall) but albums remained infrequent until the 2000s, not just because he was "between labels" but he admits he lives with his songs for a long time before recording.

And he has a wry sense of humour which has no trace of bitterness despite sometimes being on the losing end of life.

Of a trip to London to perform at a big festival in the early Nineties ("my first time over the water to tell you the truth") he laughs in his slow, cracked voice at the cost of taking a band over, only to find no cheque forthcoming from the promoters: "Those dirty dawgs, the guy's name was Mervyn, we call him swervin` Mervyn, the rascal."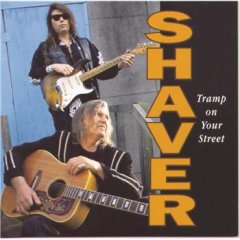 In '99 both his wife and mother died, the following year his 38-year old guitarist son Eddy (left) with whom he toured and recorded died of a heroin overdose, and the following year he had a heart attack and nearly died on stage in Texas. In 2006 he was inducted into the Texas Country Music Hall of Fame and he served as spiritual advisor to Kinky Friedman in his run for state governor.

In the late 2000s there was an incident involving a gun in bar (he shot a man in the face after a disagreement) but was acquitted when his claim of self-defense was accepted.

Shaver is one of those unique, genuine country artists a long way removed from the sanitised artists who appear on television screens from time to time. His songs have been covered by rock musicians (the Allman Brothers did Sweet Mama), Presley, Dotty West, Jerry Jeff Walker and, when the outlaw country movement was at its height, Waylon, Willie and the rest.

But to hear the man sing his own songs is a rare treat "because it all starts with a song."

"Songs come real easy, for me this is still a hobby. I never did it for the money because I could always make more breakin' in horses. But I love this and still do.

"I just record my stuff and if someone else wants to do them l usually find out later. I don't push my songs to anyone. I'd have a hard time doin' that. It would be like sellin' a kid."