Graham Reid | | 6 min read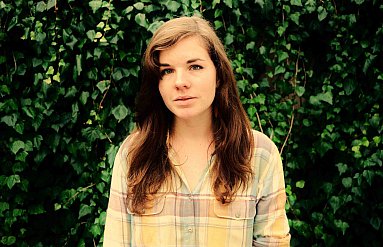 Hollie Fullbrook – who performs as Tiny Ruins – laughs with slight embarrassment, tells of how she came to her stage name and asks I not mention it because it sounds pretentious.

It doesn't actually – unless you think mentioning Jean Paul Sartre's Nausea and the forties singer/band leader Tiny Bradshaw in the same anecdote qualifies as pretension.

But that is hardly a description you can apply to Fullbrook or Tiny Ruins. Her music is discreet, grounded in quiet and darkness, allusive and poetic. Hardly songs best heard in a pub like the King's Arms where she was recently part of Fancy New Bands showcase.

"Yes, that was the noisiest gig I've ever played," she laughs. "But I knew it would be. I wasn't thinking people would be quiet but I got the drummer Alex and [backing singer] Mimsie to join me onstage, and having that extra support was good."

While the back half of the room might have been more interested in beer and conversation, the front half was riveted by her restrained presence. The first song she sang was Old As The Hills which also opens her impressively mature debut album Some Were Meant for Sea (see review here), the first line of which is "lean in, friend; lean in friend, and I'll tell you a tale".

And Fullbrook has tales to tell . . .

Born in the St Andrew's district of north Bristol, she was a child who was seduced by music at an early age: "I hijacked my parent record player when they modernised and got a tape and CD system. So I took the record player into my bedroom and played all their old records. I really latched onto the Beatles' very early stuff when I was about eight and as I got older I got into their later stuff.
"But also British folk and people from the Seventies and James Taylor, Cat Stevens . . . Nick Drake too but not until I was a teenager.

"But I used to be paying attention to music wherever I heard it. I really loved Tanita Tikaram. In fact when my mum asked me what I wanted to be when I was about three, I said, 'A singer like Tanita Tikaram.' Her record I used to listen to repeatedly."

She also learned cello from the age of seven so classical music was an influence – which in a sense explains her low tones and spare sound.

At 10 her family moved New Zealand, she attended Avondale College and then when she finished school she took a year off and spent five and a half months in the States, the first two months as "a lifeguard and speedboat driver at a summer camp in upstate New York". Then she went to New York, traveled by Greyhound to New Orleans, Chicago and to Los Angeles.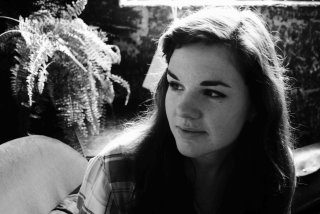 Sometimes she stayed with people ("a lovely couple in their 60s and were classic born in New York/lived in Queens"), at other times in backpacker places.

She traveled with her guitar (good for starting conversations and meeting people) and did some busking.

"I'd read up on Beat poets and tried to track down the house Jack Kerouac stayed in when I was in San Francisco, and I went to City Lights bookshop and bought a copy of Ginsberg's Howl." she laughs. "Which is cringeworthy when I think of it now, but I was only 18.

"I fancied myself as a bit of a Jack Kerouac character. I ended up going to Chicago from Texas on the bus with a large group of ex-convicts who had just got out of jail that morning and were going back home. It was brilliant because they were really nice people who'd just got into trouble."

She came home and studied English literature, theatre and law at Victoria University in Wellington.

"I hadn't played cello for a year and felt I was out of practice and not disciplined enough to go that expected path."

She was taken by the Romantic poets like Keats and Wordsworth, read Emily Bronte, F Scott Fitzgerald and JD Salinger, and "always loved Shakespeare."

And although she had been writing songs since she was 14, it was being invited to create music for a production of Twelfth Night that turned her into a serious and very different writer. The play drew on imagery from Tom Waits whom she had started exploring and she wrote Bird in the Thyme around this time, which appears on her album.
"I was thinking in theatrical terms and trying to think in a different frame of mind, the songs became a bit darker and more cryptic, the lyrics a bit more coded. That's where I see the beginnings of the Tiny Ruins songs."

Taking them to the wider world was another tentative step. Persuaded by a flatmate, she went to an open mike night down the road from their flat in Wellington two years ago: "It was so close and convenient it was easy to do it in a way, but I was very nervous and had bad stage fright. I hated the idea of anyone hearing the songs . . . but the audience was supportive so I did one more."

And from there things started to roll: The sound guy Samuel Prutton recorded her demos in '09; Matthew Crawley heard her play and sent Spunk in Australia an e-mail suggesting they check out her My Space page then sent a copy of her demos to them, they asked her over to do some recording . . .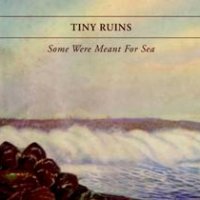 But before she did the album with producer J Waker (Holly Throsby, CW Stoneking) in small hall in Moyarra, she hit the road again into northern Spain (where she played, recorded an EP and opened for Joanna Newsom and Beach House), spent four and a half months in Italy . . . and was all the time thinking of the sound she wanted for what would become Some Were Meant For Sea.

Recalling Waits' inventive approach to instruments she knew she wanted an older piano sound and after four nights of recording in the hall they found an old upright which had "almost a pearly sound, slightly out of tune and the sound of the pedals and the hammers on the strings, a real characterful sound. A lot of pianos sound too perfect, too bright."

Fullbrook's poetic lyrics demand interesting settings for piano, cello and her own delicate acoustic guitar, settings which invite you into an album where people move quietly through fragile lives, a priest ties on balloons to float to the Heavens (and the singer says she wants to live in a better world too) and the words of a lover's little notes "never wearing thin 'round my shoulders".

This is a delicate and carefully constructed and realised world which she is taking to audiences in New Zealand and Australia, all of them quieter than that crowd at the King's Arms.

The opening lines on her album – with a Shakespearean spin for those who recognise it -- are in full: "Lean in, friend; lean in, friend, and I'll tell you a tale. Be good, friend; be good, friend, as I tread the stage for a while . . ."

She does – and you should.