Graham Reid | | <1 min read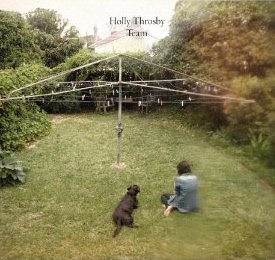 There has been an audible trend in blockbuster movies to employ actors who speak in a constant whisper which is then amplified for the big screen. The normal speaking voice of these actors we do not know.
It happens in music too and a couple of tracks here are little more than amplified whispers (prime offender It's Only Need), and much of this album is in the barely-there category in its spare arrangements for guitar, voice, light percussion and some strings.
And Australian Throsby at times adopts that childlike vocal style which so many mature women do and which, as I have noted before, bewilders the hell out of me as to why they might do that. To convey innocence? Hmmm.
Throsby is hardly the innocent as these songs illustrate: love and love lost is everywhere. And Throsby has a habit, Throsby has a habit, of repeating lines or words for effect, for effect . . . which over this long and slow haul can be, can be, can be quite annoying.
All these things -- the whisper, the childlike vocal, the repetition -- come together in To See You Out.
This is a lot less interesting than the video suggets.
Not for me. Not for me.
Interested in this style of music but maybe not this album? Then try this.