Graham Reid | | 10 min read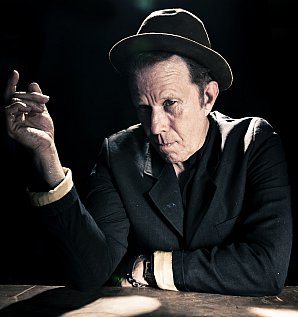 As many who've tried will attest, you don't so much interview Tom Waits as ask a question . . . then hope for the best. His reply might be an oddball witticism which is funny but evasive, a yawning and uncomfortable silence, a strange but insightful analogy which makes better sense later or a mumbled "I dunno, you know".
Of course sometimes he is sharp and penetratingly revealing, but for the most part speaking with Waits as someone outside a trusted inner circle – those who, at Waits' request, wouldn't comment to Barney Hoskyns for his 2009 attempted biography Low Side of the Road -- can be arduous.
Which explains why, when I start by thanking him for his time and acknowledge an interview is probably the least interesting he does in life ("Doin' the dishes, that's what I call it," he says) he clears his throat at length and says, "Don't thank me yet".
We both laugh at that. One of us laughed too soon.
Then when I ask him whether the musicians on the album (the usual suspects) have an intuitive understanding of his music I have to repeat the question twice and finally he offers, "You are choosing musicians who can drink water out of their hand, they don't ask for a cup".
"But if you can't get so-and-so you get you get someone else. It's what they say, 'If you can't get Harry Dean Stanton' get me somebody who looks like him'. We always have to keep moving around the clock and these are friends of mine and people I've worked with before."
On paper and in retrospect that all makes sense, but at the time – punctuated by coughs and pauses and "say that again" – it makes for a highly unpromising conversation.
Mercifully however, things improve considerably and after some shadow-boxing Waits proves as funny and as insightful as expected, albeit sometimes a little hard to keep up with as analogies and similes trip over themselves.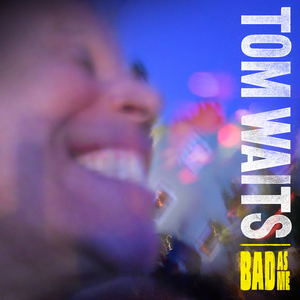 The reason for this encounter is Waits' new album Bad As Me (reviewed here), his first new studio recordings since Real Gone seven years ago (between times there was the Orphans collection and the live Glitter and Doom).
It is a collection which has him touch various points in his long career – and finds him sometimes in a reflective mood as much as bellowing like a carnival huckster with a broken megaphone.
As with the Grammy-winning Mule Variations in '99, there is almost a Waits for every taste on Bad As Me as he explores dirty Chess-era blues on Satisfied (with Keith Richards, they also duet croakily on the soulful Last Leaf), roaring political comment (a rarity in his has vast catalogue) on Hell Broke Luce, and two piano ballads Kiss Me and New Year's Eve (the latter with a segue into Auld Lang Syne much as Tom Traubert's Blues of 1976 included Waltzing Matilida) which reach right back to his earliest style.
Yet even now, at 61, Waits is finding other voices for himself, most notably on Talking at the Same where he conjures up some early 60s Falsetto-soul singer or Marvin Gaye.
"Yeah, you're always cutting the fingers to fit into the glove," he says. "You are looking for the right voice, just like an actor looking for the right hat and pair of pants, so you use different voices for different songs, and there I was trying to do a [bluesman] Skip James meets Smokey Robinson meets Marvin Gaye."
And there is even some social comment like Gaye woven through?
"Like What's Goin' On? Yeah. These songs evolve, they start in one way and end up in another, they are somewhat like dough and you push them in the pipe hand. Some come out of the ground easy and some you have to break the bones and reset them."
Among those which came easy are the opener Chicago – a rollicking Waitsean r'n'b growler – and Get Lost which has a ramshackle rockabilly rhythm.
"They are kind of classic song topics: traveling, music for immigrants, cautionary tale, devotional music, that type of thing. It's hard to break down the whole process of writing a song. People talk about it but you can't.
"The ingredients of most songs are such are that they may easily include a stain on your bedroom wall or the flavour of a soda they stopped making, one chord, a variety of mis-recollections and a girl's name you made up.
"The truth is over-rated, you know what I mean?
"Rockabilly is not necessarily something I lived through in terms of the era when it was most popular, but all these things are perfectly legitimate to draw upon. We're all wearing our fathers' ties and our mother's underwear -- I'm being metaphorical of course-- but no one is completely original.
"I find it curious to hear people touting themselves that they are [original] when in fact we're all just swimming around in the same whale sperm as everybody else.
"I don't think any of us are doing anything horribly original, we're all drawing in the dirt with a stick."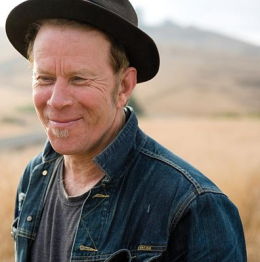 Denying originality – and references to underwear – becomes a refrain in our conversation but he laughs about one of the immediate standouts, Satisfied with Rolling Stone Richards, which shaves off a large slice of Howlin' Wolf's 61 blues-shaker Wang Dang Doodle and mentions "Mr Jagger and Mr Richards".
"Everybody loves Howling Wolf and I howl a lot to Howling Wolf, I've been wearing his underskirts for years. But Satisfied was kind of a fast a cappella thing and it's playing off, and is an answer to, [the Rolling Stones'] Satisfaction.
"If the Stones' can't get satisfaction then nobody can," he laughs. "I can roll my vertebrae out like dice and my skull can be a home for mice, I don't care after I'm gone. But while I'm here I'll have what's available and I'll order two. This is our only go-round so I like to have one of everything that's available, get myself some satisfaction right here."
But if Waits throws out his enjoyable blend of brawling clunk'n'grind and 2am piano ballads he also inhabits characters and Pay Me (which opens "they pay me not to come home") is an ineffably sad song of loss where he once again inhabits a character.
"You have to shapeshift into somebody else's experience sometimes, like if you were a girl who left home during the Civil War and you went to another town and you got a job in a saloon. Coming home would shame your family, especially if you were a Quaker.
"So in those days a family would pay you not to come home because you would bring home a few of the shames of what has happened to you. You would put the shame on the family.
"That was the idea, you don't have to be so completely detailed, it can be whatever you want it to be, it should be. I don't like telling people because they may not even get all the words right . . . which is great too.
"For years my wife thought that Creedence song 'there's a bad moon on the rise' thought that was 'here's a bathroom on the right'. But she still enjoyed the song."
Waits' wife Kathleen Brennan – a former script analyst for Francis Ford Coppola whom Waits met and married in 80 while working on the soundtrack to Coppola's One From the Heart – has long been credited for saving him from a life as increasingly parody of himself as the boozy barroom balladeer of Los Angeles in the 70s.
After their marriage they severed contact with his past: "I don't blame Tom, I blame Kathleen," Waits' 70s producer Bones Howe told Hoskyns. "She really separated him from everyone."
But by doing so gave Waits a very different and more interesting and fulfilling career and life. They are intensely private, have three children (26-year old Casey drums on some tracks on Bad As Me) . . . yet this woman who mishears Creedence has also been his cowriter for the past 30 years?
"Oh sure. She comes from a different place than I do. She's more like an opium dreamer and I'm more sticks and wire, so ideally you complement one and another and supply the other with something they lack, and be greater than the sum of your parts.
Must make for some interesting dinner table conversations?
"Yeah, plates are flying through the air, frying pans and silverware being thrown like knives. Sometimes what you are hearing in a song is the argument that somebody won, the songs are sometimes protecting the innocent, they are telling their truth."
Discerning the truth with Waits can be problematic. At one point he embarks on what could be a shaggy dog story about a singer called Matinee with a shaved head and map of the world tattooed on it who sings off key and only wears black. There's no mention of her on a Google search but he says he's not making it up: "One word, 'Matinee'. Like 'Cher' . . . but she won't play a matinee!"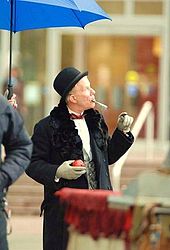 Equally, when asked about his on-going film appearances – most recently in Terry Gilliam's The Imaginarium of Dr Parnassus (left) and The Book of Eli – he digresses into the Italian director Federico Fellini as if avoiding speaking about himself.
It comes when asked it turns down a lot of roles.
"I do. 'You wanna play Jimmy Rogers, the icepick killer of Kentucky?' We only have so much time and movies are a huge requirement of commitment,. A song is more like a little bonbon but a movies are . . .
"I think most film directors wish they were writing songs, it's more like a bagel you can put in your pocket. But with films you've got to have traffic and weather, you've got to be the fucking mayor. Who wants that?
"Fellini I love probably more than most directors. He has a book based on a documentary of a film they did on his life, it's called I'm A Born Liar and he had wonderful things to say about the creative process, but he was different and lived at a different time.
"He said 'death lives in clocks'. He dubbed everybody. When he said, 'action' all the carpenters started hammering because he didn't care, he was just going to dub all the dialogue anyway."
Yes, he had often had his actors say numbers and count.
"Right. He was having dialogue in many cases while they were acting, and handing them things from behind the camera," he laughs. "And dancing and then gesturing and choreographing them, 'come over here, look there, turn around'. He was an innovator.
But ask if Waits considers himself an innovator gets a throaty cough and another analogy.
"There nothing new under the sun, Ecclesiastes. So I don't know about that, there are degrees and it's a huge spectrum, it just depends on where you are fishing. 'Where's your mind?'
"You got to keep your eye out for claim jumpers. There are things I think about and write about in song that are mine, that's my world. It doesn't work for everybody."
Yet today we refer to work of some other artists as "Waitsean" because his style is so distinctive?
"Okay well," he laughs as if defeated on that score. "We're all just drawing on a dirty window with our finger, but if you stick around for a while people remember what you did and that's fine. I don't hold much stock in the longevity of all this stuff we think is so important.
"You get older, some of it seems a little embarrassing sometimes, all the flags, the bras, the different sorts of buttons, the Underwears, the Collars . . . all those new groups."
But he must also know that there is that audience out there which will enjoy the piano ballads on the album because those people "still just like your old stuff"?

"Never feed the dolphins," he laughs.
"I dunno. I don't know what people like and I don't really think about what they like because I'm not really doing it for them . If I'm playing a show I think it's fine for people to have a good time, but that's not really why I'm there.
"I'm there for me to have a good time and if you have one too that's extra, secondary. It's my Saturday.
"I'm not Sammy Davis Jnr or Liza Minnelli, you know? Or Judy Garland. Not that there's anything wrong with those folks," he laughs. "But I'm not pouring my heart out to an audience in the hope they will shower me with love."
Yet that final track New Year's Eve with its Auld Lang Syne refrain will cut straight to the hearts of many. Although on the expanded version of the album here are three bonus tracks, the last being a fearful After You Die.
Given he's mentioned getting older is it fair to ask if he, at 61, thinks about that?
"Well if you not thinking about it," he rumbles with something approaching a chuckle, "you're not paying attention, are you?"
There is plenty more on Tom Waits -- with rare tracks -- at Elsewhere starting here.