Graham Reid | | 4 min read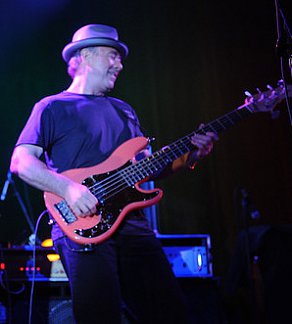 What's in a name? Well, a lengthy court case if the name you chose is Creedence Clearwater Revisited.
We'll get to the litigation, but first let's rewind to Creedence Clearwater Revival, the band which ruled the singles charts for four phenomenal years from the end of the Sixties.
With songs penned by John Fogerty they single-handedly invented what was called "swamp rock". It was a taut, slightly ragged and raw style which had elements of white country and southern white funk distilled into energetic three-minute singles.
Fogerty's songs became classics and no retro radio station today could exist without them: Proud Mary, Bad Moon Rising, Down on the Corner, Who'll Stop the Rain?, Up Around the Bend ...
In the United States they clocked up 18 top-40 singles in four years, most of them top 10. In New Zealand they had 10 in the top 20. CCRevival were a singles band when other groups were concentrating on albums and so became a fixture on radio, although they still clocked in some classic albums such as Bayou Country.
Formed in California when Fogerty and his brother Tom were joined by the rhythm section of drummer Doug Clifford and bassist Stu Cook, they were originally the Blue Velvets, then when they caught a whiff of Beatles-inspired Brit-pop, the Golliwogs.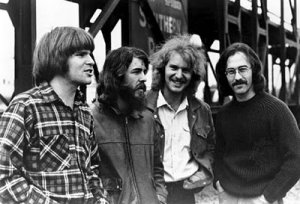 In 1967 they adopted the CCRevival name and, without ever visiting the bayou, conjured up the feel of warm swamps, edgy lives and basic rock'n'roll.
CCRevival were blue-collar rock when others went for Nehru jackets fop.
"It was a natural evolution of what we were already playing," says Cook, "and what we liked when we were growing up. When John started bringing forward more organic sounding original material, it seemed like a natural progression.
"We never considered how big it could be. We used to joke that when we got successful we'd be making $100 a night. Each! We had no idea what becoming successful could mean or ultimately turn into.
"We certainly made a buck, but not because we had a great record deal but because we were middle-class kids. I don't recall any of us just throwing it away.
"We stayed in our hometown and got bigger houses and better cars, but it really didn't change our lifestyles very much."
But what did change was the internal dynamic of the band. In 1972 Fogerty left for an initially unspectacular solo career, although it included such classics as Rockin' All Over the World, Status Quo's unofficial stadium-shaking anthem.
"When you look at it, it's not unlike a lot of marriages," says Cook. "We were close and had a lot of success, but we couldn't keep it together. Unfortunately we didn't have a mentor to straighten us out when we got off the path."
Since then, CCRevival songs have appeared in numerous movies - their Fortunate Son is a staple in Vietnam-era flicks. The rhythm section of Cook and Clifford played in bands with the late Doug Sahm, and Cook played with Country Pacific, which featured a couple of Doobie Brothers. Original CCRevival guitarist Tom Fogerty died in 1990.
But the Creedence name hit the headlines - and the courtroom - in 1995 when Cook and Clifford formed Creedence Clearwater Revisited to play the old songs once more.
John Fogerty (interviewed here) tried to prevent them using the name - they briefly resorted to Cosmo's Factory, the name of the classic CCRevival album - but in '95 they won their case.
"John had no choice after that but to give it away. We had the better hand at the card table. Ultimately he agreed to participate on a business level, so he goes on with his business and we go on with ours.
"We don't have any contact with him unfortunately. We did invite him to join us but, like a lot of bands, we had an unfortunate break-up."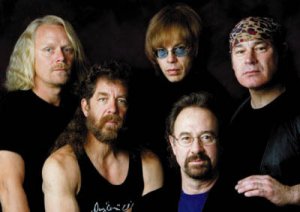 With former Cars guitarist Elliot Easton and singer John Tristao, whose style is similar to Tom Fogerty's, the CCRevisited line-up made an immediate impact and, somewhat surprisingly, gained the respect of critics for the energy and faithfulness of their shows.
"People say, 'How can you do this without John Fogerty?' and Elliot said one night, 'This is rock'n'roll. There aren't any rules. Whatever chemistry we conjure up is working. If we're enjoying it, what difference does it make?'
"It was uphill with the critics initially, but we've held true and never disappointed anybody. And dragging your butt around the world at our age isn't easy. But we joke that we get paid to travel and play for nothing."
CCRevisited play no new material but include 22 CCRevival songs in their set, all the hits and a lengthy workout of Marvin Gaye's Heard It Through the Grapevine, which was the cornerstone of the Cosmo's Factory album.
They have also recorded their own double live disc, aptly entitled Recollection.
"This is a performance project dedicated to honour and celebrate the music of Creedence Clearwater Revival.
"There is not a single song we don't enjoy playing. Every night we try to have fun with the music and it's contagious. After the initial period we can tell it becomes of no concern to the audience that it's not the original band.
"It's the original rhythm section, and the people we've chosen to help us to bring this to the stage are just magnificent personalities and tremendous talents. People just forget any reservations they've had and get into it.
"It feels like the original band because of Cosmo and me, and Elliot is a fantastic guitarist who cut his teeth on Creedence when he was a kid. John is a big man with a huge voice and a hard rock'n'roll singer.
"We've added [multi-instrumentalist] Steve Gunner to help to fill out the sound so it sounds like a Creedence CD because it has the organ and things that even the original band didn't present in concert.
"We were a guitar band live, but most songs had studio sweetening, and Steve helps to bring that element to the stage."
Cook notes that since 1995 CCRevisited has played more gigs than the original band and it is the longest project he has been involved in since CCRevival.
"We play about 80 or 90 shows a year in the States, Canada, Mexico and South America. Every couple of years we go to Europe, and we've been to Asia once. We haven't been down to New Zealand in 30 years so we're looking forward to that."
Cook expects the audience here to be similar to that which they see everywhere: original fans their age and the younger generation who heard the music on soundtracks or classic hits radio.
"Sometimes 50 per cent of the audience is under 25, which would mean none of them was born when this music was originally recorded.
"Whoever's there it doesn't matter, we've never had to refund a ticket through dissatisfaction. We play every show as if it's the last. What a great job. Doug and I are 57 years old and we're having the time of our lives."