Graham Reid | | 4 min read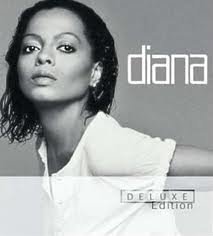 By the late Seventies, Diana Ross had put almost two decades of Motown soul-pop and various dress-up personae behind her.
She'd been the pop princess decked out in eye-liner and increasingly chic'n'slender dresses in the Supremes hit machine, had pushed her name out front so they became "Diana Ross and the Supremes" and then, with the help of her lover and Motown boss, Berry Gordy -- with whom she had a daughter in '71 -- embarked on a high profile, multi-platform solo career.
She acted a black Dorothy for the ill-fated film of The Wiz in '78 (which had won seven Tony Awards for its Broadway version) and that effectively wiped out how good she had been as Billie Holiday in Lady Sings the Blues six years previous (for which she was Oscar-nominated). She had posed as the sultry temptress Josephine Baker . . . but on the cover of her 1970 debut solo album -- which sprang the hit Ain't No Mountain High Enough -- she looked like a starving beggar child, and a young boy at that.
No one knew quite what to make of it, or how it was supposed to be read.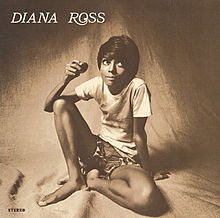 But by the late Seventies she had more than a few such mis-steps and mistakes behind her and the pool of good-will the Supremes had generated was running very dry.
Typically, in her almost unreadable, self-absorbed "autobiography" Secrets of a Sparrow she talks about how much she learned from The Wiz as if it were just another self-analysis therapy programme.
The late Seventies were not a good time for Diana Ross. She'd divorced her first husband in '77, The Wiz had been panned the following year, and although her '79 album The Boss (most songs by the hit-spinning team of Ashford and Simpson) had sold a million she was far from the mainstream of public attention.
Interestingly however, she had started to be played in clubs and her gay following was increasing.
Nile Rogers of Chic -- who came on board to produce and co-write for Ross' next album -- says he saw three transvestites in a bathroom in a New York club dressed as Ross and suddenly had a thought, "What would it be like if Diana Ross walked up on stage and sang, 'I'm coming out!' What would that be like? I didn't think of it as funny and absurd. I looked at it as artistic and amazing, like it was a modern version of the movie Cabaret."
Rogers had been in the club "on a fact-finding mission" for Ross because he and Bernard Edwards had signed on to write and produce what would become Ross' biggest selling solo album, and a turning point in her career.
And as always with Ross, a new album demanded a new look and new clothes, but they weren't what anyone expected of a woman who usually appeared blitzed with glitz and glam, or seductively naked drapped in masses of hair. If not a starving street urchin.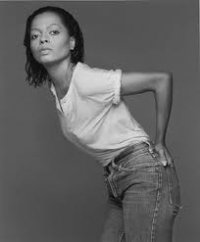 On the cover of her 1980 album simply entitled (in self-effacing lower case too) diana, the 36-year-old mother-of-three looked like a sassy teenager — but the album was more than just another image change.
The diana album contained the hit Upside Down . . . and I'm Coming Out which anticipated much of Michael Jackson's lean and punchy style, and brought her gay following onto the streets singing it in pride parades. Ross insisted later she had no idea of what the phrase meant, but it certainly meant something personal also as the album saw Ross repositioned in both the marketplace (there were 12" dance versions of a number of tracks) and critics paid serious attention to her again.
Tracks like Tenderness and My Old Piano have a classy funk-disco feel (the funk elements had been largely been expunged from disco by this time) and Now That You're Gone has a low, dramatic quality. She also erred towards a Broadway-styled ballad on Friend to Friend, and insisted we Have Fun Again.
The album was a diverse but coherent showcase and it sold extremely well . . . but it wasn't the album she delivered.
The first version produced by Rodgers and Edwards was rejected by Motown who handed the tapes over to Russ Terrana who had been mixing Supremes and Ross singles since '66. Terrana chose different vocal takes (many softer and less aggressive) and said later "the dynamics [of the Rogers-Edwards version] seemed limited . . . it seemed like a Chic album with Diana Ross' voice".
It is unclear whether Ross was an active participant in the remix, some sources say she heard the Chic version and freaked because it wasn't how she heard herself and so sat in with Terrana. That makes sense, Ross was always hands on (and that is the chariable way of saying it) about her career and image.
By the time she heard the finished Rogers-Edwards tapes there had been a considerable backlash against disco and black dance music in the mainstream (and largely anti-gay) white media, so Ross' qualms may have been well placed.
The Terrana remix was the version that hit the shelves in May 1980 -- the same month as the infectious dance track Funky Town by Lipps Inc topped the US charts -- and went to number to one the charts. To date the album has sold more than 10 million copies.
But the Deluxe Edition released in 2003 featured both versions (it's hard to hear now why Motown should have been fearful of the taut Chic-funk) plus an extra disc of alternative mixes of singles from the period (the pheromone-inducing Love Hangover, 12-inch versions of tracks from the earlier album The Boss) and the 10-minute, party-pleasing dance-mix medley of Supremes' hits which had been bootlegged through New York clubs. There is a spontaneousness and sexy shimmer to the Chic version.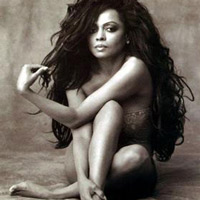 The diana album remains a high point in her post-Supremes career and if she fell back into public consciousness in the late Nineties as a tragic rehab figure and for many simply became the one Michael Jackson modelled his surgical reconstruction on, you can take nothing away from this album.
For many she might now be a shadowy and distant figure from black'n'white clips on You Tube with the Supremes, but Diana Ross still tours to considerable acclaim as she sings her back-catalogue and changes costumes for just about every song.
As for her recordings, she still releases them but they rarely dent the charts in any meaningful way and go largely unreviewed in the mainstream press which once embraced her.
But once she made very interesting and sometimes great records ... like diana.
Like the sound of this? Then you should definitely check out this by Donna Summer.