Graham Reid | | 4 min read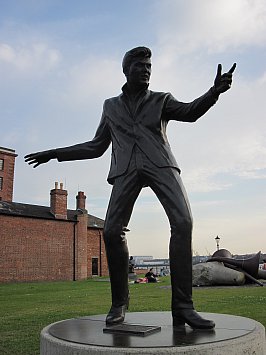 In Liverpool's Dockland there is a statue to one of the most famous musical sons of the city. And it isn't of a Beatle, Gerry of the Pacemakers or any of those many others who followed in the wake of the Fab Four in the Sixties.
Or of anyone from the second wave ushered in by Teardrop Explodes, Echo and the Bunnymen and others in the late Seventies..
Nope, it dates back to a singer from a much earlier time, the era when pop stars changed their given name to sound more outrageous or, in the case of Johnny Gentle and Adam Faith, more safe at a time when menacing rock'n'roll stars had names like Marty Wilde.
The impresario Larry Parnes wasn't entirely responsible for the renaming process (Tommy Hicks renamed himself Tommy Steele in 1956). But he certainly told teenager Ronnie Wycherley from Liverpool -- who had grown up in Dingle where Ringo Starr came from and which was home to the biggest rubbish tip in Merseyside -- that would no longer be his name.
After witnessing the enthusiastic Ronnie in action at one of his many talent searches he changed the boy's name to Billy Fury . . . and a star was born.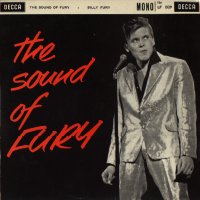 And quite a unique one for his time because Wycherley/Fury not only sang in a persuasive Elvis style, he also wrote his own songs in the idiom and penned more than passable bluesy rock'n'roll songs such as Since You've Been Gone (which morphs into rockabilly-lite) for his debut 10" album The Sound of Fury, recorded on one day in March, 1960.
The extraordinary thing about that album -- 10 songs for Decca with session drummer Alan White who would later replace Ringo on the first Beatles session for Parlophone -- is that all the songs were penned by Wycherley/Fury, some under the pseudonym Wilbur Wilberforce to deny Parnes the royalty cut he usually insisted on.
Yes, Fury may have leaned heavily on Gene Vincent (Turn My Back On You), Buddy Holly (Alright Goodbye) and of course the whole sound of Elvis in Sun and RCA with a backing vocal group like the Jordanaires (the Four Jays in his case) but . . .
Fury's all-original album was a first in British rock -- and it's hard to think of any white American rock'n'roll singer whose debut didn't drag in songs by Chuck Berry, Little Rchard et al -- and was probably testament to his enthusiasm for Hank Williams who also wrote his own material.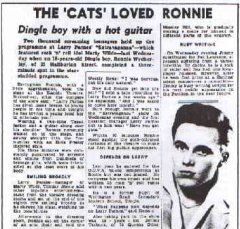 Despite having been turned down for auditions by Parnes previously, the 18-year old Wycherley attended the impresario's extravaganza in Birkenhead in late '58 (his mum had written Parnes a letter acclaiming her boy's talent) and played some of his songs to Parnes and his protege Marty Wilde.
Parnes was so impressed by them -- and he liked the look of the boy with slicked-back blonde hair -- that he threw him on stage.
"There was a brief instant in which he looked blankly at me," said Parnes later. "Maybe he didn't understand, maybe he thought I was kidding. So I pushed him out on stage. He got the message then. He ran to the microphone and started to perform.
"Well, he was sensational, a real gas! He only did a couple of numbers but that was enough to get the fans rooting wildly for him.
"Then and there I was convinced this boy would be a star."
The next night Wycherley was on the tour alongside Wilde, Vince Eager, the Sophisticats and others. Soon enough he would be renamed Billy Fury.
After a couple of successful singles, he recorded his debut album The Sound of Fury of which Keith Richards would say a decade later was "one of the greatest rock and roll albums of its era, and one I swear by".
Fury certainly looked the part of sultry rock'n'roller on the cover photo.
Billy Fury was on his way . . . but his wild and sexually explicit stage act was toned down by Parnes (who saw him like Tommy Steele, an all-round family entertainer) and so ballads became his forte, then it was a movie (Play It Cool), television appearances and . . . panto.
The Fury had been tamed . . . and the arrival of the Beatles effectively ended the careers of this first generation of British artists. At 24, Fury -- just a jot older than John Lennon however -- was too established an artist to change as Beatlemania swept the world . . . although there was always that nagging irony.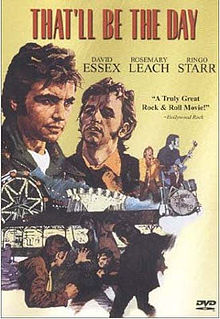 The year of his debut album the "Silver Beetles" famously auditioned as his backing band but John Lennon wouldn't dump his non-playing bassist/friend Stu Sutcliffe so they didn't get the gig backing the recently re-christened Ronnie.
But Ronnie/Fury's path crossed that of a Beatle once more when, in 1973, he played the part of Stormy Tempest at a Butlins-like holiday camp in the movie That'll be the Day.
The film starred Ringo who has been in Rory Storm's Hurricanes in the late Fifties . . . and on whom the Stormy Tempest character was based.
For the film he briefly lived a moment in British pre-Beatles pop culture he had never had to endure in the real world, although he must have known such an indignity far too well.
Billy Fury -- who always suffered ill-health -- died in 1983, aged just 42.
Fans raised the money for his statue which went up in 2003.

If there has to be statues to dead kings, generals or even rock'n'roll singers, Billy Fury's is a good one and he was certainly deserving.
This piece was prompted by finding The Sound of Fury in a JB Hi-Fi dump bin for $7. That is a Bargain Buy!