Graham Reid | | 3 min read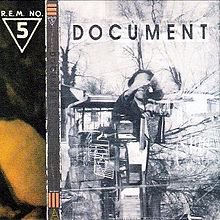 On paper, Scott Litt seemed an unlikely choice as co-producer of REM's 1987 album Document. The band were poised to make the great leap forward after the success of Lifes Rich Pageant of the previous year and Litt's credentials, while more than decent, weren't massively impressive.
He had produced the dB's Repercussion (which hardly anyone heard) and worked with Sylvain Sylvain of the New York Dolls . . . but his big credit was producing Katrina and the Waves' Walking on Sunshine, an addictive slice of timeless pop, but not quite dripping with indie cred.
However REM were ready to step up and the times -- Reagan re-elected and Thatcher's government getting a third term, so conservatism was ripe -- had an urgency about it. REM had things to say and they wanted them to be heard, so Litt's crisp and clear production allowed Michael Stipe's vocals and lyrics to be fully absorbed.
In that sense Don Gehman who produced Lifes Rich Pageant had pointed the way but Litt -- recommended by Gehman who was busy with John Mellencamp -- pulled everything into sharper focus, from Stipe's voice to the nail hard drumming by Bill Berry, the occasional flicker of their archetypal guitar jangle but now mostly replaced by edginess and tough chords, Steve Berlin's sax (on loan from Los Lobos) . . .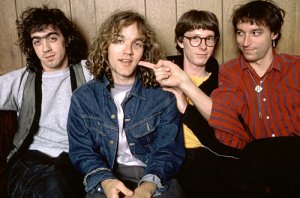 "Our feeling up to that point," said Mike Mills later, "had been that the voice is really one instrument among four, which still held true. But at the same time we were all seeing that Michael had some serious talent as a lyricist.
"We realised that we had a voice and if we said things, people would hear it."
What they wanted to say is there in the first line of the opener, Finest Work Song: "The time to rise has been engaged . . ."
This was no time for evasion, poetics or alluding to ideas, but to put the message out front with fury -- evident in the visceral crunch of the music -- and in lyrics which urged action and engagement.
"What we want and what we need has been confused," says Stipe assertively later in Finest Work Song. "Take your instincts by the reins . . ."
The closing passages of the second song, Welcome to the Occupation, ends with Stipe singing "listen to me, listen to me" over and over.
Even on the pop hit The One I Love comes with the urgent "fire" and the superficial love message is subverted by referring to the lover as "a simple prop to occupy my time". Another thought has taken over and it is flaming with desperation: "Fire!"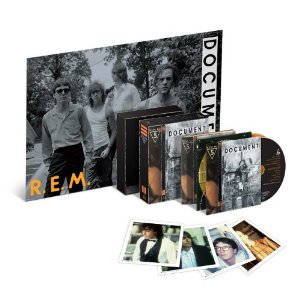 In keeping with the reissue times in which we live, Document now comes in a 25th anniversary edition (following previous such REM reissues for Lifes Rich Pageant and the first three albums) with an extra disc of a bristling live concert in Holland. It comes at you in an adrenalin rush of hammered down drumming and furious guitars with Stipe front'n'centre and singing with a desperate urgency.
Given its political and social context and content ("by/buy jingo, buy America") Document doesn't sound as locked into its indulgent era as many albums of the time.
This was the year of Dire Straits' Brothers in Arms, U2's Joshua Tree, Michael Jackson's Bad and plenty of Whitney Houston.
But the underground was coming into the light. It was also the year of Public Enemy's Bring the Noise, the rise of Jesus and Mary Chain with Darklands and the beginning of a backlash against vacuous pop which was cluttering up the charts.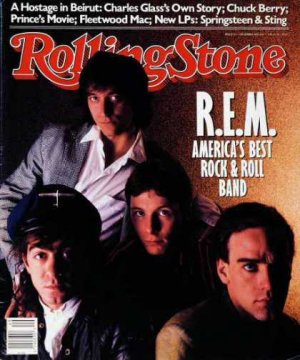 REM were in the vanguard as the face of college radio rock, "the acceptable edge of the unacceptable stuff" Buck told Rolling Stone.
Ironically, given its taut and often aggressive songs, Document was the album that got REM into the US top 10 with The One I Love, and onto the cover of Rolling Stone as "America's best rock and roll band".
"I can't believe we're up there with Springsteen or whoever," said Stipe.
Well, Litt -- who knew how a hit could be made -- was perhaps largely responsible for that.
He'd given them a clarity and achieved his aim of making "a song that would compete with Whitney Houston and that would stand up like that. I knew The One I Love had everything it needed".
Scott Litt was in the producer's chair for the next five REM albums.