Graham Reid | | 2 min read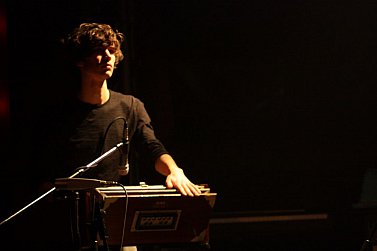 Variously described as "new folk", "alt.folk, "a troubadour" and likened to both Nick Cave and Nick Drake, Rob St John -- born in Lancashire, longtime musician in Edinburgh and latterly of Oxford -- is also a noted writer on ecological and environmental matters.
But it is his dark folk, especially that on his debut album Weald released a year ago -- which evokes landscapes and states of mind in relation to the geography of northern Britain -- that bridges the worlds of mind, heart and soul.
Although crafted in a solitary manner -- one man, one guitar -- in locations in Cambridge (a kitchen), Oxford (St Michael's Church) and Edinburgh (a house), Weald steps past the limitations of that aesthetic in songs and music which are wide-screen, full of flourish and utterly engaging. It comes with colourings from musical saw, harmonium, other singers and fiddle.
The piece Sargasso Sea rides an unusual guitar tuning and a disconcerting ambient backdrop which suits the tone and theme of that strange location in the Atlantic; Stainsforth Force (a real place, a waterfall) evokes an unnerving Great Outdoors through sonic effects and what seem to be found sound; Domino (which invites those Nick Cave/Bad Seeds references) is shaped by distortion and samples from field recordings; Emma's Dance is finger-picking Anglofolk (cue Nick Drake/Bert Jansch et al comparisons); the mysterious final track Empty House floats weightlessly before being grounded by ghostly voices and what sounds like a small secret door closing at the end . . .
The result is an album which creaks with life, like conversations held in cold rooms or outside the barn door. It feels real -- and about real people and places -- and Joe Skrebels of the online magazine This is Fake DIY commented, "It's tempting to class Weald as a folk album -- St. John himself admits to a fascination with rural British physical and cultural landscapes, the figurative realm of so much traditional music -– but to do so would be to miss so much of what makes this such a captivating listen".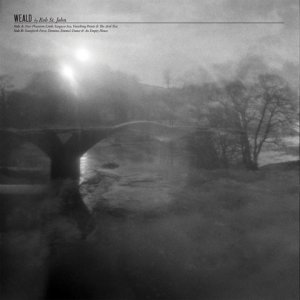 What makes the album so captivating is how St John inhabits the songs, brings a sense of location and identification with people and places, and how it sidesteps expectation of what the label "singer-songwriter" has come to mean.
This isn't bedroom mope or self-centred ruminations but something which reaches more widely, and is sometimes closer to Leonard Cohen's refined poetics than much else in Anglofolk.
"I grew up in a tiny, bleak valley between the hills and the half-derelict factories of East Lancashire," says St John.
"I'm fascinated by the shifting communities here, the stories of witch trials, the half-neglected anti-pastoral countryside, driven past on a motorway to somewhere else: the 'darkened rooms and deserted villages'.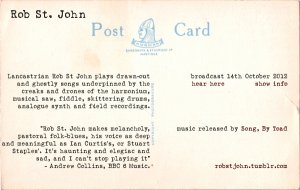 "Weald is a fascinating word, emerging out of Teutonic language to form a whole host of words meaning 'wild', 'wooded' and 'dangerous'.
"Ironically, perhaps, it's now morphed into a description of the most manicured and middle-Englander parts of our country, which made it a pretty apt word to sum up the LP's themes".
And yes, while you can download Weald (here) and it has just been re-released on CD, it also came as a gatefold sleeve vinyl LP (since sold out). Of course it would.
You might also imagine it on 78rpm also, playing its strange and spectral music across generations and through time.
Like the sound of this, then be sure to check out this and this. And definitely this.