Graham Reid | | 6 min read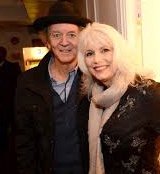 That Emmylou Harris has known singer-songwriter Rodney Crowell since 1974 but has only now got round to recording a duet album with him makes her seem a little tardy. If not downright remiss.
But at last here is Old Yellow Moon, a dozen songs with Crowell and typically superb musicianship from members of her touring band, Bill Payne from Little Feat and Vince Gill.
But Jeez Emmylou, why so long?
(laughs) I don't know why it took us so long but I believe everything happens when it's supposed to. We've been talking about doing this record probably from the first time we sat down and sang together. But he's been real busy and I've been real busy. Rodney and I never really take a rest, we enjoy working, but finally we just decided to put a sacred circle around this period of time and said we were going to start and finish this record.
Did he already have some songs or was there going to be in a writing process for the album?
No, there's not really any new material. We did some of his older songs that he had never actually recorded and he took the lead on those to make it a kind of different take. Then we just picked songs we really liked. He and I brought some songs and [producer] Brian Ahern brought some and we just voted and would try different songs to make demos.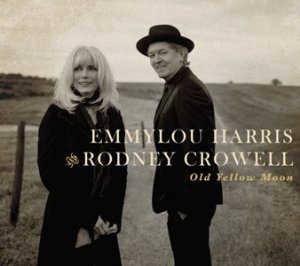 Was it a reasonably fast process then, given you all know each other so well, and the songs too?
We started out fast and thought we would finish it sooner than we did. But once again he had commitments and I had commitments, but we eventually got it done. We pretty much knew what songs we were going to do
And there are none of your songs on there.
Absolutely none. I haven't written anything since Hard Bargain, I'm taking a break (laughs).
It seemed to me from Red Dirt Girl in 2000 to Hard Bargain a couple of years ago that you were an ever-evolving late bloomer when to came to songwriting. You were quite prolific for that period, but does it come hard to you?
I just haven't put the time in to it because I've been busy. The other things is I just love interpreting songs, and there are songs on this record I've wanted to do for years. So it's very satisfying to be able to to do them. So I'm very happy to have the interpreter hat on, and also the harmony-singer hat. They fit me well and I enjoy wearing.
At some point I hope to get back to the writing, but I never feel an urgency . . which I suppose kinda served me well over the years.
Outsiders like myself would find that hard to understand because an album like Hard Bargain for example has such extraordinary Harris on it. Did those songs come to you in batch or were they laboriously worked on over a long period.
I set aside some time to write and not do anything else then, and I wrote pretty much all the songs over a certain period. Although Darlin' Kate came a bit later because we lost Kate [McGarrigle] and that had a great effect on me. So that was probably the last thing I wrote for that album.
Let me ask about that because it is an exceptional song and you did it so beautifully in concert here in November. It was one of those pin-drop moments. Because of the circumstances did that song just came straight from the heart and by-passed the head in a way?
If you are singer you need to by-pass the head most of the time (laughs). A friend of mine once said 'thinking is the enemy of music'. You do have to think it, but once you are performing you are just in a different space. But that song is still very raw for me because Kate meant so much to so many people.
I'm hoping in that song I wasn't speaking just for myself, that's why the 'we' is in there. Because she was so extraordinary and touched so many people. And she was such character and so inspiring. I don't want to make her sound like a saint because she was incredibly human. She was one of the most extraordinary women I've ever known, as well as an artist. I still don't know if people are aware of the depth of her songwriting.
There are a lot of songs that have never even been recorded but that I have heard since we've been doing these memorial concerts and people are digging into her repertoire. It's astonishing.
And also [Kate's sister] Anna. If I had to pick a body of work the McGarrigle stuff is what I would choose. It takes me to a different place and I don't think anyone else goes there in the way they do.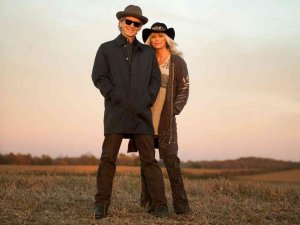 It's interesting you say it takes you to a different place, I very much respected when you sang Red Dirt Girl in concert because you said that this wasn't the story of your life, that you had a very happy childhood.
I know you briefly went to acting school, so in part what you do as an interpreter of a lyric is that you have to inhabit the role, to be the character as it were?
Well I discovered early on that I was not a very good actress so I don't know how really good actors do it. But I have a feeling they touch on a place that I go to when I am singing. And of course I make stuff up, but I can relate to people. The girl could just have easily been me, there but for the good grace of God go I. Even with a happy childhood, things happen and can turn you in a way. We just have to feel blessed when our lives turn out happier or with more peace than some people.
It's not that anyone is better than anyone else, but for some people life is difficult, and some don't survive.
What draws you to a lyric by a particular writer. Is it the truth in the character or a truth in the idea?
It's the poetry in the lyrics really. It's just the way words resonate and you feel it is real. It is the beauty and sound of the words. It's also how they make you you feel.
To me it's a mystery and I think we don't ever have to need to know why, we just have to get on the wave and ride it.
You are accomplished singing ballads, folk, honky-tonk or whatever. Is there a place you know your voice just won't go?
Opera (laughs) I read once someone said that style was a product of your limitations and you have to be grateful for the fact you can't do everything. Because if we could then we'd all sound the same.
I'm always curious why songs are singled out as a title track for an album/ What was it about Old Yellow Moon that made you choose that for the title?
The lyrics are for me are about two old friends who have known each other for a long time and have a great affection for one another, and share a common history. And there is such a sweetness in those lyrics.
I've had that on my list of songs to do since about 1994 when it came to my attention through a friend, one of the co-writers Hank DeVito. It's funny because it was obviously meant for this record as an end song, and it was meant for Rodney and I to sing. The actual cut on the album is the demo, it was the first time we sang that song together so it captured the essence of why this record came to be, Rodney and I sitting down and singing together. As we have since 1974.
This was dumped into our lap.
And Here We Are was a little too obvious.
Oh yes (laughs). This one had a little more mystery.
You have always carried the torch of Gram Parsons' writing and songs – you wrote that magnificent song The Road on Hard Bargain about him – and this September is 40 years since his passing. Do you think there will be any particular commemoration?
Gosh, I don't know. There have been people having these festivals for years and I deal with it in my own way. It'll be 20 years since my father died and I'm actually thinking more about that than I am about Gram.
I imagine for so many people you will be forever associated with Gram, but you have done a large body of work since then.
Yes, but rightly so. I certainly wouldn't be doing what I'm doing without meeting Gram. He turned my whole idea of music on its head and helped me find my own voice.
Before that I was kind of a Joan Baez wannabe, and no one was ever going to be Joan Baez except Joan. So I don't think I would have found that particular spot where I can shine, for lack of a better word, without Gram.
How do you see the next five years? You'll continue to tour?
How would I stop? I don't know how to do anything else.
You can't go back to college.
(laughs) Well I could, but I would probably do just as badly as I did before. Actually I was a good student in school but by the time I got to college I was so tired of studying that I was ready to have some fun. And there's no better fun than making music.
I love being on the road, I get a lot of rest on the road and know how to manage it.
So hopefully I will still be out there in five years. And 10.
There is more on Emmylou Harris at Elsewhere starting here.