Graham Reid | | 8 min read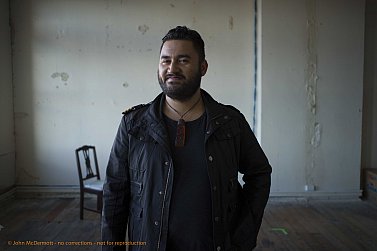 About 10 minutes into a wide-ranging conversation with Tama Waipara – genial, self-effacing without false humility, and a ferociously gifted musician – we finally get around to talking specifically about his new album Fill Up the Silence.
I compliment him on making "an album" (reviewed here) and define my terms: a series of distinctive and separate songs that take the listener on a journey.
He laughs again – he laughs a lot – and says, "I love albums, in fact I even asked my manager if we could make it only available as an album, and not individual tracks be available for download."
And in a way that makes sense because it is "an album" and he has given considerable thought to the running order, from the beat-driven openers Medicine Man and the title track through the moody and "kind of trippy" Night Vision which stops you cold at the midpoint, into the groove-riding Pasifika and going out with the acoustic ease of Sunshine on the Water at the end.
The sheer diversity on this, his fourth album, draws on the heavy musical artillery which Waipara has acquired. He's the boy from Opotiki who graduated from the prestigious Manhattan School of Music with a Master's degree in music and performance clarinet, who has studied conducting and worked in theatre, notably the hit production and touring show Brel last year alongside Jon Toogood, Julia Deans and Jennifer Ward-Lealand.
Put it Waipara – who has also worked with Unitec students teaching Maori and Pacific sounds, and currently holds down a 9-to-5 job as Programme Leader Maori for Auckland Council's Arts and Culture division – that this album is very different from its predecessors and he'll happily agree. That was the plan.
And some of the songs sound like they have been worked up from rhythm tracks rather than melodies or chords?
"Yes, true. Medicine Man, Fill up the Silence and The Hunter -- although that already existed as a song, and so did Medicine Man – came from beats. With all of them they were existing ideas, some were sketched out.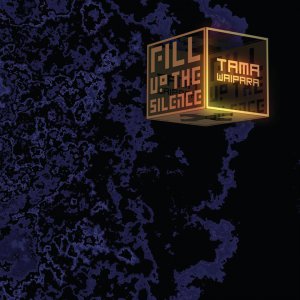 "But the reason Medicine Man is called that and doesn't once say those words is because it used be a song with a chorus of 'medicine man'. But that died . . . although the kaupapa stayed."
Medicine Man, he says, referred to a rhythm from Papua New Guinea . . . and our conversation spins off into a discussion of why Maori have such a rich array of flutes but few percussion instruments, unlike their Polynesian neighbours.
Waipara thinks about these things and that too informs his music, although everything on this album was up to be questioned and changed.
He notes he was unhappy with his demos (unlike many artists who will tell you they should have released their more committed demos than the polished finished product) and he felt the song structures were too obvious.
"I had fallen into default like, 'It sounds like it needs a bridge there so we'll put a bridge in'. Or, 'That sounds like it should do this'. I was like, 'Oh great, thanks for making my mind up for me and how I should sing it'.
"That might be a hangover from working in theatre, and I wanted to get away from that."
He uses the word "gritty" about the end result: "I mean I wanted it to be unfiltered by the need to be pretty. Previously I've always worried about vocals and have been careful about how well placed and accurate they are. This time I wanted to let rip a bit.
"Like on Fill Up the Silence. There are wobbles in the voice and if I was going back to do it later I would fix that or re-record it, but it would lose the passion and lose the truth."
Longtime producer and friend Aaron Nevezie was also very much part of the creative process at his Bunker studio in Brooklyn. On the song Pasifika, Waipara had filled it with rather obvious ukuleles and strummed guitars ("at the time I thought that was exactly how obvious I wanted it to be") but at the very end of the demo was a high "Ooooo" vocal and pataru sound.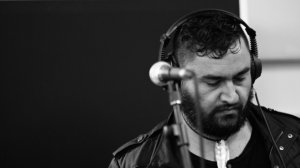 "Aaron sampled that, and that was what inspired the whole album. He sent me a sample and all he had done was chopped the end off and looped it. It was a simple but clear point he was making which was 'Take all of that out and look at what the idea is and build it from there'.
"The song is all the same, the melody and the lyrics, but just without the harmonic shift."
Interestingly, after receiving a $10,000 Creative New Zealand grant ("I applied for $25,000, good luck with that", he laughs) the rest of the recording and mixing money came from crowd funding, a very specific $8280.
He recorded most of the album over 12 days in New York with Nevezie but came home and realised it would cost $7500 to mix "and I didn't have a job".
"I had temp jobs and contracts, but who has $7500 lying around? While I was in the States the whole Kickstarter thing was very big and a few people I met had done it. I thought I would give it a try and discovered PledgeMe. At the time I put up my project there were about seven or eight others – now there's probably 50 or 60 – but I was quite anxious about it. I remember the night before and pushing "go" and thinking, well that's it. But I wanted to make the album properly."
The figure was specific because he wanted to work in Neil Finn's Roundhead ("a high quality place and the most similar to the Bunker") and so simply did the costing using their ratecard.
"I was anxious about asking about money. I don't know why it's different from a funding proposal but in New Zealand we support people who support themselves."
He also offered rewards for contributors – from name credit in the album to a private concert – and raised all the money in just 18 days.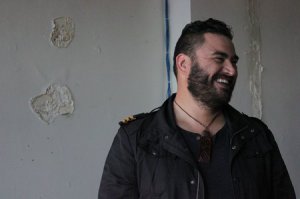 He laughs about having a big family ("that's always the first vine that gets tapped, but they do it without being asked") and admits there was one hugely substantial donation, "but actually they were all substantial. Overall there were only about 80 people who made that amount come to life, that was shocking. $100 bucks each on average and who's got a spare hundie?"
A couple in Dubai bought a private concert which means a flight at some time.
Waipara has done his time on aircraft: he lived in New York for eight years ("Harlem, the upper Upper West Side, Astoria in Queens, Washington Heights, the East Village, Williamsburg . . .") and admits part of his heart misses the cultural vibration of the place where he could see theatre, Rufus Wainwright, Antony and the Johnsons . . .
"But it's not because I don't like being here, it's just there is a pace there and the access you have to everything all the time. We think about NZ Opera and what we can produce in a year and what happens in New York every day. That said, there's not a night in recent memory here where I haven't been out to a show, dance or a gig. There's a lot happening in Auckland.
"But that [New York] world celebrates diversity and you're encouraged to stretch out your arms and just be who you are. Not that we are discouraged here, but there are very definite taste preferences.
"It's hard to complain because as a performer you always want to give people what they want, but as a writer there is that voice which needs to be exercised."
Does he think then the people who helped fund this new album will be surprised by it?
"Well I was surprised by it, so I think so," he laughs. "But I think it will be a good surprise. There is one thing that is sort of missing – but which is kind of implied in Sunshine Across the Water – and that is the downhome feel.
"So if anything is missing it is the lullaby-ballad-croon. That's on albums one, two and three so . . .
"But the feedback I have had has all been positive."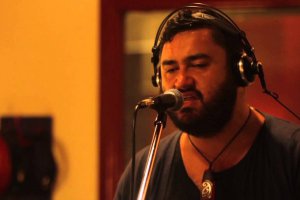 In a free-ranging chat in the Auckland City Art Gallery cafe – where he's recognised by the girl behind the coffee machine from a recent photo in the Herald, "and I'm still wearing the same clothes" – he says what he learned from the Brel show was more about songwriting than the performance aspect: "And how to sing in French."
"And the depth of his thoughts and his cynical hope for humanity. I could relate to a lot of that sense of doom and gloom, but with heart."
And he repeatedly refers to the kaupapa of his songs, how they bring some of their past with them into the final, and often very different "finished" version. As long he had the kaupapa he knew he could take the songs where they needed to go.
And some of them had unusual origins, like that odd and uneasy Night Vision.
"It started as a weird electronic thing I did in Opotiki which came about when I went outside just in that moment when the light was changing. I saw something odd and I wasn't sure what it was and then it moved. And it was a hedgehog.
"That was the inspiration . . . but it was about how you can't trust what you see. So I wrote the song, a totally different melody, totally different feel and it was one of those side ideas that I wasn't really thinking of putting on the album.
"But then Liev Zhurbin, a guy in New York, had come in and recorded a series of interludes and string segments and Aaron made this loop and played it to me. I thought, 'Let's try something' and so I changed it, rewrote it and it became 'what is this world?'
"Even the vocal are tenuous, hanging on for dear life. At first I thought I should fix the wobble in the voice there or was thinking 'That's not going to sound quite right there'. But the whole point was to be honest, and that was actually what it sounds like."
Soon a short tour ("a tour-ette") beckons to test the waters for something more substantial later in the year and that has its concerns. The last time he toured was in 2010 and now he has something different to put before his audience.
"But it is getting back out there and also saying. 'This is the sound' and hoping people respond to it."
There's also the day job, thoughts of an album in te reo and an acoustic album ("just me and a guitar, I've got plenty of demo versions for that one") and . . .
Yep, that private concert in Dubai.
TAMA WAIPARA TOUR DATES
Thursday October 3rd. Puppies, Wellington
Friday October 4th. Rhythm, New Plymouth
Saturday October 5th. Galatos, Auckland
Sunday October 6th. Leigh Sawmill, Leigh