Graham Reid | | 2 min read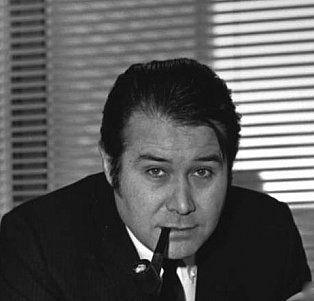 On paper certain things don't seem to match up in Bob Thiele's professional life, especially in the late Sixties.
As a producer at Impulse he had steered the careers of many notable jazz artists (Mingus, Ayler, Shepp, Rollins etc), chief among them John Coltrane whom he had encouraged to follow a singular path which lead to the spiritually imbued A Love Supreme and beyond.
After Coltrane died in '67 however, Thiele -- who was heartbroken -- could be found producing Louis Armstrong on a song he (Thiele) co-wrote under a pseudonym with George Weiss.
It was What a Wonderful World, which was intended to take some of the heat out of the racial cracks appearing in America, and which became the biggest selling single of '68 in Britain.
By the following year -- after a bust-up with Impulse -- Thiele has started his own label, Flying Dutchman, which was recording fiery politicised black American artists, psychedelic rock, Ornette Coleman, Pharoah Sanders and producing a group of seasoned players (Tom Scott, John Carter, Jim Horn among them) as the Bob Thiele Emergency.
So the man who also produced BB King, John Lee Hooker and T-Bone Walker as well as Pat Boone, Jack Kerouac and Duke Ellington (and was married to singer Teresa Brewer) now had his own label and could what he damn well pleased.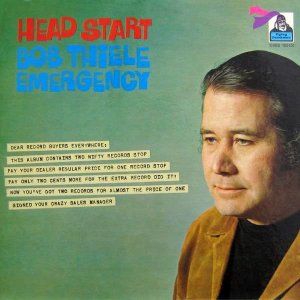 And what pleased him was using his Emergency roll-call of players for the double album Head Start -- selling for only two cents more than a single album as he told record buyers on the cover -- which neatly has a foot in just about every jazz genre imaginable (and none consistently).
It also spins out in a final 16 minute side-long spoken-word piece -- with soundbites and abstract musical accompaniment -- by Thiele on the troubled times in the World (It is entitled Biafra, King, John and Robert, The American Indian).
Before that the third side of the album was dedicated to Coltrane (which included the lovely Lament for John Coltrane: Joe Farrell on flute, drummer Elvin Jones, bassist Wilbur Little), A Love Supreme read by Rosko with Farrell, and Holiday for a Graveyard written and played by Ornette Coleman. It was recorded live at Coltrane's funeral.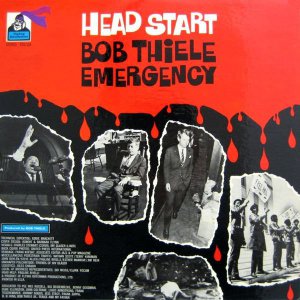 The second side is a jazz suite which moves from Pickin' Taters Blues through Swing Era, Be Bop and ending with Avant Garde (written by John Carter).
In this context would a Beatles ballads section (Blackbird, Julia, I Will) seem so unexpected?
Hardly. It's right there on the first side between Tom Scott's Freaky Zeke and a piece entitled Lanoola Goes Limp.
That's what you get to do when you not only have your own label, but loyal musicians whose trust you had built up over decades.
Flying Dutchman under Bob Thiele released dozens of interesting and often innovative jazz and elsewhere albums (the Spiro Agnew comedy album hasn't dated well) but few albums as out-there and diverse as Head Start.
Thiele also helmed the Bob Thiele Collective (another free-floating ensemble) which recorded for his Red Baron label.
But if it's a journey inside the thinking of Thiele -- who died in '96 aged 73 -- then Head Start, reissued on CD with good liner notes and the original cover essays included, is where you should start.
Bob Thiele was different. In a good and generous way.
For another interesting Flying Dutchman release see here.