Graham Reid | | 3 min read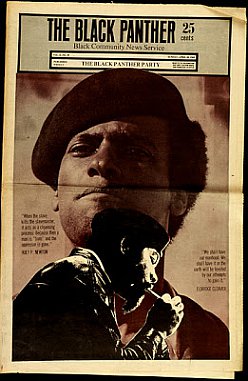 In the on-going American discussion about "the right to bear arms", the flashpoints usually come from another shooting in a high school, a lone gunman on a rampage or what the Founding Fathers actually meant to say when they drafted the Constitution.
Perhaps an interesting point of focus might be what happened in the late Sixties/early Seventies which is recent history . . . but just far enough away for people to be somewhat more objective about.
With the war in Vietnam raging, inner city riots, the increased militancy of sectors of the black population after the murders of MLK, RFK and Malcolm X, the rise of the Black Panthers and the Weathermen, black spokespeople such as Huey Newton, H. Rap Brown, Angela Davis and many others, America -- or Amerika in the argot of the revolutionary figures -- was a powder keg.
And armed.
The most radical elements quoted Chairman Mao's dictum: "Political power grows out of the barrel of a gun".
At times there seemed the very real possibility of an armed insurrection from some quarters. Lennon's "if you talk about destruction you can count me out" was ridiculed in the radical press which hailed Jagger's "the time is right for violent revolution".
And that revolution, in the famous words of Gil Scott-Heron, would not be televised. It was coming to a street, block, suburb and city near you.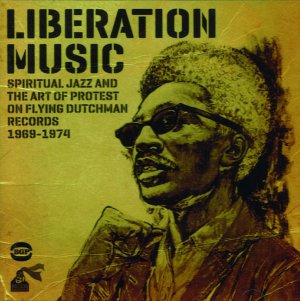 As black activist Angela Davis said, "We are threatening the oppressors with the power of the people. One of the things that people in this country forget about white people is that they founded this country on overthrowing their oppressors . . . they forget we are carrying on a struggle that they began".
That quote opens the album Liberation Music: Spiritual Jazz and the Art of Protest on Flying Dutchman Records 1969-1974 (Ace, through Border in New Zealand) which collect music with a radical subtext, and often a blunt surtext as in excerpts from that speech by Davis and another on "do your own thing" by H. Rap Brown.
Interestingly the founder of Flying Dutchman Records was a privately educated white guy who was closing in on 50 when he started his label after previously spending years heading the jazz label Impulse where he worked with the likes of John Coltrane. Bob Thiele was attuned to the black conversation and through Coltrane signed free players like Archie Shepp, Albert Ayler and Ornette Coleman (among others) to Impulse.
From there it was a short step into a more radical music -- Shepp's Malcolm, Malcolm, Semper Malcolm was about Malcolm X -- and so alongside music on his new Flying Dutchman label he released albums of spoken word by Angela Davis, Brown and Carl B. Stokes who was the black mayor of Cleveland.
He also had Scott-Heron, Louis Armstrong (included here with his aching version of Pharoah Sanders' The Creator Has a Master Plan), Lonnie Liston Smith . . . and the Esoteric Ensemble from Europe which included the young saxophonist Jan Garbarek and guitarist Terje Rypdal.
Thiele could hear talent.
This collection errs towards the music of yearning and spirituality rather than burn-baby-burn: The Bob Thiele Emergency -- which is Joe Farrell (flute), Wilbur Little (bass) and drummer Elvin Jones -- offer the standout Lament for John Coltrane who died in '67.
There is also Leon Thomas' brooding Echoes ("there is a place where it's always spring and peace abides") and an extract from Ornette Coleman's loft session Friends and Neighbours in which the locals chant the title. And Argentinean saxophonist Gato Barbieri (with a band which include Lonnie Liston Smith and Ron Carter) has a percussion-driven piece dedicated to Tupac Amaru, presumably the 18th century Peruvian revolutionary hero after whom Tupac Shakur was named.
The 17 minute centrepiece The Giant is Awakened comes from pianist Howard Tapscott's Quintet (Arthur Blythe on alto) and makes that connection between Africa and the streets of inner city America with increasing urgency.
Stokes reads pieces by Langston Hughes and Gil Scott-Heron (accompanied by the Oliver Nelson Orchestra) and it ends with Chico Hamilton's Gonna Get Some Right Now . . .
This collection opens a window onto the volatile world of that explosive period, where politics and spirituality were often uncomfortable bed fellows.
Let's hope there is an even more radical companion volume from this source which includes Stanley Crouch's critique of the Watts riots, further from Davis and Brown, and even more from the likes of Howard Tapscott.
Let the discussion begin.
Interested in more along these lines? Then check out this and this and this.