Graham Reid | | 8 min read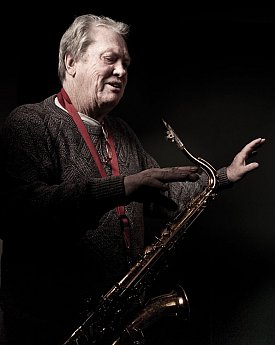 Saxophonist Bobby Keys says he doesn't drink these days: "I'm extremely sober. I mean, I'll have a beer every so often, but it's been years since I've been drunk. I don't drink anymore because it makes it too hard to get up the next day," he laughs.
At 70, Keys might well be more moderate in his intake, but he was such a heroic user of drugs and alcohol in his younger years he's probably consumed more than his share.
Rolling Stone Keith Richards says Keys knows how many bottle of champagne are required to fill a bathtub, because at the end a Stones tour in '73 Keys did exactly that . . . and didn't make the show.
The Stones fired him and Keys found himself owing money to the band. A good story, but true?
We'll see.
Stories about Keys – the Stones touring saxophonist and who has played on more than half a dozen classic albums with them – are legendary and legion. He was there when the Stones recorded Exile on Main Street in the South of France, was famously part of the coke'n'booze days in Los Angeles with John Lennon, Ringo Starr, Phil Spector and others in the early 70s, has played on albums by everyone from George Harrison, Eric Clapton and Harry Nilsson to Marvin Gaye and Lynyrd Skynyrd, and recently wrote his autobiography.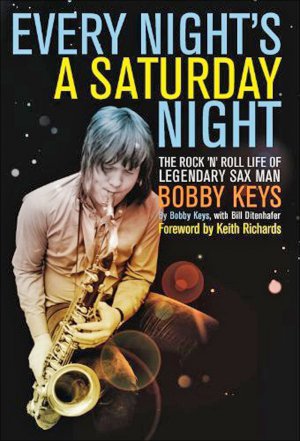 It's title? Every Night's A Saturday Night.
That figures.
Bobby before I ask you about some specific music things, is your diary well booked for the next year or so with touring and recording sessions? Or do you have some pleasant gaps.
There are some pleasant gaps but right now I know there is about six weeks worth of Stones work and from then on I don't know. There may or may not be work, I take it piece at a time.
You've played on some of my favourite albums – everyone from Harry Nilsson and Joe Ely to Jim Carroll and of course the Stones – but you had your own gig in New Zealand some months ago. Is this a regular band, or is it like Ringo's All Star Band where you get people who are available?
These guys are all with other bands, not just me, but it's not really pick-up band. We don't get together frequently as a band but we got together in Nashville to play some afternoons in a friend's place, he has a night club. It just started out like that, just get together and play some rock'n'roll with the guys around here.
I imagine the set you play is a rock'n'roll set.
Yeah, most of the material is something I've had a real connection too, like I've played on the record or knew the artists. And we do some Stones and John Lennon stuff, some Joe Cocker, and that's rock'n'roll.
And you've been a rock'n'roll man all your life. I imagine it's quite gratifying for you in a way to do you own gig given a Stones show would be quite constrained and driven by lighting and staging considerations.
Right. There's not brass on every song but about a third or a quarter of the material.
So when you play your own show you are off the leash.
Yeah and we do the songs we all know together.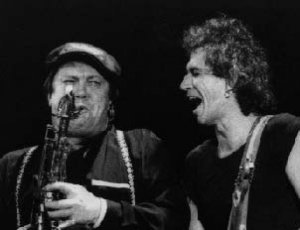 Your Rolling Stones career has been fairly well canvassed and stories about you are legendary and legion, but it seems like the early Seventies was a period where people thought they were bulletproof and there wild lost years. When you look back is that how you felt at the time?
Pretty much, there was not a lot of thought given to tomorrow and the early Seventies were pretty much driven by rock'n'roll and booze.
Do you remember much about, for example, those Lennon sessions and that famous Lost Weekend because you were there for all of that.
Yeah I do, I remember quite a bit. There's a lot of stuff written about that so-called Lost Weekend but that was pretty typical of most weekend and most week days. But there was some great music made. It wasn't all just drinking and carrying on like that. Great music came out of that period, thank goodness. That stuff with John and Harry Nilsson and Ringo. It was a good time but there were a lot of non-musical activities going on, but the end product was pretty good.
I'm glad you mentioned Harry Nilsson because he was one of the great talents but unfortunately never made a consistently brilliant album, just two thirds of some.
Well, Harry liked to do things his way and that's pretty much what he did. The songs may not have been a great commercial success, but artistically there was like 95 percent of it was great. It's like everything though, if you do that much work the average nights are not quite up to snuff, but by and large Harry was very creative and a lot of fun to be in the studio with. A great guy and a rock'n'roller at heart.
When you look back it was all a lot of fun and you had a helluva good time.
I'd have to say so (laughs) but it's life and it's not all a bowl of cherries, sometimes there are pips. But I am very thankful for what I have been able to do.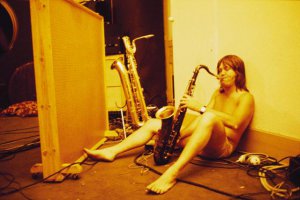 You were there for those final sessions between Lennon and McCartney sessions A Toot and a Snore. What do you remember about those?
Not a heck of a lot. I was very much aware of being in the studio with John and Paul at the same time again. Back then a lot of people got together in the studio. Hell, Ringo was always hanging out, guys like Jack Bruce and so on. It was a little bit . . . John and Paul hadn't been together in the studio for some time but it was fine and everybody got on, there was no blood let.
Do you look back on certain sessions or period where you felt creatively it was something very special?
Yeah I do. Some of the very early Delaney and Bonnie albums, and the first Eric Clapton album. Back in that period of time I got to work with some very creative people like Gram Parsons. Then I started working with the Stones in the studio on about 1970. I liked that period from '69 to maybe '76.
That in fact was the period we just spoke about when you thought you were bulletproof.
Yeah, that's true (laughs) But I've got a different reality now. You have to make certain sacrifices when you are playing live for the sake of production and that can restrict your boundaries and you have to make sure you are in the right tempo to coincide with all the other people. Didn't use to be like that, but that's the way it is now. Although the band sounds better now than it ever has.
Let's talk now the Glastonbury shows with the Stones which you knew would be recorded and filmed, that must put particular pressures on you because you have to do it right.
I don't think about it anymore and for them they've been doing this every waking moment of their lives since the Sixties so you are used to a camera being around. I'm not saying they film every moment but there's always somebody with a camera. There's a lot of footage of recording Exile on Main Street. I've seen some of the outtakes of the videos and I swear I do not remember there being a cameraman anywhere in the area, but obviously there was because there it is.
For you that period was actually very dangerous with the girlfriend you had at the time.
Yeah and that's just the thrill of rock'n'roll.
You were always a rock'n'roll guy and I want to ask you about Buddy Holly and Bobby Vee and all that. But when you were a kid growing up there was that strong tradition of tough Texas tenor players in jazz particularly. Were there any players when you were growing up that you looked up to.
Yeah, on saxophone King Curtis. He was also from Texas.
Did you actually play with Buddy Holly?
I never really played with Buddy Holly, I played with the Crickets. I knew Buddy briefly but we didn't hang out together and he was older than me. He was the first guy I heard who played electric guitar and sang, but Buddy and I weren't what you'd call tight. I was very close friends with the drummer Jerry Allison and Joe Mauldin the bass player.
You were the perfect age for rock'n'roll, you were about 15 when it all started to happen. And I understand you turned professional at that age.
Yeah, I went out on the road with a guy name Buddy Knox.
What did your parents think?
I was living with my grandparents at the time but it wasn't something that people in the family at the time was particularly supportive of. But I was determined and that's what I did.
You were in an out of Muscle Shoals too.
I've been down there to record but never really spent much time there.There's some erroneous things in my biography because I never played with the Muscle Shoals horns.
I'm always interested in the ambience of recording studios and Muscle Shoals seemed to have something going for it. You've been in so many studios, do you get a good feeling when you walk into certain rooms?
Yeah, I always felt that way about RCA Studios in Los Angeles and Electric Ladyland in New York and Olympic in London. I did a lot of work in those studios.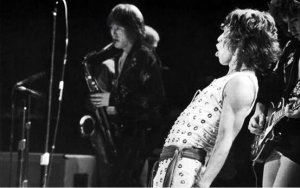 Is that because there is history there or that the room just works for you?
Mostly because of the room. The producers would book the rooms but it seemed when I was living in London I was always going to Olympic in Barnes. There were a few others.
You are much more settled man these days?
Yeah I finally had to deal with different realities. I'm 70 now and when I first started playing with the Stones I was in my 20s. So I have had to modify some of my behavioral habits and my points of view somewhat.
Are you sober these days?
I'm extremely sober. I don't drink alcohol at all anymore. I mean I'll have a beer every so often but it's been years since I've been drunk. I don't drink anymore because it makes it to hard to get up the next day.
That's interesting to hear from a man who had a bathtub full of champagne. Is that a true story?
Yeah, that's what they tell me. It was reflected in my paycheck so I guess it's true.
You were broke after that Stones tour and actually owed them money.
Every musician I've known in my life has been in debt at some time or other. It's just a natural state at times. It wasn't brought on by over-indulgence and pouring champagne down the bathtub drain.
I speak to many musicians who came around in the Sixties and I always ask the same question, Did you ever make any money? The answer is always the same.
I made tons of it I just didn't keep any of it. There was no shortage making it, it was holding onto it was the trick.
You live in Texas now?
I live in Tennessee now in a town just outside of Nashville.
Did work take there?
(Laughs) There's very little work for a saxophone player in Nashville I found out. I brought my family here and friends from Texas have moved to Nashville, and it's a pretty town to be in. We came here from Miami Beach when it was starting to get very South American down there.
Do you practice regularly?
Nah. I practice getting out of bed.
.
Bobby Keys died in December 2014. He was 70.