Graham Reid | | 8 min read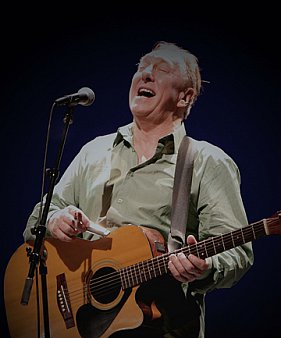 Midge Marsden has carved out a singular career in New Zealand music. He has won awards, toured this country and the USA, counted among his friends Stevie Ray Vaughan, studied in Mississippi and has passed the torch on through university tutoring and on bandstands.
Marsden – who admits to being "sixty-several" – first came to attention in Bari and the Breakaways back in the Sixties and although he has often been pinned as a blues musician since he notes he's never done a straight blues album.
His new album Back to the Well includes a song by the late Mark Sandman of Morphine, Presbyterian reggae from Jimmy Cliff, a South African influence on the title track, gospel on I'll Drown in My Own Tears and it closes with a treatment of Time is On My Side which takes it back to its soul roots. It's a song most people would know from the Rolling Stones' early version.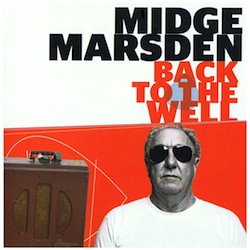 On Back to the Well he also nails down his teenage years in New Plymouth in the song Tiger Town which namechecks 45s on the jukebox, the milkbar cowboys of the day, the sailors in the port area and the early rock, blues and rhythm'n'blues he heard.
Two songs also come from Bill Lake, the founder of Wellington's Windy City Strugglers and the Pelicans, and a much overlooked songwriter says Marsden. But let's start at the very back end . . .
Your version of Time is On My Side, it's a terrific song and takes it right back to its soul roots.
Thank you, because that's where I got it from, Irma Thomas I think it was. But before that there was an instrumental version by Kai Winding. It was a cheesy Latin jazz instrumental and every now and again someone yelled out "time is on my side".
The first version I heard was the Rolling Stones.
And a great version it is too. I studied it carefully for the harmonies which are very vague and loose but hard to repeat, so I didn't want to go there. That's why we went to Irma Thomas and put the horns on it. That was [producer/bassist] Neil Hannan's idea and I'd always loved the song and probably did it live back in the Sixties.
Did Bari and the BreakAways do songs like that?

We did but probably more r'b'b like the Downliners Sect and the Yardbirds.
I love talking to someone who can say the words 'Downliners Sect' and we just know! They were my favourite band and love that first album.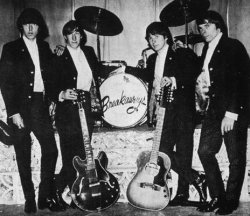 I remember sitting around in Wellington in Hataitai and we were 17 or 18. HMV had hordes of 45s and LPs they never released and they'd say we could spend a day in there and find a cover we'd like to do. And that's where we discovered the Downliners Sect. They were cool and we did a few of their songs. I loved the tweedy clothes they wore.
They were one of the first bands that did a country album, their third one was The Country Sect and they did Wolverine Mountain and songs like that.
I didn't know that.
I'm almost embarrassed I do. Tell me about the song Tiger Town, I don't understand why New Plymouth had a place called Tiger Town.
That was the port area and back in those days places like Timaru and New Plymouth always had about six or seven ships there waiting to take butter and cheese and stuff back to England. There was a great jukebox down at the port milkbar and merchant seamen were important catalysts in spreading music to the world, like Hamburg and Liverpool. New Plymouth was like that.
The jukebox down there had fantastic songs and we used to go down there much against our parents' wishes – because the girls down there were boaties and the merchant seamen were hard – and that part was very old. A lot of Maori people lived down there in tin shacks with clay floors and worked on the wharf and partied it up all night.
It was the local swimming beach and it had the Mardi Gras and dodgems. But it was music like Johnny Cooper, Ronnie Sundin, Red Hewitt and the Buccaneers . . . . they would come from out of town and play the Soundshell. No one quite knows where the name Tiger Town came from but there was an Irish guy who worked for the Taranaki Herald many years ago and we had a few drinks and mentioned Tiger Town. He grew up in Dublin and remembered the port area there was called Tiger Town. So it may have been a merchant seaman thing.
We used to go on the ships and they'd have 45s with the big holes in the middle and the guy at the port milkbar would just feed them into the jukebox and that was my learning curve. Hearing all that stuff, and even Fats Domino was wild back then, there was Chuck Berry, Chess records and it was all there.
And you mention milkbar cowboys. Some people might think you'd made that up, but that's what they were called.
Yeah, and different places had different names, like the boat girls were called boaties in New Plymouth. They were fun people and as time goes on you start thinking about those days and how important that seed fed in then has motivated my entire music career. I feel lucky like that.
Blues has been been good to you.
It has but I do feel a little bit categorised into that and as you know it covers all kinds of music. And I've never really done a straight blues album, but I do love it. And that's why there's that song Payback in the Pipeline. That goes back to about a five month road trip my partner Karen and I did three years ago across to the eastern seaboard.
I'm looking a double album I bought last weekend, it's of Charley Patton and you mention him in the song, and it's about your mate Willie Foster.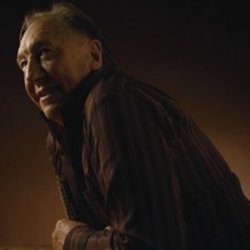 Yes, sort of. The Sunflower Blues Festival in Clarksdale – and Clarksdale is a tourist place and home of the Delta Blues and Morgan Freeman has that juke joint place there – so this is meant to be the showcase of the year, but to be fair the music on display was absolute shit.
It was horrible. It was a big PA and all bass and drum heavy, some bands were okay but it was just wrong. There was no mention Sonny Boy, Wolf, Muddy . . . no mention of the past. I was really upset beyond belief.
So here's a guy Super Chicken in a chicken suit selling CDs between the sets.
I didn't want to pour shit on it but in the song it's Charley Patton, Son House and those guys who were the real thing for me. I'm not interested in the modern Delta blues because those guys for me were what it was all about. I qualified it at the end saying the blues will never die but also that Son House wold turn in his grave if he saw what had happened to his sunflower seed. It was disappointing but it was a realisation . . . and like with the Downliners Sect, you respond to something at a young age and you've never forgotten it.
When we went to [the jukejoint] Ground Zero and the guy who was playing there went under the name Howl 'N Mudd!
At least he paid reference to the past masters. There is a future in the Delta blues but this particular showcase wasn't it. I wondered whether I should moan about it, but I'm old enough to moan about things. It was just disappointing.
We'd brought Willie Foster down here and we had this blues trail booklet and had a Hyundai rental and drove it in a panic to get to all these grave sites, but it was fabulous. Like Fred McDowell's grave. They see white people in a flash car and think it's either the police or people looking for blues graves.
So the song was a reflection of growing up here and importing blues records from England and finally getting to the Delta – although I'd been there several times – and going for this particularly wrong weekend festival.
The first time I went to the New Orleans Jazz and Blues Festival I saw Dr John for the first time and he looked like he wanted be anywhere but there. He was just going through the motions, it was very disappointing because I had high expectation.
My first trip there was in the Eighties. I did a TVNZ travel show and was way out of my depth, but I remember the smell of urine and chunder combined. That was my memory of New Orleans and how the trucks would come through at 5am and wash the streets to get ready for the new day. It was terrible.
You've got a couple of Bill Lake songs on the album. Can you explain to me why we just don't get this ridiculously talented man here. What has he done or not done that's put him outside the box? He's a great songwriter.
He is. I've always recorded Bill's songs. Back in '83 on 12 Bars From Mars I recorded two which I redid on the acoustic album I did because I thought the original ones were a bit rocky and awful. When I lived in Wellington and worked in the NZBC and he had an early version of the Windy City Strugglers I recorded them in a tiny studio in Broadcasting House. Years later I found this 12'' tape which was the original recording from 1970 or something.
We've known each other for years and I've always admired what he does, band like the Pelicans were great. But he's never done his own definitive album. He did about six or eight demos, just him and his guitar, which were just fabulous. So we could have done maybe four of his songs but we just did the two and Growing Out of the Blues is just a great song.
There's a whole group of people who love him to pieces and it would be great to get together and have him do the definitive Bill Lake album and we'd all play on it for free. There's not a lot of people who champion him, Darren Watson does and I do too.
When I started recording his songs I realised he's a deceptively good singer and I tried to interpret them not copy them. We ended up doing Growing Out of the Blues like a Dan Penn-Spooner Oldham thing.
But why no one outside a few us know him is strange. I was relieved he liked what we did.
I remember saving up my milk round and paper money and I bought a Fender Stratocaster in '63. I got it from Christchurch and my parents were horrified.
Then I went to Wellington and Fenders were out and Gibsons were in, so I got rid of it. I don't remember who I sold it to but it ended up with Bill Lake and he's still got it.
Perhaps those songs were written on my old Strat.
MIDGE MARSDEN AND BAND
Tuning Fork, Auckland, July 24