Graham Reid | | 4 min read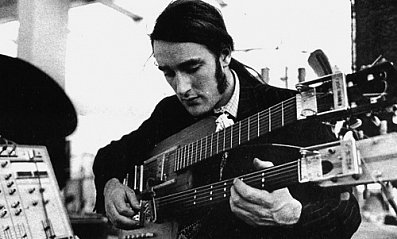 The term "prepared piano" – where the musician places objects onto the strings to get odd and often random sounds – is well known in the classical world. But few people know Johnny Cash got into "prepared guitar" when he recorded I Walk the Line back in '56.
To get that clacking rhythm he placed a dollar bill under the guitar strings and got a sound like snare drum which added a driving and percussive quality.
The star of prepared guitar however is the English avant-gardist, experimentalist and producer Fred Frith.
Frith – born Jeremy Frith in Sussex in 1949 – is also perhaps among the most recorded but least known guitarist/musicians working today. He has appeared on close to 450 recordings but, like so many of his era, he grew up on mainstream pop like the Shadows, then discovered blues and folk. But he acknowledges it was reading John Cage's work Silence; Lectures and Writings (first published in '61) was his breakthrough into other areas of expression.
"Reading Silence when I was about 18," he told Bill Milkowski of Downbeat magazine in '83, "changed my attitude completely, far more profoundly than listening to any music ever would have.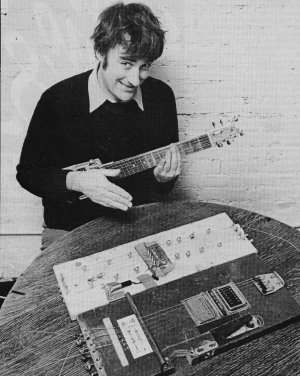 "That book brought very sharply into focus the idea that sound, in and of itself, can be as important as all the pedagogical parameters that you're taught are important in music, like melody and harmony and rhythm.
"The sound itself is just as important. And from that notion I started viewing the guitar itself from a different point of view altogether, just to see what I could get out of it."
Frith first came to wider attention with the the experimental band Henry Cow which formed at Cambridge University. Their first gig saw them opening for the young Pink Floyd in June '68.
Over 10 years, seven albums and a number of line-up changes, Henry Cow pioneered a left-field version of prog-rock (Frith playing guitar, violin, bass and other instruments). They were signed to the liberal-leaning Virgin Records but were even too far out for them and so, after four albums, they were dropped. Their records sold virtually nothing in Britain and their most sympathetic audiences were in Europe.
After Henry Cow, Frith was part of the Cow splinter-group Art Bears and along the way recorded his breakthrough Guitar Solos album over four days in '74.
The eight pieces on Guitar Solos are considered to be a seminal statement in prepared guitar, and brought him to the attention of people such as Brian Eno, Henry Kaiser, Eugene Chadbourne, Derek Bailey and others with whom he would subsequently work.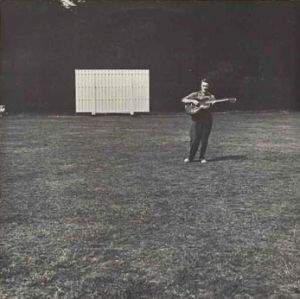 In a hilariously bad cover (right), it was a landmark album of its time and even now sounds fresh, innovative and still out-there.
On the 13-minute track No Birds he plays two guitarist simultaneously, and -- by attaching metal pegs, "hammering", the addition of an extra pick-up over the strings at the nut and dividing the fretboard in two parts -- he was able to create an unusual array of sounds and effects.
"That was actually the first time I ever used the technique of laying out two guitars flat on the table, neck-to-neck so that the bodies of the guitars are on opposite ends and the necks are quite close together running parallel" he says of No Birds.
"And the way the piece was constructed was that I tuned all the strings on both guitars to one note. And because both were stereo guitars and both had nut pickups, I was dealing with six separate sound sources coming from each guitar, with volume pedals on maybe three of them. So that by filtering in and out on the volume pedals, I could alter the sound a little without actually doing anything on the instruments at all."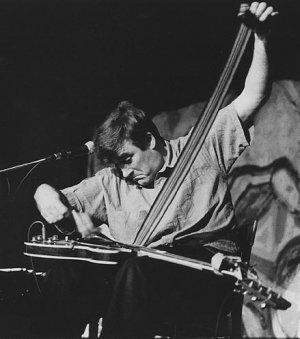 At the end of the Seventies, Frith relocated to New York where he continued to experiment, perform with like-minded musicians and record with diverse figures like Richard Thompson (in their short-lived association with drummer John French formerly of Beefheart's band and Henry Kaiser), the Rova Saxophone Quartet, Bill Laswell (in Material), the Residents and John Zorn (the Naked City project).
"There's no rule you have to do one kind of music," he told Downbeat. "Sometimes it seems to me that musicians restrict themselves needlessly, either for commercial reasons, because they do something successful and feel compelled to reproduce it forever, or because they believe that in order to do something right, you have to specialise totally and not deviate from it.
"But I'm interested in tackling all kinds of things. I always was."
In the Nineties he moved to Germany and was for a time a composer-in-residence in France, but in '97 moved back to the US to become composer-in-residence at Mills College in Oakland, California.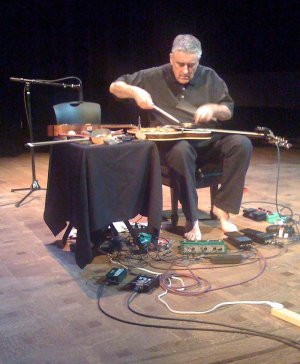 He remains a prolific recording and performing artist whose vast album catalogue contains numerous innovative and challenging works.
But most who have followed him would still point to Guitar Solos as not just an innovative achievement but a fairly accessible way in to his particular genius.
In places you can hear his folk and blues roots (Hollow Music) and at other points he seems to be alluding to the gayageum music of Korea or Japanese koto (Not Forgotten).
Then there are random pieces like Heat c/w Moment which booms and buzzes, and crackles with tension.
"There's a fine balance between getting things you want to do and getting things thrown up by chance," he told Melody Maker in '80. "When the balance is at its best, the chance is pushing you to discover something and the control is stopping it from becoming just random.
"I find my way of playing the guitar involves things I don't expect anyway.
"So that if I drop something – because I do use so many implements – it'll create a direction which I can then follow or ignore, and therefore there's a tension between what I want to do and what is actually happening."
.