Graham Reid | | 7 min read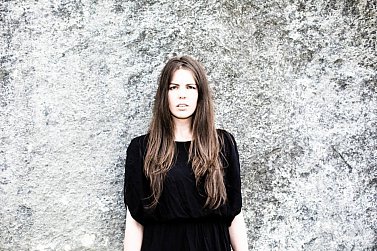 On a wet Monday morning in Wellington, Mel Parsons takes a break from rehearsals in the Surgery studio with her band and, cheerful as ever, talks about her new album Drylands which she is taking to the country with starting on Wednesday in Auckland (see dates below).
"It's exciting actually, just nice to have a new body of work to be touring with and be invigorated by, rather than thinking 'Oh God am I touring just the same old stuff'," she laughs.
And she has every reason to be happy because Drylands – reviewed here -- is a strong collection of songs with a running thread of travel and departure.
These are fitting themes given she spends most of her life as a touring musician . . . and, despite the toll on family and friendships, that is where she is happiest. It has also given her this impressive body of songs.
But this is also her third album so we might as well get in straightaway with the joke: you have eight years to write your first album about eight months to write your second . . . and the third is either a double-live or songs about being on the road.
"I'm just a living cliché, aren't I?" she laughs again.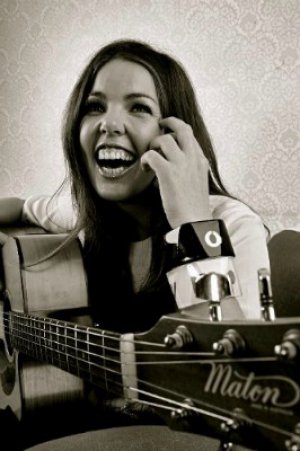 But her songs across Drylands are like looking through a prism at the traveling life, "another city and another town" and departures more than arrivals.
"Since the last two albums I've been touring fairly solidly so that's where my time is spent, that's my window to view things through. There is a cost to everything and being away is not easy, that's for sure.
"If I said I was just going to stop doing this silly touring business that would just not be me. Touring and playing – and performing in particular, rather than being in the studio – is the thing that gives me energy and I get excited about.
"Being on the road has its moments, but the positives outweigh anything else."
And we will come to the one of those moments – Get Out Alive opens with the lines "I crashed my car on the way home" – shortly, but many of these songs had their genesis while she was touring in some remote parts of Canada in February.
"I would like to say I would stare out the window of the van but on this tour when I wasn't flying I was just driving on my own. So I was staring out the front windscreen and intently trying not to come off the road, because it was the middle of winter and there was snow everywhere and the odd road that was closed. On the driving side there was never a dull moment."
But at the end of the day she pulls in to a venue, friendships – albeit brief – are made, songs are sung . . .
"Meeting people makes it sustainable on a human level. You are on your own when traveling but invariably the people running the show are lovely and kind. So there's something about being a musician that gives you a window into meeting people you wouldn't otherwise. I found that it has opened doors on very personal level."
The smallest and most far flung venue she played was in Grand Prairie in northwest Alberta, "a tiny little cafe, just a wee crowd but lovely".
Her tour of 17 shows was mostly put together by Canadian agents or promoters who had a circuit, so now she has an established presence with promoters and venues, small of course but growing.
"It's still in the early stages and this was my first proper tour there, but I had a great response and have been invited back to quite a few places.
"Next time I hope to step it up and take my guitarist out, so it's just constantly trying to built it and find more of an audience each time."
Of course she now has an album in Drylands which those audiences can connect to, and for which she has local backstories, especially in songs like Alberta Sun.
"On the tour I was playing a few of these new songs and I was playing Alberta Sun about the time I was living in Alberta, but there were people who would joke, 'Oh, but you go to Saskatchewan and just switch the name around!'
"I'd have to say, 'No honestly, this is for you guys'. But it is nice to have that connection to a place."
And sometimes feeling lucky to survive, as witnessed by that car accident which – in concert when she introduces – she didn't dare tell her Mum about. Not something mothers want to hear, she says.
"That was in Canterbury, coming down from the ski field at the end of winter. I was ridiculously lucky, if you saw the car. I had a four-wheel drive Toyota Hilux and it was just rubble really. To have walked out was lucky."
She got a song out of it but also learned something else: "It was very strange, I came home and I remember walking around the house thinking, 'Oh my God', the feeling that you could be here one moment and gone the next . . . and you look around at all your things and wonder what would happen to them.
"But that it would all be useless stuff and no good to anybody else.
"There was that realisation about how materialistic we are and how much junk we accumulate. It made me think that things that are important I could count on one hand, which are the people that you love.
"I sort of vowed to be less materialistic and get rid of stuff . . . and that lasted for about five days and I went back to being a normal human!"
But with the traveling there can be a more subtle price to pay, an emotional cost perhaps?
"Yes, but I feel for me to be my best me I need to be doing what I do, so that when I come home I can be in good form and have good quality time with family and friends.
"It's not easy in the sense you can be away for a decent chunk of time and things pass you by. There is a cost. But when I come home I am straight into it. The first thing I'd do is go visit my grandma and call my friends and spend time with my husband. It can be tough but people are understanding and supportive.
"I guess the other thing is Skype is allowing you to be in touch."
And if relationships are equally a thread in Drylands that is inevitable, "those are the things that take up most of your head and heart space so in terms of songwriting they are ripe for the picking".
And sometimes Parsons writes some harsh truths, and not just about others because she doesn't spare herself in places.
"Songs can be a little bit sneaky because you can sing things that you might not be able to say, but also there's a decent whack of poetic license, things might have happened to me or just something I've witnessed and it's me trying to put myself in those shoes.
"So there is a mix of all those.
"The ones that do have stories behind them I will talk about in a show and people enjoy that, not going into things blow-by-blow but just a context that helps people connect with them a bit more.
"A few years ago I started to realise it's not enough to just sing your songs. I go to a lot of shows myself and just observe the audience and you can see how they connect with someone on stage. They want to be involved and talked to, and have a laugh.
"In the past few years I've focused on that more and made sure I'm connecting with an audience. If you don't it's really easy to lose them, but if you engage them in between songs it's like a second shot at bringing them in.
"It's good for me to do that too because if I'm engaged with my audience I perform better."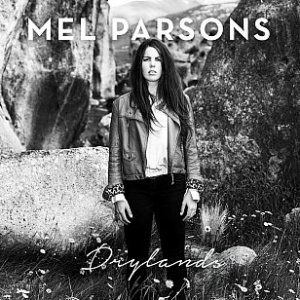 And it's not just her audience she is engaging, but on the album there is a song with the acclaimed Canadian songwriter Ron Sexsmith on backing vocals.
"We were in the studio and the song Don't Wait was the very last song we tracked. I was very keen to have someone do the male harmony part and [co-producer] Gerry Paul asked if there was anyone in the world to sing it, who would it be?
"Of course Mark Knopfler was on my list . . . but Ron Sexsmith the main one for that song so I said that. and we all laughed.
"But I was still thinking about it a couple of weeks later and I thought, 'Ron Sexsmith is probably just a guy sitting at home writing songs just like I'm doing' . . . although more successfully!"
Through a series of connections she found his e-mail and introduced herself: "I said that this was totally left-field but I was songwriter from New Zealand and loved his work and so on. When I sent it off I thought that would be it and had no expectation of any response whatsoever.
"When he got back in touch I couldn't believe it. He just recorded his part in a studio he works in a lot in Toronto and sent it over.
"To have the affirmation that what you were doing was okay . . . that was special."
For more on Mel Parsons at Elsewhere see here.
MEL PARSONS – DRYLANDS NEW ZEALAND TOUR
with special guest, Dutch folk singer Christof
AUCKLAND – 15th April – TUNING FORK

WELLINGTON – 16th April – SAN FRAN

CHRISTCHURCH – 17th April – SUMNER SCHOOL HALL

SPRINGFIELD – 18th April – TOWN HALL

HORORATA – 22nd April – TOWN HALL

OAMARU – 23rd April – LOAN & MERC

DUNEDIN – 24th April – CORONATION HALL

INVERCARGILL – 25th April – CHEEKY LLAMA

WANAKA – 26th April – FESTIVAL OF COLOUR

HOKITIKA – 29th April – FIRE HOUSE

WESTPORT – 30th April – NBS THEATRE

NELSON – 1st May – THE BOATHOUSE

TAKAKA – 2nd May – MUSSEL INN

BLENHIEM – 3rd May – ALLAN SCOTT WINERY

PALMERSTON NRTH – 6th May – THE GLOBE THEATRE

MASTERTON – 7th May – KING ST LIVE

HASTINGS – 8th May – PLAYHOUSE THEATRE

TAURANGA – 9th May – MAUAO ARTS CENTRE

ONEWHERO – 10th May – OSPA THEATRE

HAMILTON – 13th May – NAVARA LOUNGE

RAGLAN – 14th May – OLD SCHOOL ARTS CENTRE

NEW PLYMOUTH – 15th May – 4th WALL THEATRE

PAEKAKARIKI – 16th May – ST PETER'S HALL