Graham Reid | | 5 min read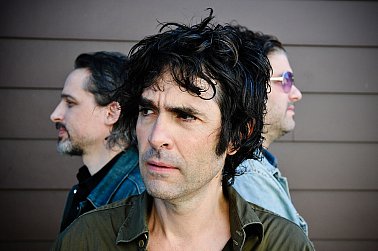 Jon Spencer is just back in his adopted home-city of New York after an American tour then a few festival dates in Europe with the Jon Spencer Blues Explosion, the band he formed 24 years ago. He's only got a little downtime however before coming to Australia and New Zealand for shows and then a punishing schedule through until the end of the year.
He's going to be 50 this year and admits "there are aches and pains the next day, that's real" but is excited about not just the tour but their new album Freedom Tower (subtitled No Wave Dance Party 2015).
It is a thrilling play-loud implosion of all their usual references in blues, rock, the Rolling Stones, Stooges, RL Burnside, and has a powerful Beastie Boys-cum-Run DMC flavour to it.
And it's all loosely about New York then, now and imagined.
With the Freedom Tour, Freedom Tower, and that reference to New York City's No Wave movement of the late Seventies/early Eighties it almost seems like they are deliberately out to push a few buttons.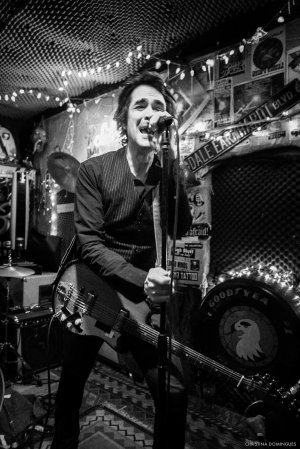 "We've always done a bit of that," he laughs, "right from the name of the band which has proven to be confusing and confounding for some people. But I think rock'n'roll should be a little strange and bizarre and unusual.
"We enjoy playing with people's heads."
It's interesting you mention the name of the band and I've seen it still irritates some people. I would have thought whatever discussion there was on that would have been over long ago.
Yeah, it still comes up
Crazy. No one takes the Rolling Stones to task for not being a blues band but named after a Muddy Waters' song.
It happens more so in the United States, it still lingers. But there are things here which have not been sorted out, and I'm referring to the racism and the terrible incident in North Carolina.
You live in a fascinating country right now, a rainbow coloured White House and race killings.
Yeah, the recent Supreme Court ruling [in favour of gay marriage] is definitely a bright spot, a great day for sure. It's a big crazy place sometimes and I wish we could get our shit together.
America is a concept more than a country perhaps and very difficult to deal with as a single entity . . . which brings us rather neatly to the new album which deals quite specifically with one place, New York. I love the line "New York is home of the blues".
Yeah (laughs) You know we've been a band for nearly 25 years and have lived and worked in New York all that time, and we've always taken inspiration from musicians and artists who have lived with us and come before us. It's not just the music and art though, it's the city itself. It's impossible to live in New York City and not feel it pressing down on you. It's such a force.
Freedom Tower is about our hometown but it's also staking a claim, if you will. Like, 'This is our town and we are New York rock'n'roll band'.
So there are some songs about New York today and some about the city of yesterday and also songs about a place which never existed except in my own heart or imagination.
I didn't grow up here but came from a small town and grew up listening to records and read about bands and artists from New York City so that was why I moved there.
I like the line "New York is so pretty" too. Some parts certainly are, some not so much. But I'm also interested in the 'No Wave' subtitle, that movement was 35 years ago and I was a big fan of some of those people like Bush Tetras and Bill Laswell. Most people wouldn't think about No Wave these days.
We've taken great inspiration from New York City music, not just rock'n'roll like the Velvets, New York Dolls, the Ramones, Sonic Youth . . . Also Run DMC, Afrika Bambaataa, Public Enemy . . .
And the No Wave scene. You mention the Bush Tetras but we could add in James Chance, Mars, Lydia Lunch, DNA . . .
I don't think Freedom Tower is an overtly No Wave-sounding record, but at a certain point during the mixing process me and Alap Momin, who I was mixing it with, would reference a lot of Eighties tracks and people like Bush Tetras because this was a dance record, a dance party record.
After mixing a number of songs I began to question whether I was getting it right so there was a period of review and adjustment and part of that process was comparing, to go and listen to some early No Wave stuff.
The subtitle also serves to cement he New York City connection, a New York City happening. That was not a musical movement going on around the world. Whereas with punk there was an LA scene and in London, but No Wave was very localised.
About half a dozen street downtown.
Yeah, you could restrict it to a neighbourhood probably.
I love the subtitle "Dance Party" because it sounds like a fantastic mixtape, quite breathless. You've seen so many studios in your time, so why record at Daptone? Is there something in the walls which just oozes creativity?
When you walk in – no offense to Daptone – it's pretty funky, they built it themselves, it's part of a house and it's not a pretty place or a plush studio, it's pretty small.
But you've just got to listen to the records they make there, they make great records and know how to capture a live sound. And when we start making a record we always start with a live performance. We may totally turn that inside out, reverse it, cut it up and put post-modern futuristic tricks there. But we always start with the three of us playing the song live on the studio floor.
Also because it was going to be a dance party I didn't want to worry about a drum sound and I knew if I went to Daptone I'd come away with a great drum sound. We looked at other studios and considered our options but Daptone seemed the best fit for the songs we had and the record it was going to be.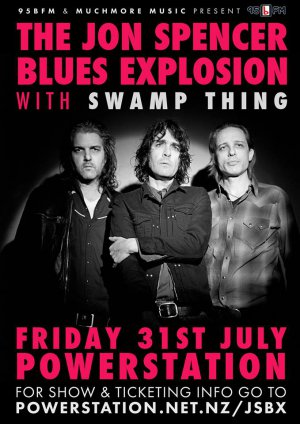 Was it a fast recording?
The tracking took maybe four or five days, seven or eight hours a day. A lot of credit should go to the engineer Wayne Gordon at Daptone who was very easy to work with. We weren't in rush but most songs we revisited and made sure we good takes.
So for every song we'd consider a choice of amplifiers and whether we needed to change the high-hat . . . so adjustments were made all the way.
You mention post-modern, and it struck me immediately that it was post-modern in its liberal borrowing from the past. Already I've seen reviews where people mention Aerosmith, Run DMC, Beastie Boys, Rufus Thomas . . . When you see those reviews do you feel pleased that people are getting your reference points.
I don't think everybody get all of them, but people do get a good part of them. I don't think it's key to enjoying a Blues Explosion album or a live performance, but you can maybe get another level of enjoyment or a deeper understanding of what we're doing.
But it's not the be-all and end-all, the songs have to stand on their own two feet.
You are coming to New Zealand again, been a couple of years since you were last here.
That sounds about right. This is actually a tour too, four shows, so I'm excited about that. It's always great to play in places we've never played before. We've been to New Zealand many times over our career but we've never been to the South Island so I'm excited about that.
JON SPENCER BLUES EXPLOSION FREEDOM TOUR NZ DATES
Powerstation, Auckland July 31
Bodega, Wellington, August 1
Allen St, Christchurch August 2
Chicks, Dunedin, August 4