Graham Reid | | 6 min read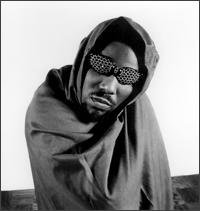 He answers the phone exactly as you might expect - a booming, stentorian tone like some Old Testament prophet and commands: "Speak."

We speak . . . and the voice changes into the quiet tones of unassuming politeness as he patiently explains his political philosophy -- and there's a lot of it.

For this is Afrika Bambaataa, head of the Zulu Nation, an organisation of New York gang affiliates formed in the mid-Seventies and now hip-hopping and funk-hopping on the charts.

Bambaataa has just returned from an extensive European tour and heads back again in a fortnight to promote his new album The Light and his latest single Reckless, which features members of UB40.

"People don't want to think about religion too much, they think they're so modern with all this technology. But it's all written in your Bibles and Holy Korans that certain things will happen at this time but you've got to look at your past to see what's happening in the present and that's why I write certain songs

"But if you start speaking message-type songs some people don't want to let those kinds of records go too far. I try to make records which wake up minds because it's getting heavy out here with racism' and poverty and wars."

All this religious philosophy sounds pretty heavy on a phone line, too, and you can see why hip-hopper Roxanne Shante has said, "People have got fed up with being lectured as if it was their mother and father. Who wants to go to a party and be lectured? You can stay at home to hear that."

True enough, but Bambaataa combines the message with a killer dance floor groove and he isn't going to stop just because some people don't like to hear what he's saying.

He's been going his own way for too long now.

Running wild in the South Bronx streets, he grabbed on to music in the early Seventies and started DJ-ing while still at school. His style then, as now, was to take the best grooves and pull them together.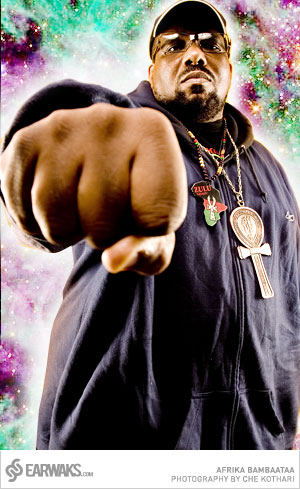 Along with Grandmaster Flash, Bambaataa is credited with creating the first phase of rap and hip-hop. But even then he was taking the music elsewhere when he fell under the influence of Black Muslim teaching: "I was heavily influenced by the beliefs of Elijah Mohammad and the teachings he gave Malcolm X and Muhammad Ali and others. Everything he said about dealing with life, nationalities, religion and self."

"The Creator has sent prophets and messengers to warn everyone to get back to righteousness and he has also done it through music with prophets like Bob Marley, Sly and the Family Stone and John Lennon who tried to wake people up to what's happening around them."

So Bambaataa's message is one of universal love . . . and bop till you drop. He figures if you hit people though the feet then their heads will follow.

"Some people don't want to hear the message so you put something in there for them to dance to. They might dance 10 or 20 times and still never hear the words but then something might just grab them and they'll hear words like 'world's racial war' and want to know what I'm singing about,"

The dance groove Bambaataa was laying down wasn't heard on record until 1980, however when he recorded Zulu Nation Throwdown Part One for the small Paul Winley Records label. He then shifted to the Tommy Boy label and under the eye of Arthur Baker recorded the funk-phenomenal Planet Rock 12.

Planet Rock is considered a milestone in the funk world and his next release got to an even broader market when it was picked up for the soundtrack of Beat Street.

In the following few years Bambaataa turned himself into one of music's foremost collaborators. He recorded with James Brown and John Lydon and the new album rings in Nona Hendryx, Bootsy Collins, Sly and Robbie, George Clinton, Boy George and others.

Whatever direction Bambaataa goes, he ties it all to some kind of social philosophy, often a little off-the wall.

World Destruction, with his band Time Zone and featuring John Lydon, was inspired by seeing a film on Nostradamus and Bambaataa is still convinced we are living in the last days.

"He [Nostradamus] said there would be a war between Islam and Russia with America, and you can see than happening already. There aren't going to be any communists-versus-Americans because you can see the Russians and Americans are cooling out, and the Islamic nations are rising up. "That's why I wrote World Destruction."

He launches into a lengthy domino-theory analysis of confrontations around the globe which ends with nuclear explosions and people fighting their local police forces. It's wild stuff but Bambaataa speaks with powerful conviction and then fires off a salvo in the direction of ghetto problems.

"It's getting worse growing up now with this new drug called crack. I've been all over Europe telling people if they see people bringing this stuff in -- I don't care if it's from the Government on down -- they must be destroyed.

"This drug will mess up families, your daughters will become whores, some of your male people will become dissatisfied with themselves and end up killing your children or grandmother.

"This drug is serious so don't let it into your country."

Bambaataa is on a roll and the words don't stop coming.

"Everyone needs education and to get rid of the history books they've been using and write the truth and show what really happened and what black people in Africa, the Chinese, people in New Zealand have given to the world.
"That will mean new generations will come up and won't hate. They may not love each other but at least they'll respect each other."

Bambaataa's vision of the world-to-come infiltrates everything he does. He keeps his eye on record companies which he says are "ripping off rap artists like they did with doo-wop" and "people who have jumped in on hip-hop because of the money."

And he has left behind companies which haven't been in behind him. But he's a hard man to pin down musically and claims the techno-pop of Kraftwerk and the Yellow Magic Orchestra as his influences as much as James Brown or George Clinton.

"A lot of people will be confused by The Light album. It's not hip-hop, it's dealing with different brands of funk, like electro-funk, go-go funk, hard-core funk, reggae-funk, and so on. I try not to get categorised."

No chance, sir.

"But I'm happy with my new company -- they let me be free," he booms.

And with Afrika Bambaataa feeling happy, we can all sleep a little easier in our beds.