Graham Reid | | 2 min read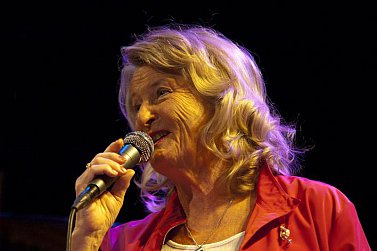 Because no sensible soul would come to a website called Elsewhere to hear just the familiar, we can confidently speak about the extraordinary, often uncategorisable Norwegian jazz singer Karin Krog who is now in her late 70s and has been around since the Sixties when she emerged a jazz-pop singer.
She first came onto the Elsewhere radar a few decades ago when she recorded with John Surman (the ECM album Such Winters of Memory in the early Eighties) then again with Steve Kuhn in the mid 2000s.
She has also recorded with Dexter Gordon (they did a version of Bobbie Gentry's Ode to Billy Joe together in the early Seventies) but is equally at home with free jazz and in the early Seventies did an odd, multi-tracked take on the Gertrude Stein poem As A Wife Has a Cow.
So she is quite some talent, has won more awards in Scandinavia than we could imagine, and largely remains little known outside of jazz circles.
Which seems a shame because these days when the likes of Diana Krall and Cassandra Wilson can step beyond the idiom and still keep her audience, you'd think Krog might have found a global audience also.
Oh, she's not living on the margins in poverty, but despite the long list of greats she has worked with -- and we can therefore happily count her among them - you'd think she might have made greater impact.
Back in the early Nineties she was signed to Verve but that only lasted for two albums (Jubilee and Karin's Voyage) and so . . .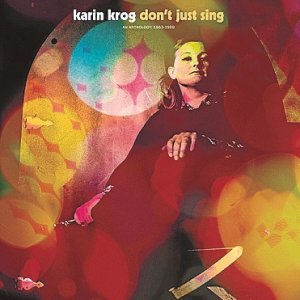 Well,the perfect intro to Korg's diverse and deep gifts has just arrived with the compilation Don't Just Sing; An Anthology 1963-1999 (on Meantime through Southbound in New Zealand).
Across 16 tracks -- opening with that downright weird As A Wife Has a Cow which Laurie Anderson fans will embrace through two tracks with Dexter Gordon (including the humid Ode to Billy Joe) and on to a seven minute-plus treatment of Coltrane's A Love Supreme -- this is more than convincing evidence of her slippery skills as she she weaves around melodies and drags the tempo.
Her previously unreleased original Images in Glass with Surman from '97 opens with a smashing of glass and a spoken word piece which gets eerily multi-tracked in Norwegian then comes back as song.
There is an extraordinary amount of musical information and ideas here: A Love Supreme comes with church organ; the unreleased Tystnaden from '63 is deconstructed sonics with wordless vocals, prepared piano and so on; and her nine minute original Cloud Line Blue with Surman works over a minimalist figure.
The way she opens Herbie Hancock's Maiden Voyage (with Jan Garbarek) is closer to Yoko Ono than anyone on the jazz spectrum. She can also be very funny (Just Holding On).
Believe me, if you've never heard of Karin Krog -- and have a musically curious spirit -- you might just be wondering where she'd been all your life.