Graham Reid | | 5 min read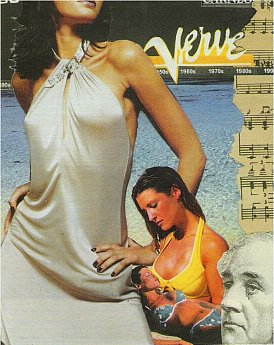 Sometimes, if we are lucky we can be at historic events. But we might not realise it until later. If a historic event is the Foo Fighters first recording as a band -- and remember Dave Grohl did the band's debut album himself -- then I can immodestly claim to have been there.

It was in a BBC studio in London, Pat Smear lit one after another beneath the No Smoking sign, while Grohl was witty and likable. And I didn't know it was "historic" until I interviewed him months later and he told me that was the first time a band called the Foo Fighters had ever recorded together.

A "historic" event I didn't -- but also couldn't -- recognise until later was at Carnegie Hall in April 1994, when the Verve jazz label threw a party for itself. It was ostensibly to celebrate Verve's 50th birthday -- it wasn't, but more of that later -- and included an encyclopedia of jazz giants including Joe Henderson, Charlie Haden, Jackie McLean, Betty Carter and many others.

I recall little of who played what, although I remember the Beatles 1964 lobby poster, the wired and witty bum outside hustling small change from the glitterati, and plunging necklines down beautiful New York breasts.

But one performance has my heart shivering even now: that by bossa nova genius, Antonio Carlos Jobim, who wrote -- among many things -- The Girl From Ipanema.

He only played two songs: one a lovely treatment of his How Insensitive with guitarist Pat Metheny; the other a bitter-sweet Ipanema.

When he wrote Ipanema, he was a younger man, but at Carnegie Hall as he bent over the piano and whispered the lyrics it took on a different meaning. Now he was old: "Each day when she walks to the sea, she looks straight ahead not at he", means something else when you know beautiful women are unattainable and will never again look at you. Ever.

It was an exceptional reading of a song that has become a shallow cocktail lounge anthem. Unfortunately it's not on the Carnegie Hall Salutes the Jazz Masters album recorded on the night. But it was a historic moment -- although no one knew it then.

It would be Jobim's last live performance.

On the night Jobim was only one genius among many. What a 50th birthday for Verve in '94. Well, actually no.

Verve was founded by Norman Grantz in 1956, but "38th anniversary" doesn't have quite the same cachet, does it?

The tuxedo-conceit actually celebrated 50 years since Grantz's famous, racially-integrated 1944 benefit concert in LA – yes, another coast and an American world away -- that took club jazz onto the concert stage.

Some of the label's newer signings on that '94 night, such as Japanese pianist Yosuke Yamashita, hadn't earned their place in the jazz pantheon, but the night was more than a showcase of the past while introducing Verve's fresh signings. It was about re-launching the label, which had lost its direction after Grantz – who wouldn't attend the "anniversary" -- sold it in 1960. In that regard it was a success.

Since then Joe Henderson underwent a much deserved rediscovery, and newer names such Diana Krall, Dee Dee Bridgewater and violinist Regina Carter have more than paid the company's photocopy bill. And Verve's back-catalogue has been represented to much acclaim.

As Pete Watrous observed in the New York Times; if you took out Verve albums such as Ella Fitzgerald's interpretations of American standards, Stan Getz bossa-nova albums (some with Jobim) and their catalogue of Billie Holiday and Charlie Parker, the 20th century would sound very different.

The question now is, will the first half of the 21st century sound different with Verve?

And that's leaving aside the more difficult question of whether jazz is even relevant in this new non-jazz millennium.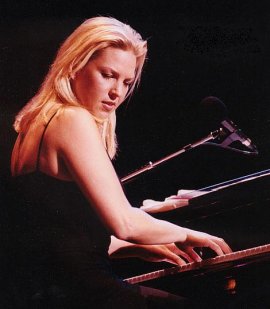 Well, Verve certainly had creditable newer signings; guitarist John Scofield, Natalie Cole, Grammy-grabber Krall (left) and others.
Then there are the venerables: bassist/composer Charlie Haden – a one-time Ornette Coleman alumni who won a Grammy for Best Latin Jazz Album for Nocturne; Wayne Shorter; Herbie Hancock; trumpeter Roy Hargrove; and the ever-popular Michael Brecker who, whatever you make of his populist approach, just keeps on picking up Grammys (at least eight).

And of course there's that Verve back-catalogue any serious jazz listener -- even in 50 more years -- will discover as of historic significance.

But, as Blue Note learned when it allowed US3 to raid its vaults, it helps to be hip.

Verve spotted an opening there too.

In 2002 it released Sounds From the Verve Hi-Fi which was a quietly persuasive selection of rare jewels and Verve classics complied by Thievery Corporation for the chill-out room or pre-coital mood. It featured languid jazz-samba and bossa moods, some kitschy period pieces (with electric sitar) by Sergio Mendes and Brazil 66, the sensual sound of Wes Montgomery's guitar and organist Jimmy Smith, and many more.

Yep. It was very cool, however you might define that word.

And there was also Astrud Gilberto -- who originally sang Jobim's Ipanema -- on an afterhours version of the Doors' Light My Fire.

My guess is such things will await discovery by new generations, whether they're interested jazz or just mood music.

Verve also keeping apace with the present tense via the Verve Remixed album, which featured Nina Simone, Dinah Washington, Ella, Billie and others remixed by the likes of Tricky (courageously taking on Holiday's Strange Fruit), Richard Dortmeister, Masters At Work, Rae & Christian, Thievery Corp and others.

And sometime Auckland pianist/composer/remixer, Mark de Clive-Lowe, re-presenting Shirley Horn's Return to Paradise. A thought occurs; De Clive-Lowe had possibly written himself into history, but he might not realise it until later.

These days Verve – like Blue Note – has a lot of non-jazz signings like Teddy Thompson and drummer Brian Blade (who plays jazz but also does alt.country).

Norman Grantz, who died in 2001, might have been astonished to learn that on the Verve Forecast imprint – a brand which suggests looking ahead – is now that hip young jazz cat . . . Jerry Lee Lewis.