Graham Reid | | 5 min read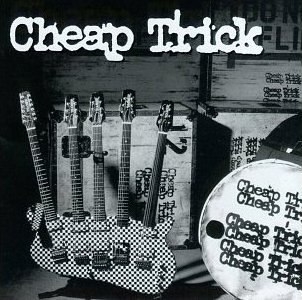 Unfortunately for Cheap Trick, by the time they got to record their album All Shook Up with former Beatles producer George Martin and their engineer Geoff Emerick in 1980, they were starting to pull apart and had run out of puff.
And great songs.
But the band from Illinois in the mid 70s — sometimes wrongly described as "America's Beatles", but we'll see why soon — had proven themselves on a run of albums which established them as one of the great rock'n'roll-pop bands, and a thrilling live act.
In New Zealand their show at the Auckland Town Hall in '79 (on the back of their Dream Police album) is legendary for their sheer exhilaration.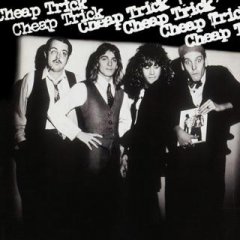 Personally – and I've been to a lot of very loud shows in that venue – I have to this day never seen the balconies shake like they did when guitarist Rick Nielsen of Cheap Trick gave a wave of his hand and the whole hall stood up and danced.
They had been having that effect everywhere in the years following their self-titled debut just three years previous.
Between that album and Dream Police they released two classic and critically acclaimed power-pop albums (In Color and Heaven Tonight) and took off into the stratosphere with their live Cheap Trick at Budokan album.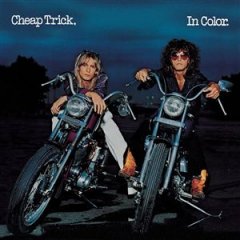 If they hadn't made much chart impact in the US or elsewhere early on they'd won over Japan and when they went there — with scenes reminiscent of Beatlemania – they recorded their shows at the famous Budokan, intending the album to be a Japan-only release.
But its reputation grew and demand soared so it was given US then worldwide release.
Even now it is one of the most unashamedly enjoyable live albums. Ever.
By that time the four member had been in bands — together and apart — for a decade.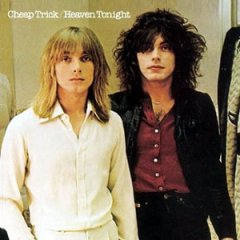 Caught up in a love of the Beatles in the 60s — they played a superb, letter-perfect version of Daytripper live at the time ("Often used as an encore when guest musicians can fumble along" said Nielsen) and in 09 performed Sgt Peppers in its entirety with an orchestra — they all, individually became Anglophiles. Their love of the hard pop and rock of the Who, the Kinks and Jeff Beck became welded onto a sense of theatre and pop songs turned up to 11.
They had brought a sense of humour and cynicism into enjoyable pop (ELO Kiddies is a sly tribute to Gary Glitter's glam, Surrender is about parents rolling joints and playing their kids' Kiss records) and their set had a built-in opener (Hello There) and farewell (Goodnight Now).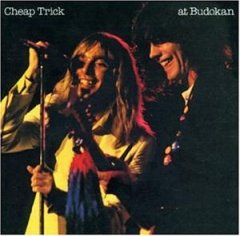 They could play pop, rock and rock'n'roll (Ain't That A Shame) with joyous abandon. And Cheap Trick at Budokan distilled it into 42 minutes.
The album also held them back however because they'd already put that set list behind them and were moving on, but songs like Surrender were so inescapably terrific they just had to keep playing them.
They moved up to arenas, expanded their musical palette with Dream Police (more orchestration and melodrama) but their wit remained intact . . . and Nielsen just kept buying weird looking guitars (women's legs for the neck, the infamous five-neck guitar etc).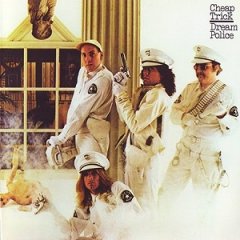 They had arrived fully formed by years of touring and clever imagery: a distinctive typewritten band name; the two good looking guys — singer Robin Zander and bassist Tom Petersson -- on the front cover, the two quirky one – Nielsen in his checked baseball caps and portly perma-smoker drummer Bun E. Carlos – on the back.
As Ira Robbins wrote in their four CD box set Sex America Cheap Trick in '96, "In Cheap Trick, America had it's first chart-ready group to effectively combine roaring rock, Anglocentric power pop, a sarcastic sense of humour, genuine fandom and a broadly theatrical approach to performing . . . . unlike their peers [they] managed to make rock stardom look like fun."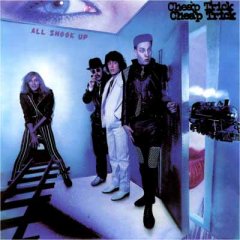 Their sound was as big as Boston's More Than a Feeling but a whole lot more enjoyable.
But by the time they got to George Martin there were tensions (Petersson left shortly after, not to return for seven years) and the songs were no longer as strong.
From then on — until the unexpected hit with the MOR ballad The Flame in '88, which they didn't write – Cheap Trick struggled but past glories were never far behind.
The box set (lots of unreleased and alternate versions) revived their career, recent budget priced collections of their albums made them available to a new audience and last month they were inducted into the Rock And Roll Hall of Fame (alongside NWA, Chicago, Deep Purple and Steve Miller) by Kid Rock.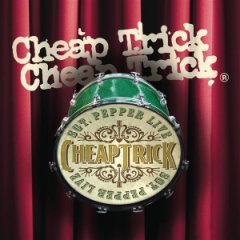 He said, if you thought you were a great live act you'd go see Cheap Trick and think, "I better step up my game".
Funnily enough back in 97 when I spoke with Nielsen he said, "I see these award shows, like an achievement award, and it's like, 'You've made it, you've lasted this long'.
"We didn't do it to last this long, we did it because we liked what we were doing. And I think as long as we go with that attitude we can't lose."
Their new album Bang Zoom Crazy . . . . Hello hardy changes their successful template of in-jokes and power-pop: Blood Red Lips is a pure Gary Glitter-glam stomper, When I Wake Tomorrow is Hunky Dory-era Bowie, Roll Me steals from AC/DC . . . but it is all given some magical Trickery.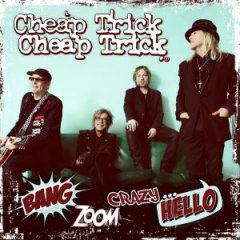 Four decades on from their debut album Cheap Trick (now with Nielsen's son Daxx replacing Carlos on drums) still offer more noisy power-pop fun than anyone else around.
"We're not going to change because everyone else does," Rick Nielsen told me way back in '97. "We've always been a pop band, but not every song is a pop song. I consider a pop song has a beginning, middle and end. It's also fun and got some melody to it. It's got life, that's what pop is."
But the trick is, they add power.