Graham Reid | | 4 min read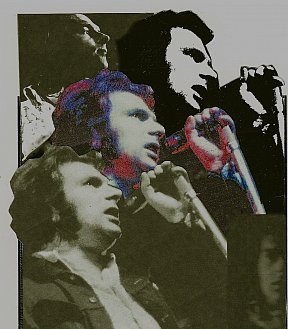 Although Van Morrison made many indifferent albums (like the travesty What's Wrong With This Picture? : Answer? Everything), since the thoroughly enjoyable Keep It Simple ('08) he's been back on form.
But you suspect even longtime fans have given up listening after many disappointments and recognising that Van now is not the Van of then (or Them).
Longtime aficionados will always point to his early years as evidence of his genius.
His '73 live album It's Too Late to Stop Now – compiled from shows with his 11-piece Caledonia Soul Orchestra – is a cornerstone for its energy, passion and strong songs.
It reappears as a remastered double-CD (and on record for the first time in 25 years) but we'd be remiss to not point out that it was reissued as recently as 2008 as part of the Van Morrison Remasters series. As with the Stones, McCartney, Springsteen, Fleetwood Mac and others there is profitable mining of a back catalogue, especially of it offers loyalists something they didn't get the first (or even second or third) go-round on the reissues.
And for longtime loyalists or anyone come new to the one they called Van the Man (for good reason) the rewards come in another three volumes of Morrison from this classic. They scoop up previously unreleased performances from those Caledonia Soul Orchestra shows in the US and Britain.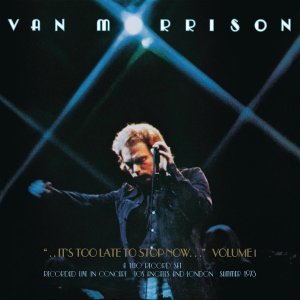 With the original album now billed as Volume 1, this package is It's Too Late to Stop Now; Volumes II, III and IV and they come in the same gatefold sleeve. These previously unreleased performances – remixed by Beatles' engineer Guy Massey – also come with a DVD of Van's Rainbow Theatre, London show filmed for the BBC and available now for the first time.
By '73 Morrison had come out of the r'n'b soul band Them (whose greatest hits were the garageband classic Gloria and Here Comes the Night) and had released the classics Astral Weeks, Moondance and His Band And Street Choir. If some were a little disappointed by Tupelo Honey ('71) and St Dominic's Preview ('72) it hardly mattered because they sold well and sprung – if not big hits – some cornerstone Morrison songs.
Word was that on stage he was white hot.
After a somewhat hurried Here Comes the Night during which he gets onto his markers, the live set on the DVD – full of shifting dynamics and mood changes within the same song, as on Moonshine Whiskey where he moves effortlessly from black soul to country – goes a long way to proving it.
He is a band leader, guiding the horns and strings through the mood changes with barely a glance but guiding from the front but letting the musicians take plenty of space within the disciplines of the songs. The players seldom take their eyes off him.
Moondance is given more off-beat swing like a big band treatment, saxophonist Jack Shroer taking one of those taut solos which not only never showcases but doesn't outstay its welcome or the song. Morrison sometimes reduces the lyrics to punctuating syllables.
And all the way the players are at the top of their game, but visibly nervous lest they miss a cue.
It makes for terrific tension and release.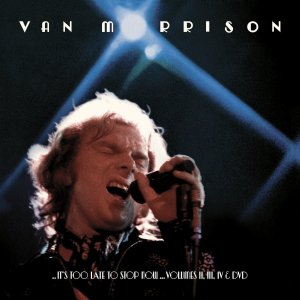 And Morrison never slows the pace as there is barely a breath between one song and the next – the spirit of Jimmy McGriff and Booker T's MGs coming through on Help Me – with a stinging guitar solo by John Platania (back from Moondance, Band/Street Choir and Tupelo Honey sessions)
Morrison's voice across this night is perhaps a hard call for those not used to his assertive attack which he employs to full effect on Domino. It comes across as urgent and desperate until the coda where it all reduces down to boiling rhythms and Van belting "on the radio, on the radio" while Shroer allows himself a massive toothy smile.
No time for a breath (although Van allows himself a cigarette), it's Caravan ("turn up your radio") and then a brilliantly extemporised Cyprus Avenue.
And a 50 minute ride is over.
Personally I find live concerts hard to watch if not boring (you usually "had to be there") but this one . . .
He was one, as Jackson Browne said of his generation, "who started out so young and strong . . ."
But Morrison didn't surrender.
The three CDs – surprisingly and mercifully – don't traverse much of the same song territory.
Of course a few key songs -- always different -- reappear, but over these disc (live at the Troubadour, at the Santa Monica Civic and from two sets at the Rainbow) Morrison takes you on his journey through great songs like the party of These Dreams of You, the jazz-surreal The Way Young Lovers Do, Sam Cooke's Bring It On Home To Me and a jump-jive version of Hank Williams' Hey Good Lookin' . .
There's the ever popular Brown Eyed Girl, his extraordinary Listen to the Lion (two very different versions), Into the Mystic, back to the sweaty rehearsal room when he was in a youthful band of desperate post-teens searching for sex and meaning for ripping races through Gloria and Here Comes the Night . . .
Van Morrison is 71 later this year and – as Elsewhere will insist – has made some damn fine albums in the past 15 years.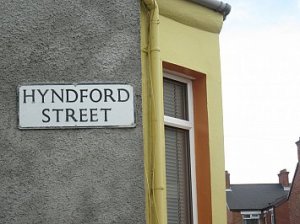 But, all due respect, this was when he was a young man, inspired, reaching and finding a world of transcendental and personal soul, r'n'b and the jazz which had inspired him to think beyond Belfast in the Sixties . . .
And as he reached for a world of imagined music beyond the obvious -- a place where all schools of black soul, white country and pop, Celtic poetry and teenage uncertainties existed – he distilled into this crucible and turned up the heat.
Tune in for these.
You'll understand the fuss . . . and the fire that sometimes burns beyond.
For a short cut in to Van Morrison's s classic period at Elsewhere go here.