Graham Reid | | 4 min read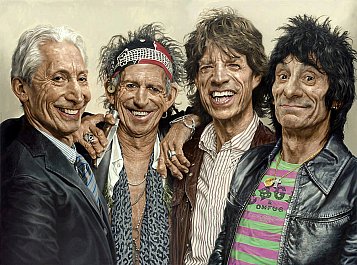 The massive screen in the lobby of the cinema complex was screening footage from the Rolling Stones' 2016 concert in Havana, rendering the lines on Keith Richards' face like deep scars on an alien landscape.
Many in the crowd shuffling towards the next blow 'em blockbuster stopped and stared, most in silence.
And then on the screen a drone flew over the Stones' audience and two kids next to me simultaneously said Wow!" very loudly.
Okay, it might be the size of that crowd which did it, but by association the Stones – still performing some 55 years after their formation around Brian Jones who died almost half a century ago – do have an undeniable Wow Factor.
For their first generation of fans the surviving Stones are rock'n'role models, their very existence proof that the mantra of sex and drugs and rock'n'roll doesn't necessarily mean living fast and dying young.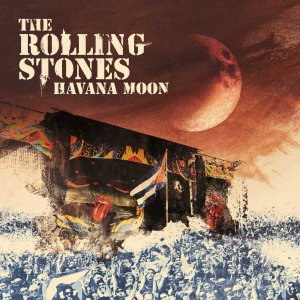 They proved you can survive it – although a number around them didn't – and that it can also be fun and a helluva life, as seen in the film Havana Moon by Mick Jagger's sexual prancing and Keith Richards' simian stance with his knuckles almost dragging on the stage floor.
The time has long past when people would joke about when they might stop rolling. Such a Nineties dismissal, right?
That they just go on and on is testament to their collective strength . . . and that they deliver such exciting live shows is proof that age does not necessarily have to weary you.
The band and its music spans generations, and because of the length of their career people coming new to them can thrill in their classic, rhythm and blues based rock but also find those nooks and crannies of country music, rock'n'roll and decadent ballads.
For many decades now however, longtime Stones fans have yearned for them to re-invent themselves by recording a straight-ahead blues album . . . and at last with the exceptional Blue and Lonesome they've done exactly that.
The new album is a tidy 12-song collection of them digging deep into mostly obscure songs by Little Walter, Willie Dixon, Muddy Waters, Howlin' Wolf and others.
In these days of overlong CDs this is a snappy, vinyl length 43 minutes of the tight but joyfully casual Rolling Stones with no overdubs as they go back through this selection of (mostly) Fifties and Sixties blues.
Recorded in just three days in December last year with producer Don Was, the album – their first solely made up of covers – took shape when they were intending to record new material but started playing old blues . . . then just carried on.
But across this album you can hear how deep their understanding of this music still is.
Jagger's harmonica work is outstanding (check the confident opening salvo on Little Walter's I Gotta Go which is proto-rock boogie, or his long solo on Jimmy Reed's Little Rain), and pleasingly Richards and Wood largely eschew their famous "ancient art of weaving" for pointed solos which refer to the various Kings (BB and Albert) and Buddy Guy.
Among the fellow players are the great Chuck Leavell on piano and Hammond, pianist and Wurlitzer player Matt Clifford and two guest spots by Eric Clapton.
And yes, longtime bass player Darryl Jones is still there . . . but still not getting his photo in the cover art.
Clapton plasters some tasty but aggressive slide into Johnny Taylor's emotionally raw Everybody Knows About My Good Thing where Jagger unleashes a vocal full of suppressed rage and latent power.
He comes back for some smart filagrees and an archetypal Slowhand-solo on Willie Dixon/Otis Rush's I Can't Quit You Baby (which younger rock fans might know better in its more bombastic Led Zeppelin version).
Like the Stones, Clapton intuitively understands this music without having to rehearse it.
Some of these songs lock into a groove of the kind these seniors know only too well (Ride 'Em on Down; the broody, dense and menacing Commit a Crime; the driving Hate to See You Go) and if they aren't musical high-points what they illustrate is the sheer and unabashed pleasure they take in this music, and how they can deliver it effortlessly because . . .
All those decades ago Brian Jones named them after a Muddy Waters' song and that music was imprinted in the band's DNA. As Richards' observes in the album's liner notes, "When we started playing in London in 1962 we started off with Chicago blues. If you wanted stardom and fame then that was not the way to go."
The irony is if you wanted to hear the raw young Stones playing this kind of Chicago blues, for a very long time it wasn't easy. Their self-titled debut album of early '64 and its follow up Rolling Stones No 2 of '65 have long been out of print and only re-appeared in a limited edition vinyl box set six years ago and this year as part of the expensive Rolling Stones in Mono CD box along with relevant EPs of that period.
And this is why we refer you to Spotify where you can hear the brash young Rolling Stones.
Turn back time and listen to their first two albums – 24 songs, just six of them originals and the rest are blues, rhythm and blues or Fifties rock'n'roll covers – and you can hear a measure of knowing maturity and understanding far beyond their British peers (most of whom would not record for another year or so).
Their reach was also wide, from Chuck Berry to Allen Toussaint, from Solomon Burke to Muddy Waters, from Rufus Thomas to Willie Dixon . . .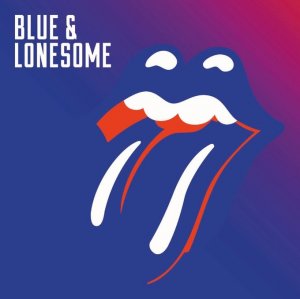 And throughout their long career they drew on dark blues imagery ("I was born in a crossfire hurricane . . .") and frequently played songs by Robert Johnson, Muddy Waters and Howlin' Wolf.
So Blue and Lonesome – taking its title from the Little Walter song they started playing when stuck on an original, thus kick-starting the album – is not unexpected even if it is long overdue.
What is perhaps unexpected is just how damn good it is.
"We could have done this album in 1963 or '64," says Jagger in the liner notes, "but of course it would not have sounded like this. It's the interesting thing about a record that is made really quickly, it reflects a moment in time – a time and a place."
That almost sounds casual and dismissive but Jagger, most often the smartest man in the room, knows this album is more than that.
It is one of half a dozen definitive and essential Rolling Stones albums.
Blue and Lonesome (Universal) is available now.
Image at the top by artist Sebastian Kruger