Graham Reid | | 8 min read
When Kate Bush released her debut album The Kick Inside back in 1978 the musical landscape was a very strange place . . . and yet the strange voice which propelled her to attention with the remarkable Wuthering Heights (complete with eye-catching video) seemed to fit nowhere.
"I was worried the public was only into the bizarre quality of my first record," she later told British journalist David Wigg.
But her second single The Man With the Child In His Eyes – sung in what Wiggs called "her normal voice rather than sounding as if she's stepped out of the world of Suzy Wong" – was also a hit. So the 19-year old was on her way as the world around her swirled with punk phlegm, disco glam and hard rock.
The Kick Inside arrived between Van Halen's self-titled debut, Nina Hagen's Germanic new wave debut and Sham 69's Tell Us the Truth.
Bush was very different in a world where many were aiming for exactly that but ended up sounding much like everyone else in their genre.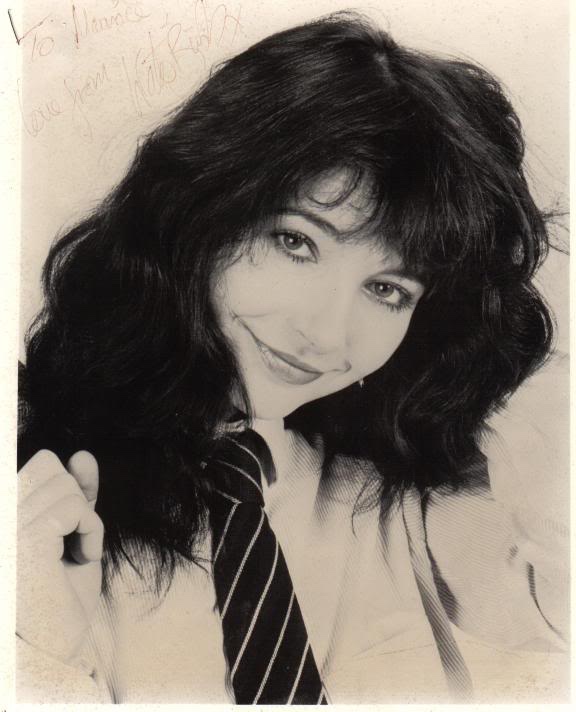 Kate Bush – mentored by EMI at the age of 16 and encouraged by Pink Floyd's David Gilmour – seemed to be her own genre: a singer-songwriter with a calling to the mystical and poetic, theatrical with singular perspectives (Wuthering Heights sung by the dead to Heathcliffe in Emily Bronte's novel of the same name, Strange Phenomena about coincidence, deja-vu and menstruation) and a voice which immediately grabbed attention.
It was hard to turn away songs like the weird funk of Kite where her child-like voice starts with "Beelzebub is aching in my belly-o, My feet are heavy and rooted in my wellios"
Huh?
At the time reviewers and music writers were slightly puzzled but approving.
Phil Gifford writing in the Auckland Star said, "her impact on popular music is as great as any by a new artist in recent years. And she's the only current performer whose single can be recognised from the first notes she sings".
Melody Maker's reviewer concluded of the album that "it may not be a great album. On the basis of that first side it just about makes it as good as one, but Kate Bush could have a great future".
That was a common refrain.
At the time I wrote a review in Craccum, the University of Auckland's magazine and concluded, "it's an album that won't go away in a hurry so you might as well accept the fact that Kate Bush could be here to stay".
And is still here, four decades and 10 studio albums later.
Kate Bush is currently getting a major reissue with all her studio albums remastered by herself with James Guthrie (Pink Floyd's producer and engineer since 1978). And they come as four box sets of vinyl – with albums of 12'' mixes and other material) or as two box sets of CDs.
It's a lot of kate Bush, but then again hers was a career well worth following.
Let's have a look at it album-by-album, starting with the four in the first vinyl box.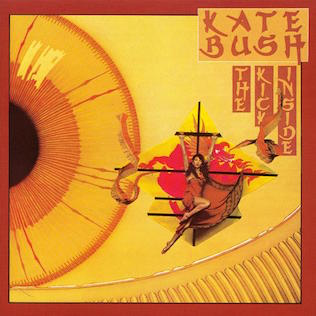 The Kick Inside (1978)
It's fair to say that the sheer musical scope and intellectual depth of this astounding debut was overshadowed by the freakish quality of the debut single Wuthering Heights which followed dangerously close after Lena Lovich's idiosyncratic Lucky Number, a song which was almost a gimmick and shared Bush's vocal leaps.
But The Kick Inside – which is bookended by the sound of whales on the opening track Moving which was a tribute to the Scottish dancer, choreographer and mime artist who worked with David Bowie and with whom she took classes . . . which explains her movements in the Wuthering Heights clip.
Here was a young songwriter whose influences came from the world of theatre and literature but also had a seductive sensuality (the orchestrated ballad The Man with the Child in His Eyes, the joy of a sex encounter on Feel It) and could comfortably reference Gurdjieff and Jesu (on Them Heavy People), Zeus (the title track) and celebrate women's physicality.
And she wove these into piano ballads (the slightly quirky Room for the Life) or bouncy rock (James and the Cold Gun, perhaps the most dated song on the album).
And Saxophone Song had ex-pat Kiwi Bruce Lynch on bass.
Certainly there is some places where it resorts to Sixth Form poetry and the second side is not as strong as the first, but by any measure this was an exceptionally assured, and sometimes quite arresting, debut.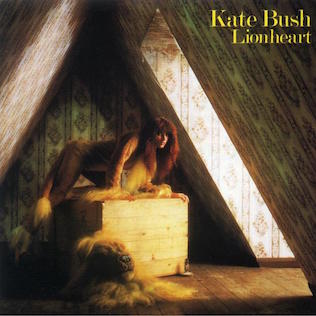 Lionheart (1978)
Bush didn't hide her sexuality and she worked it on the front cover of this second, nine months after that debut. It was also there in the come-hither soft-focus photo on the back and those in the gatefold sleeve.
The first single was the thumping and dramatic Hammer Horror ("reggae as only Kate Bush could conceive it," said William Dart in Rip It Up) but her real strengths lay elsewhere. Wow the second single – about a gay actor who'll "never make the screen, he'll never make the The Sweeney . . . he's to busy hitting the Vaseline" – explores that remarkable range, the cabaret style of Coffee Homeground (and its very odd story) took her in another musical direction, and Kasha From Baghdad (two gay men who have to hide their relationship) brought in Pan Pipes, mandocello and other exotic instruments from her brother Paddy.
The centrepiece is the pastoral rumination of Oh England, My Lionheart which – although a ballad – anticipates Britpop's affection for all things English: London Bridge in the rain, Peter Pan, Shakespeare and the rolling Thames, the ravens at The Tower . . .
This was however the "difficult second album" and made in haste: there were only three new songs and the other seven were revisions from the body of work she had established before that debut.
It was not as well received by most critics (although Dart concluded "one of the best albums of the year") and within months Bush was all but disowning it, saying it was too rushed.
She was however moving on fast and this would be her final album with producer Andrew Powell and from now on she would take more control of her work in the studio.
And with her next album – co-produced by Jon Kelly – she made the great leap forwards. And got her first number one in Britain, the first by a British woman solo artist.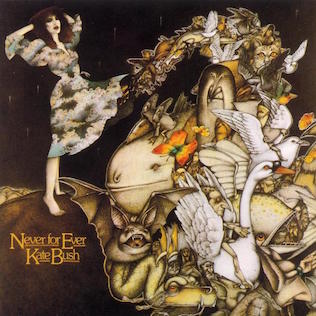 Never For Ever (1980)
As with her previous album, the first single (Breathing) was actually placed last on the album. And at five and half minutes, the stately Breathing ("after the blast chips of plutonium are twinkling in every lung") which barely gets beyond a slow walking pace it really was an odd choice, a song abut a fetus inhaling its mother's nicotine from her cigarettes and the effects of a nuclear war.It was also symphonic in scope (you will inevitably say "Pink Floyd) and came with a distant spoken word sample two thirds the way through before she returns to centrestage and rage.
Yet it went top 20 in the UK and the second single, the odd pop of Babooshka went top five. It was no less unusual in its content and Bush was clearly signaling that she was not going to compromise her lyrics (a woman testing her husband by sending him love letters under the name Babooshka) even in the context of a strong pop song like this one.
Paul Du Noyer in NME described the album as "her finest to date . . .a work of ingenuity, exquisite modern MOR of the very highest refinement and delicacy".
But he also noted it was "perfection in a vacuum" and that once you got past admiring its many layers of musical refinement and typically allusive lyrics it was more hollow than it appeared and sounded.
That seems unduly harsh for an album which includes the delightful sonic palette of Delius at one end of the spectrum and chugging rock of Violin (very close to the aforementioned Lena Lovich in it vocal gymnastics and challenging shrillness, Du Noyer considered it "horrendous") at the other.
Colin Irwin in Melody Maker said that "when contemporary music offers and almost unrelenting diet of puerile lyrics Bush is a jewel of fertile imagination".
Everything from figures like Minnie Ripperton, Keith Moon, Sid Vicious, Buddy Holly and Sandy Denny (on Blow Away) to ancient Egypt, a murder of the groom at a wedding, a frisson of lust for an infant boy and the return of fallen soldier are here in these 11 songs.
Bush said she loved the cover art by artist Nick Price because it reflected all the good and bad things which could come out of a person . . . they were in equal measure on Never For Ever.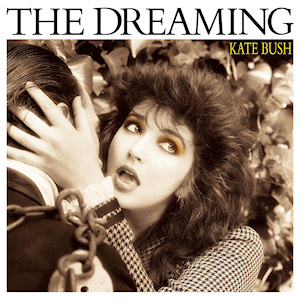 The Dreaming (1982)
Yes, the album which featured the now-disgraced Rolf Harris on digeridu for the title track.
But also the one where The Cult of Kate began in earnest because it was almost willfully uncommercial, veered into art rock extremes and at time was closer to Yoko Ono (as on Get Out of My House, with a better tune, and her backing vocal on Leave It Open), Peter Gabriel's experiments (whose aural fingerprint seems to be the prime influence in the production) and relentlessly self-focused ("I" appears in nine out of the 10 songs).
At the time I wrote it was "a difficult album that won't win any converts and will lose the waverers".
Two years in the making, entirely self-produced and it went top five in the UK, despite critics being bewildered if not outright damning.
Needless to say it is something akin to a difficult masterpiece which has aged extremely well. But t isn't easy, as Leyla Sanai wrote in NME "Kate Bush is suspended in that vast and overpopulated void between the good and the bad . . . I'm afraid to say she's missed the boat this time".
Over at Melody Maker Colin Irwin observed "always an artist of extremes, Bush has allowed her highly theatrical imagination to run riot, indulging al her musical fantasies, following her rampant instincts and layering the album with an astonishing array of shrieks and shudders".
Yes, it a challenge in places but it is also quite an extraordinary collection of songs and sounds, and both singles – the thrilling Sat in Your Lap and the title track – sank without a trace.
She was being more selective about her music . . . and her audience.
And what is it all about? There were crimes; terrorism; death; references to Bogart, George Raft, and Cagney; influences from Irish music (Liam Flynn and Donal Lunny from Planxty, Sean Keane of the Chieftains), self-analysis . . .
It is an art statement and in recent decades has been more appreciated than it was at the time. In the post-Bjork age (she was a fan of it), The Dreaming really is an exceptional album and even if, like Irwin Melody Maker you are "not entirely sure what the hell's going on" you might also agree with hm on this point he also makes, "but the puzzle's intriguing enough to entice you back until you unravel it".
It is a complex work, angry in places, which deserves a place in any serious record collection.
And maybe it was an emotional clearing house which set her up for the massive success and critical acclaim of her next album, Hounds of Love.
These four remastered albums are in the vinyl box set reissue of Kate Bush currently available through Warner Music. For the second part of this overview go here.