Graham Reid | | 2 min read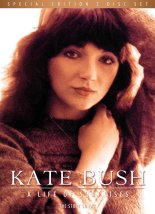 When the frequently reclusive Kate Bush reappeared recently with her album Director's Cut -- on which she returned to 11 of her earlier songs to revise them -- there was the inevitable flurry of interest in her again. (Typically she did few interviews, possibly even only the one in Mojo.)
However the album was underwhelming and received only polite reviews.
But you'd be unwise to dismiss Bush or the album lightly because much of her work -- notably albums like The Dreaming which were read as disappointments on release -- seems to age well, and better than most.
That's in part because Bush, right from that astonishing Wuthering Heights single in '78 which bore no resemblance to anything in the pop/rock of the period, has made a kind of art music within the pop world which stands outside it in terms of themes and musical style.
This double disc doco traces, on the first disc, her rise from gifted schoolgirl into fully formed artist which happened in a remarkably short time. In fact the physical change in her is seen here in interview footage from 1980 (young, coquettish, flirtatious but fiercely intelligent) and '85 (almost mumsy, like a smart and well-read aunt).
By '85 she had delivered five albums, the last one being her acknowledged masterpiece Hounds of Love which sprung successful singles but also gave over one side to an ambitious and successful conceptual suite.
Through knowledgeable commentators (Nigel Williamson, Lucy O'Brien, Paul Gambaccini among them) Bush's musical devleopment and personal life is explored, and her albums dissected for their themes and often fascinating arrangements.
No one resiles from saying albums like Lionheart and The Dreaming received only lukewarm receptions at the time (or that her 45 minute film for The Red Shoes album was archly arty and pretty awful), but many of these writers and journalists also note how much better they sound today.
And they observe too how she assimilated synthesizers into her music more adeptly and with greater subtlelty than many of her peers, as well as intelligently bringing in elements of world music.
This disc comes up to the Aerial album in 2005 and although this is not officially sanctioned by Bush there are many of her video clips throughout as illustrations of her out-there style and mannerisms.
Indeed one of the chief attractions here other than the intelligent comments are those wide-eyed, arms flailing, very Eighties arty clips which perhaps haven't aged quite so well.
Anyone coming new to Kate Bush -- and this doco might be ideally directed at those becoming disengaged from Lady Gaga -- will be slightly dumbstruck. There was no one like her before, and no one since.
The second disc traverses much the same territory (different commentators, Kris Needs among them) as it looks at Hounds of Love in detail, but gets there by running through the albums prior to it.
So here is Kate Bush 101 and if some of the video quality isn't what it could be, it is more than made up for by the sheer eye-engaging figure of Bush staring madly at the screen and singing about whatever is she is singing about (sex, drowning, trading bodies with someone else, just the usual stuff).
A reminder of what a unique talent she is. And one never to be counted out.
Like the sound of this? Then check out this.