Graham Reid | | 1 min read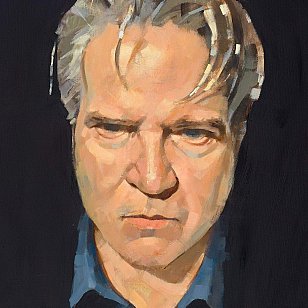 The first person to answer a Famous Elsewhere Questionnaire was . . . Lloyd Cole, the transplanted-to-USA British songwriter who leapt to attention with the album Rattlesnakes in '84 with his band the Commotions.
We'd interviewed him back in 2000 and when he toured in 2011we , pressed for time, invented a Famous Elsewhere Questionnaire for him . . . and since then scores and scores of international and local artists have answered it (or a version of it).
Cole still lives in Massachusetts, still plays golf and still writes and tours.
In fact on the back of his new album Guesswork he returns to New Zealand (dates below).
Again pressed for time and not wanting to send him the same questionnaire we had Lloyd answer some of the questions where his positions might have changed . . . and indeed they had.
With the Guesswork album (as with some recent ones) leaning heavily on vintage synthesisers in places – we reviewed it here – it's no surprise his answer to the question about interesting, strange or valuable music memorabilia would elicit this answer.
"My modular synthesiser is basically autonomous, these days it's like there are two of up here in the attic."
The most recent album he bought was "Kirkis 2 by Kirkis" (the Melbourne synth band) and the one song which would pay royalties for life so he'd never have to work again is Robyn's Call Your Girlfriend (previously it was Dylan's Like a Rolling Stone, so that's quite a shift).
He notes ibn passing his parents have his gold records and the only such thing he keeps is the silver record he got for Rattlesnakes.
Among his three songs he'd like everyone to hear are his own Are You Ready to Be Heartbroken and Tim Hardin's Part of the Wind (same as before) but now adds Violins (off Guesswork, clip with our review).
He figures if he's only got five years left it would be much the same: "kids are off to college, must work"
And our tongue in cheek question about why this is his best album yet elicits the same tongue in cheek reply: "I don't know if it is but I'm happy that some folk have taken this position".
From Rattlesnakes to Guesswork NZ Tour
Fri 22 Nov: The Mayfair, Dunedin
Sat 23 Nov: James Hay Theatre, Christchurch
Sun 24 Nov: 4TH Wall Theatre, New Plymouth
Tues 26 Nov: The Globe Theatre, Palmerston North
Thurs 28 Nov: The Opera House, Wellington

Fri 29 Nov: SkyCity Theatre, Auckland