Graham Reid | | 1 min read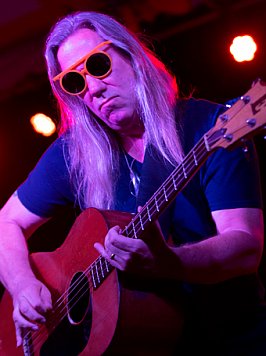 Ahead of his veteran band Violent Femmes' return to New Zealand, Brian Ritchie talks about his other life – working at Tasmania's Mona art gallery.
When Brian Ritchie – bassist in Milwaukee folk-punk band Violent Femmes – moved to Hobart 12 years ago, as the band he founded was in a fractious hiatus, he had no plans to engage with Tasmania's arts and music scene.
But soon he was playing with local groups and had met art collector David Walsh.
"He was a fan of the Femmes, but the first thing he said was, 'I hate you because I had to cash my dole cheque to see you play at City Hall.' He's not cashing dole cheques any more," laughs 59-year-old Ritchie from his designer home above Hobart's River Derwent.
Walsh is the infamous "gambling millionaire" behind Hobart's Museum of Old and New Art (Mona), an enormous underground gallery space designed to exhibit his idiosyncratic and controversial collection of artworks.
When Ritchie arrived in Hobart, Mona, the state's chief tourism drawcard since 2011, was a few years from completion. But today, in addition to performing with the reconciled Violent Femmes, who play here in March, he curates Mona Foma, the gallery's annual Festival of Music and Art (often further shortened to Mofo). Since 2009, Mona Foma – and its mid-year Dark Mofo off-shoot, launched in 2013 – has hosted artists such as Nick Cave, Laurie Anderson, Philip Glass, PJ Harvey, John Cale and dozens of lesser-known but innovative musicians.
Among those scheduled for the 2020 Mona Foma, at locations around the riverside city of Launceston, are stentorian and militaristic Slovenian group Laibach; American performance artist Amanda Palmer, in a programme of "piano, pain and laughter"; anarchic Japanese punk band Chai; and the anonymous, masked country musician known as Orville Peck.
If Tasmania was intended as downtime from the Violent Femmes – in 2007, Ritchie launched legal proceedings against singer-songwriter Gordon Gano for selling the rights to their hit Blister in the Sun to fast-food chain Wendy's and demanding co-ownership of the Femmes' songs – it hasn't proven so.
In addition to his Mona Foma and Dark Mofo commitments . . .
To read the rest of this article which appeared in the NZ Listener go here.
To read more on Ritchie and the Violent Femmes in Elsewhere's archives go here.