Graham Reid | | 1 min read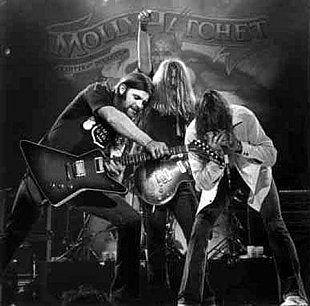 Molly Hatchet out of Florida may never have reached the critical acceptance of the Allman Brothers Band or the popularity of Lynyrd Skynyrd, but like Atlanta Rhythm Section they were a pretty powerful second tier band.
And given those three bands mentioned who had either disbanded or were in decline in the mid Eighties, they were a decent off-course substitute.
On this mostly flat-tack double album pulled from the shelves at random they even salute their heroes with covers of the Allman's Dreams I'll Never See and, even more courageously and inviting a comparison they can't win, Skynyrd's' Freebird.
With two lead guitarists – founder Dave Hlubek and Duane Roland – and a propensity for boogie jams (the furious Gator Country here), they certainly waved their flag high.
And here, with their first vocalist Danny Joe Brown back in the band after an absence and half a dozen studio albums behind them to draw from, they were at a kind of mainstream hard rock peak, at times recalling the duelling guitars of Thin Lizzy more than the Skynyrd.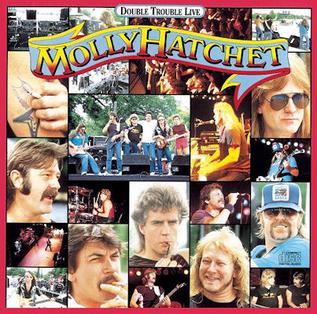 The wheel spinning energy of the first side (Whisky Man, Bounty Hunter, Gator Country and their biggest "hit" Flirtin' With Disaster) gives way to the slower but equally punchy Stone in Your Heart and then their stadium-rock persona takes over as the songs blur into unmemorable and sometimes cliched rock.
Boogie No More isn't bad as an excuse for some serious guitar acceleration but Freebird belongs to another band (not that the crowd in Jacksonville seems to care).
This was a kind of last gasp for Molly Hatchet because after this they were dropped by Epic, Hlubek quit, they had a studio album for another label but were dropped and they downsized their venues.
They re-formed but within a decade Molly Hatchet had no original members, Hlubek returned but success didn't and even though there's a Hatchet out there even now only the keyboard player on this album John Galvin is in the line-up.
All the others are dead.
Double Trouble Live starts well, gets soft and the Spotify version is the CD edition which dropped two tracks which are here, Walk on the Side of the Angles and Walk With You which aren't up to much anyway.
Needless to say though they go out with their epic and overly worthy Fall of the Peacemakers (Freebird it ain't) and the title track of their Beatin' the Odds album.
There's a good Southern rock single album here . . . and it's mostly the first two sides.
.
You can hear the edited CD version of this album at Spotify here
.
Elsewhere occasionally revisits albums -- classics sometimes, but more often oddities or overlooked albums by major artists -- and you can find a number of them starting here