Graham Reid | | 2 min read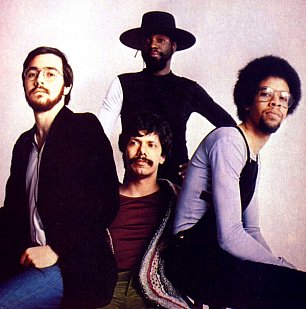 Guitarist John Scofield – who was there at the time – laughs about "the old fusion curse" of the Seventies when light-speed fretboard work was the order of the day.
There were a few guitarists who could pull off jazz-fusion – Scofield, John McLaughlin, Al Di Meola among them – but that period where jazz crossed into rock culture post-Hendrix/post-Bitches Brew became a kind of quicksand for many musicians.
It pulled them down even as they were aiming for the stars.
Of the great and more enduring fusion bands were McLaughlin's Mahavishnu Orchestra (sometimes setting the controls to warp speed), Weather Report and Return to Forever.
The latter, founded by keyboard player Chick Corea with bassist Stanley Clarke, enjoyed considerable acclaim and an enormous number of line-up changes which included at various times guitarists Steve Gadd, Bill Connors and Earl Klugh, violinist Jean-Luc Ponty, singer Flora Purim, saxophonist Joe Farrell, drummers Lenny White and Steve Gadd . . .
However on Romantic Warrior – pulled from the shelves at random for this on-going column – the lineup was economic and one of the best: alongside Corea and Clarke were drummer Lenny White and guitarist Di Meola.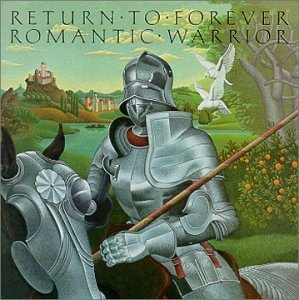 Their first album under the band name (which had been the title of an earlier Corea album, and without "featuring Chick Corea" or his name given equal billing as on the pervious five albums), Romantic Warrior was their biggest seller and the most democratic in that all members composed a track.
The stand-out for guitarists is Di Meola's speedy but measured and – at an economic five-minutes -- Majestic Dance.
Allegro ma non troppo, we might say.
The cover art and the Corea-penned opener Medieval Overture suggests aspirations towards a fusion with classical music in the manner of contemporary prog-rockers like Emerson Lake and Palmer or Rick Wakeman's overblown concepts.
But when Corea doesn't get too busy on Moogs, Fender Rhodes and other plugged-in gear and shifts to acoustic piano (notably on parts of the Overture and the title track) this is fusion at it most interesting.
But jazz-fusion it is – which will comes as a warning for some -- especially side two which opens with Di Meola's piece then into Clarke's The Magician and Corea's ambitious but enjoyable two-part Duel of the Jester and the Tyrant.
Clarke and White are outstanding throughout (their work on the title track and Clarke's oddly whimsical Magician worth close analysis if you are of that frame of mind).
Fusion of this kind is not just an acquired taste but also fell out of favour by the end of the decade as the best practitioners moved on to other, often less frantic, projects.
In fact this was Return to Forever's final album with these players (the group's most consistent line-up) and – accepting the mores of the time – it is an approachable place to start if this cross-over genre has passed you by.
A tip would be to start with the title track (which closed the first side of the vinyl) and then move forward.
And of course into the solo careers of these players.
.
You can hear this album at Spotify here. There are interviews with Chick Corea, and Al Di Meola at Elsewhere here and here (with links to album reviews)
.
Elsewhere occasionally revisits albums -- classics sometimes, but more often oddities or overlooked albums by major artists -- and you can find a number of them starting here.