Graham Reid | | 2 min read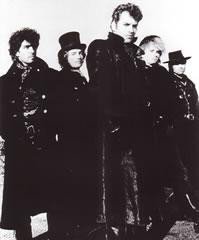 Some time in the early Nineties I met up with two of the guys from Cracker at a bar in New York, and towards the end of our conversation the talk turned to what they had done before their alt.rock incarnation.
John Hickman said he'd been in another band . . . and after a long pause said he'd been in a band called the Unforgiven, but that I wouldn't have heard if them.
Not heard of them?
The Unforgiven were a particular passion of mine, the only band I knew which delivered a sort of Confederate/cowboy rock'n'roll album which not only made aural references to the soundtracks of Ennio Morricone and The Big Country but had songs titled Hang 'Em High, Roverpack, Cheyenne, The Gauntlet, With My Boots On, Ghost Dance, The Loner, The Preacher . .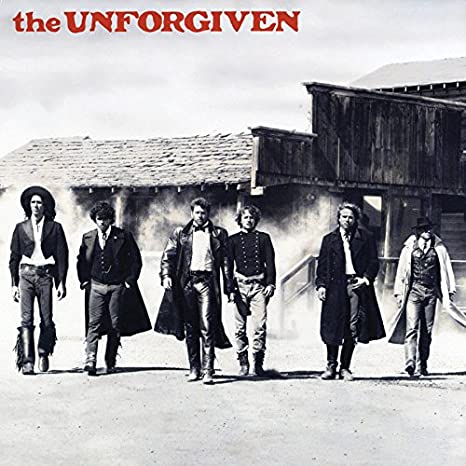 Their 1986 self-titled album -- the only one they made -- was soaked in the spirit of the James Gang (Jesse and Frank, not the rock band) and Clint Eastwood -- and on the cover they wore long Sergio Leone spag.western coats and were walking down a dusty street as if on their way to the OK Corral.
I think Hickman was surprised and slightly embarrassed that not only did I know of his previous band, but that even at the far end of the world from New York they had made an impact.
(I did assure him however that no one else I knew in New Zealand was aware of them, and he seemed a little relieved.)
When I asked him what happened to the other guys in the band he said dismissively, "I guess they went back to being teachers".
Not so surprising if it were true, because their songs -- all written by lead guitarist/singer John Henry Jones (Steve Jones to his parents) -- had the whiff of literary construction about them.
As with All is Quiet on the Western Front which reads like the start of a short story.
"I remember the soldier lyin' in the cold sun. Daddy said he wasn't much older than Corey'd be if he were alive today. I remember him breathing and I remember me screaming, 'Daddy, he's come back to life!' and Daddy said, 'Shh . . .' and put down his head to the blasted hole that was his chest and said, 'Yes, this boy's alive, you run and get your mother while I get him inside' . . ."
There was a bit of Ambrose Bierce in their songs as much as Eastwood/Leone westerns, and they also had contemporary resonance too: With My Boots On opens, "I walked into the room to see the strongest man I ever knew laid out flat and dead to the world and breathing through a tube. I staggered back into the hallway where I gasped for air and choked and said, 'No God nowhere could do this to this man of steel and rope'."
Tight-mouthed masculine stuff, gunplay and the brutality of war, cowboy fantasy or whatever you like to call it. Doesn't change the fact that the Unforgiven made a firecracker of an album which spat electric guitar rock like a six gun.
I liked Cracker who are still going today with numerous line-up changes I believe, but I play The Unforgiven's sole album way more than their Kerosene Hat.
.
You can hear this album on Spotify here.
.
Elsewhere occasionally revisits albums -- classics sometimes, but more often oddities or overlooked albums by major artists -- and you can find a number of them starting here