Graham Reid | | 6 min read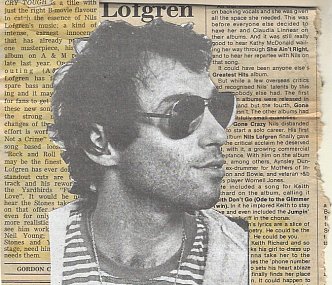 It's likely that most people who know Nils Lofgren for his brief periods with Neil Young (After the Goldrush, Tonight's the Night, Trans) and his long tenure in Springsteen's E Street Band would also be aware of his parallel solo career.
But many might not be familiar with this talented singer, songwriter, guitarist and trampolinist and some excellent albums under his own name in the Seventies.
And yes, he did do a bit of mini-tramp bouncing onstage, hence the title and cover image of his '85 album Flip.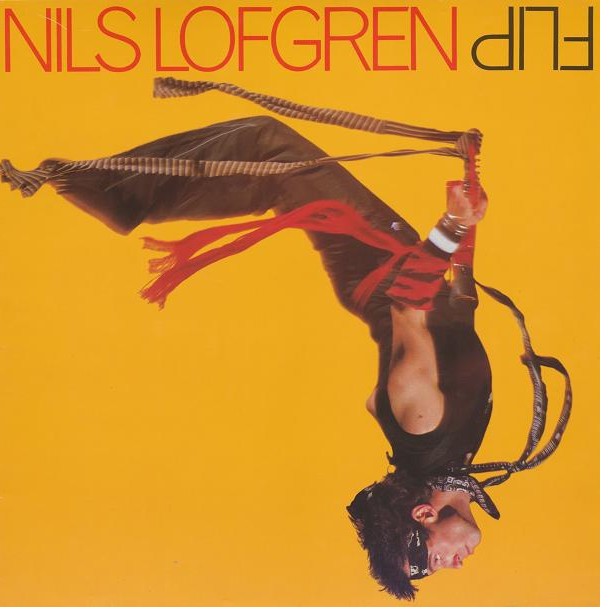 It's an enjoyable trip into his albums with Crazy Horse (their self-titled album in '71 and more recently Colorado), his tribute to Neil Young (The Loner in '09) and with Lou Reed (the exceptional and challenging album The Bells in '79).
And even going back to his first band Grin, a power rocking trio whose 1+1 (reissued on vinyl as a double with their self-titled debut in '76) is on Spotify here.
Most of the Lofgren albums are available on Spotify, but our attention turns to his terrific self-titled solo debut in '75, passing mention of the studio-live Back It Up! and Cry Tough from the following year.
Lofgren – who grew up on Chicago's South Side for nine years, then Maryland, and played classical accordion until he heard the Beatles and picked up guitar – started playing in local bands and formed Grin in '68 when he was 17.
By chance he met Neil Young who he only knew of as the guitarist in Buffalo Springfield. He joined Young's band while also in Grin, who got their album deal through his Young connection.
Grin lasted four albums – with Young's producer David Briggs – but in '75 Lofgren recorded his debut under his own name, again with Briggs.
He played all the guitars and keyboards with bassist Wornell Jones and drummer Aynsley Dunbar which was an unusual combination: Jones had played with Sly Stone and Dunbar was best known for his blues roots with John Mayall and the Eddie Boyd album which featured Peter Green (of Fleetwood Mac).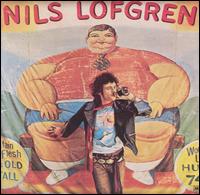 "Most of the songs came together really quick," Lofgren told Uncut in 2013, "most of the vocals were live. It's a very simple record with a lot of feel to it."
Immediate attention fell on the track Keith Don't Go, addressed to "my main inspirer" Keith Richards who was then in the throes of heroin addiction.
"I wrote most of Keith Don't Go on the [Neil Young] Tonight's the Night tour. Being a giant Stones fan, it seemed every day I met about six of Keith Richards' best friends.
"A common lament was that they were worried about his health, and I thought to myself, 'Well damn, didn't he just make Exile on Main Street? He couldn't be that sick, could he?"
Lofgren said the song was a thank you mixed with concern and he subsequently met Richards half a dozen times.
"He knows I'm a huge fan. I don't know if he's heard the song."
Elsewhere on the album – which many writers at time, including Gordon Campbell of the Listener, consider Lofgren's masterpiece – were the powerful Rock and Roll Crook ("I ain't no . . .") and a smart downbeat treatment of the Goffin-King classic Goin' Back as a quiet coda to an album which bristled with tight rock songs like Back It Up, If I Say It It's So and Can't Buy a Break alongside the ballad The Sun Hasn't Set On This Boy Yet.
There's a toughness surrounding his sensitive heart, described in '78 by Jeremy Templer in New Zealand's short-lived Hot Licks as "a slice of street punk poetry. He could be the boy next door, he could be you".
Uncut considered it a classic album, and in the year before punk broke it was a rare slice of guitar rock which anticipated the likes of Tom Petty and Nick Lowe.
"A hot platter in a bad year for rock music," said The Rough Guide to Rock Music, and Peter Clark in Britain's The Perfect Collection echoed that sentiment saying it was "one of the few redeeming features of 1975".
It is on Spotify here.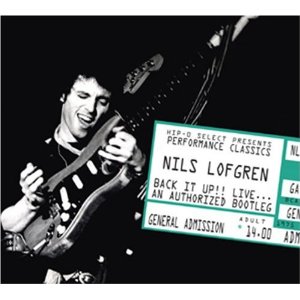 On the back of the album's success – in acclaim more than sales – A&M rush-released Back It Up!, a live collection for radio recorded in the studio in a day (with different musicians including his brother Tom on guitars and Al Kooper on keyboards). It only had a limited release and featured mostly songs from the album and was packaged to look like a bootleg. It added little to what people already knew of Lofgren and has subsequently been remastered and is on Spotify here.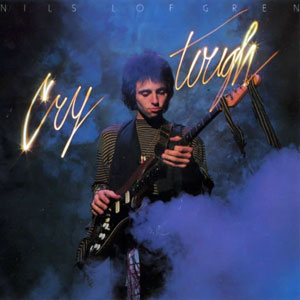 His next studio album was the one which broke him widely, notably in Britain where he mentioned Dr Feelgood in the superb title track, Cry Tough.
In a framable cover (shades of Jimi) and with an impressive cast (brother Tom and Kooper back, Jim Gordon, Emil Richards, PP Arnold, Ralph Molina and Billy Talbot from Crazy Horse and others), Cry Tough was intended to be his major statement, and it was.
Co-produced by Briggs and Kooper who gave it real punch, it went top 10 in the UK.
When Mick Taylor had quit the Stones, Lofgren offered to fly himself over to audition. But Ronnie Wood was always going to be there first.
As Campbell noted in the Listener, "It would be nice to hear the Stones take him up on that offer to join them, even if only for one gig, and more realistically I'd like see him working again with Neil Young; but both the Stones and Young, at this stage, need him more than he needs them".
Yes. The album is that good: on It's Not a Crime he hauls extreme Jimi-pyrotechnics into a slice of soulful, orchestrated guitar rock ("may be the finest thing he's ever done," wrote Campbell).
He'd been around for a long time at this point but he was still only 24 when the album charted in the US, UK and around the world.
Even the notoriously picky US critic Robert Christgau said : "Nils begins to sound like a professional next-big-thing, the surprise of his lyrics reduced to a turn or two and his gift for pop melody subsumed by his gift for the one-man rave-up. Crying tough is playing tough, not being tough, and there was always more than toughness to Nils anyway".
The cover of the Yardbirds' For Your Love might not be the finest moment here but it does allow for some percussion-driven guitar play in its closing overs, but Lofgren comes off like a tough thug in other places (Incidentally It's Over is really nasty, Mud in Your Eye).
Others however felt his guitar playing overwhelmed some underwhelming material, and that would be the inconsistency right throughout his subsequent solo albums.
For Elsewhere's money though, that self-titled debut and Cry Tough are the finest albums he did.
Unfortunately Cry Tough isn't on Spotify.
After that his albums became less essential: the passable but unmemorable I Came to Dance in '77, Nils in '79 which came with some lyrical assistance from his new friend Lou Reed, Night Fades Away ('81) about which Neil Norman in NME said "everything about this LP . . . spells defeat".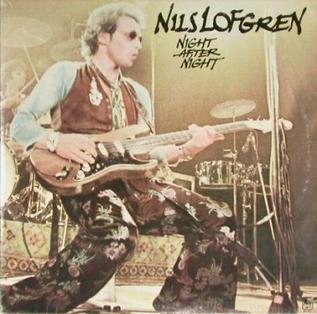 There have also been any number of live albums down the decades but Alistair Dougal writing in Rip It Up of the first – the double vinyl Night After Night in '77 which picked up the best of his first two studio albums – observed "Nils Lofgren is the kind of person you'd expect to make a great live album . . . he has a reputation as a live performer of great energy and flash . . . [but] devices that are used to maintain excitement in the live show – flashy guitar parts, lengthy solos etc – merely drain the energy from any of the excellent songs Lofgren features here".
He concluded there was a fine single album within the double.
At 68, Nils Lofgren will now never make the brilliant album he once seemed capable of, but both that debut and Cry Tough are worth taking the time to discover, or re-discover.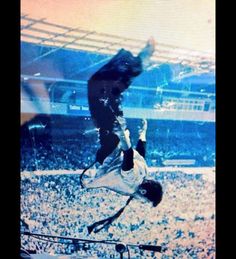 And anyway, it has hardly affected his career: being alongside Neil Young, Bruce Springsteen and Lou Reed (among others) isn't a bad second prize.
He did it his way – playing while bouncing and flipping off a mini-tramp in his younger years – and was never a rock'n'roll crook.
Trevor Reekie of National Radio did an excellent 2017 interview with Nils Lofgren in advance of his appearance in Auckland with Bruce Springsteen. It was appropriately entitled Road Warrior (the Chuck Berry story is hilarious) and it is available here. Thank you for this Trevor.
Elsewhere occasionally revisits albums -- classics sometimes, but more often oddities or overlooked albums by major artists -- and you can find a number of them starting here
.