Graham Reid | | 2 min read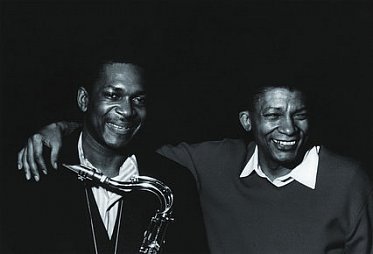 When the famous "lost" album Both Directions At Once by saxophonist John Coltrane was discovered and issued in 2018, what was only mentioned in passing –
as it was in Elsewhere's piece
– was why Coltrane's group was even in Rudy Van Gelder's New Jersey studio on that day in May '63 anyway.
It was because the group – Coltrane with pianist McCoy Tyner, bassist Jimmy Garrison and drummer Elvin Jones – was booked for a session with singer Johnny Hartman the following day.
Coltrane owed the Impulse! label at least one more album and as a rehearsal-cum-session when the studio was free he turned up and the tapes got rolling.
Those "lost" sessions have been much essayed, but few turned their further attention to what happened the next day, and it was an unusual but quite extraordinary recording session for all concerned.
Singer Hartman – who died in '83 -- was a wonderful, smoky-toned, baritone balladeer and it was an unusual pairing with Coltrane who was pushing further and further into deep be-bop.
Some have compared Hartman to Nat King Cole or Bing Crosby, and his style was just as slow and slightly dragging the tempo. Although he could swing, ballads and standards were his forte, and of course Coltrane (on tenor) and his band knew these songs as second nature.
So slotting in alongside the leisurely tunes like They Say It's Wonderful, My One and Only Love, Lush Life, Autumn Serenade and others was hardly a stretch.
By most accounts the project was the idea of producer Bob Thiele who wanted to either take Coltrane to a more mainstream (and therefore financially rewarding) audience or perhaps simply to rein him in a bit.
It seems more likely however that he astutely realised that these two – who did know each other – could actually just make something beautiful together.
Whatever the reason for the session it is an undeniably pleasant success with the musicians exercising the appropriate restraint – even when solo space is left they cleave closely to the melodies – and Hartman's slightly burred edge but silken vocal style is highly seductive.
Many jazz writers have noted that Hartman was much underrated and in part that is because of such a lot of high profile competition in the ballad idiom (Crosby, Sinatra, Bennett, even Al Martino etc), that he worked the club circuit mostly, and that later he would be steered into a fairly unproductive pop direction.
But here he was playing to his quiet strengths with a group which knew its place and yet also complimented him on songs which slip and slide with romantic sensuality.
The resulting album was fairly short – a tidy half hour – but there is a velvet, relaxed quality about it and on My One and Only Love (just one exemplar) Coltrane delivers a classic introduction of melodic economy for a couple of minutes before the tempo lifts ever so gently and Hartman's woody baritone enters.
Just lovely.
As is the whole album.
And Lush Life here may just be the definitive treatment of that Billy Strayhorn song.
Master Sessions – a name appended later, it originally and usually appears just under Coltrane and Hartman's names – is a classic recording of ballads by these masters of their seemingly quite different arts.
This was the only time John Coltrane under his own name as leader recorded with a singer.
He could hardly have picked better, given the songs they chose.
You can hear this album on Spotify here.
.
Elsewhere occasionally revisits albums -- classics sometimes, but more often oddities or overlooked albums by major artists -- and you can find a number of them starting here