Graham Reid | | 3 min read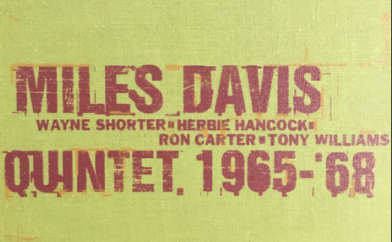 The woman staring out of the cover of Miles Davis' 1965 album ESP was his wife Frances.
It's an unusual cover: the photo by Bob Cato looks like a casual and informal snapshot with Miles on a recliner staring up at Frances almost quizzically and she engaging the observer/camera with a look of quiet surprise and a hint of fear.
In his autobiography Davis says "[it] was taken in our garden just about a week before she left me for the last time".
She put it differently. "You would not believe that about a week after it was taken I was running for my life".
ESP is a Miles Davis album probably only familiar to dedicated jazz and Davis followers. Casual Davis listeners would understandably hail the genius evident on Birth of the Cool, Kind of Blue, Sketches of Spain and perhaps Bitches Brew.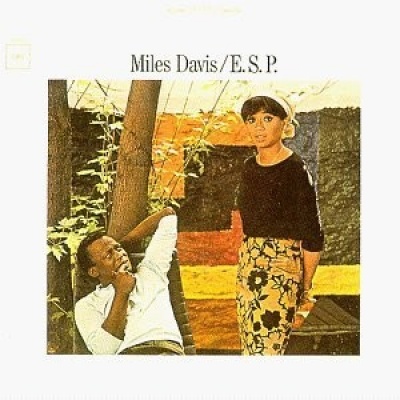 But ESP is an important album in that it was the first studio release from his second classic quintet with tenor player Wayne Shorter, drummer Tony Williams, bassist Ron Carter and Herbie Hancock ("Herb" on the original album) on piano.
Some critics have considered this was the best group of players he had in his long career.
ESP had been preceded by a series of live albums – some with a few of these players but of mostly familiar Davis material and standards – but the trumpeter was, once again, out to reinvent the music.
"My playbook, the songs we would play every night, started to wear thin," Davis said.
ESP was the one which served that purpose of reinvention with all but drummer Williams assisting in the seven compositions and the music's creation.
Davis' confidence is high and his playing is assured throughout, and the others are all on point too in a set which is as comfortable with blues intonations (Eighty-One co-written by Carter with a terrific Davis solo) as it is stretching towards a kind of almost-free abstraction (RJ, Agitation)
There is considerable space allowed in places (Hancock's Little One) and Davis' intention was, in the words of Carter, "like getting to the essence of the composition".
"He'd take some inherent structure and leave us room to breathe and create something fresh every night. There were the basic elements the song, but not used exactly as they were in the composition".
This would increasingly become a feature of Davis' style as heard on In a Silent Way four years later.
But during this period – half a dozen studio albums with this group, among them the equally fine Nefertiti ('67) and Filles de Kilimanjaro ('68) – Davis was in a period of transition, the experiments being conducted before the public's ears.
Recorded over three nights in January '65, ESP allowed Davis to take his audience with him by cleverly not straying too far from his established style on slower tunes (the spacious and sublime Iris opened by Coltrane's reflective tenor) but kicking things up a notch into what he called "controlled freedom" (as on Mood).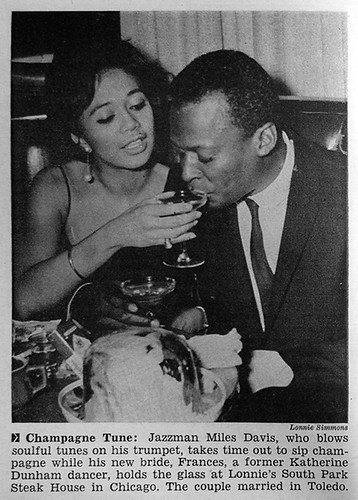 "Miles was the man," said Carter, "Guys were killing to get that gig [of being in the band]."
Away from the studio and live sessions (Live at the Plugged Nickel recorded in December is an essential bandstand release), Davis' private life and problems were mounting however.
He had health issues and a hip operation, there was cocaine and alcohol, always other women and he was violently abusive towards Frances, an acclaimed dancer who he insisted give up a major Broadway role just to stay at home for him and his children.
By his own account she left after he threw a beer bottle at her and told her to have dinner ready when he came back.
And doubtless that explains something of her fearful expression on the cover of an album which in places is romantic and beautiful, calm and centred in a way their life together certainly wasn't.
ESP is available on Spotify here.
Here is the back cover liner notes/poem by Ralph J Gleason, to be read aloud as the music plays.
.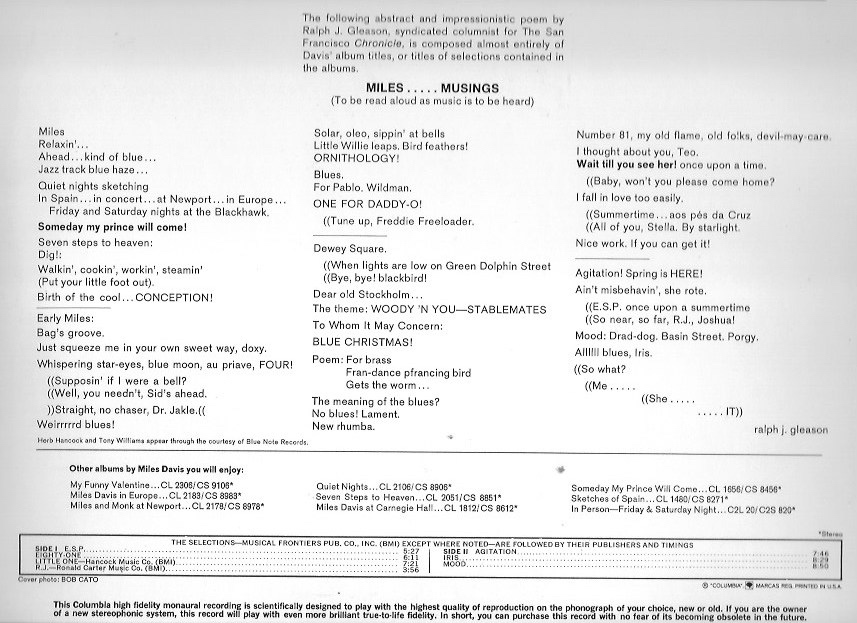 .
Elsewhere occasionally revisits albums -- classics sometimes, but more often oddities or overlooked albums, some by major artists -- and you can find a number of them starting here