Graham Reid | | 3 min read
Almost 20 years after the Beatles brought the spotlight and microphones to their hometown, Liverpool was once again the sight-lines of the music world.
A 1980 UK compilation of Northern bands, Hicks From the Sticks, singled out Nightmares on Wax, Modern Eon and Wah! Heat from Liverpool.
Of them Wah! Heat (subsequently Wah!, the Mighty Wah! And other variants) were the most promising and sprung the career of Pete Wylie who had been in the short-lived Crucial Three with Julian Cope (Teardrop Explodes) and Ian McCulloch who went on to form Echo and the Bunnymen.
In 1980, Liverpool was exploding with talent and bands like Teardrops and Echo which stood apart from the post-punk experimentation elsewhere.
As Simon Reynolds noted in Rip It Up And Start Again, Bill Drummond who managed Echo and co-founded the Liverpool label Zoo on which they recorded said, "All that stupid post-punk vanguard stuff, we'd just think that was completely stupid. You could never have a group like Gang of Four, say, coming out of Liverpool".
Liverpool bands loved melody and, gloomy though some of McCulloch's lyrics for Echo could be, "there was a gloriousness to the music" said Drummond.
He was right.
The Beatles were long gone – the Cavern demolished for a carpark – and their legacy yet to reach the peak it would in the Nineties, but their "inhibiting shadow lay over Liverpool that would take years to overcome" wrote Ian Pye in Melody Maker in April '81.
By that time Echo and Teardrops had not just stepped out of it but had found their time in the sun.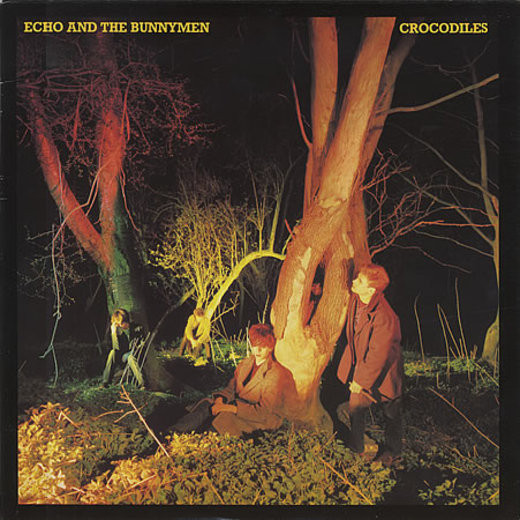 Although Echo would go on to even greater things with their albums Heaven Up Here ('81, voted best album of the year by NME readers) and their massive Ocean Rain, their story began with their impressive debut album Crocodiles, pulled from Elsewhere's shelves at random for a consideration more than 40 years after its release.
Astutely produced by Drummond and David Balfe, Crocodiles was full of chiming guitars (Will Sergeant), the driving rhythm section of bassist Les Pattinson and drummer Pete de Freitas, had an ear to dub echo and showcased McCulloch's vocals which were a blend of Jim Morrison's declamatory style and Bowie heroics with the pop consciousness of choruses (all come together on Stars Are Stars).
There is musical drama throughout (but an emphasis on the positive) and memorable songs like Monkeys, Rescue and especially the debauchery on Villiers Terrace ("people rolling around on the carpet . . . mixing up the medicine") which McCulloch sometimes said was about Cope's Teardrops acid habits but would also insist "[It] isn't about Teardrops at all."
And there isn't a Villiers Terrace in Liverpool: "I just it sounded like a good pair of words".
McCulloch was clever like that.
On the urgent title track over the steel wire guitar of Sergeant he sang self-knowingly "what you're doin' today I'm going to do it tomorrow".
On the throbbing Rescue he sings, "Don't know what I want anymore, first I want a kiss, then I want it all . . . things are going wrong, can you tell that in a song? . . . is this the blues I'm singing?"
That's astute and again full of self-knowledge of how a lyricist can be perceived.
In the UK the album was greeted with cautious enthusiasm for its dour wit, musicianship, McCulloch's confident delivery and the touch of acid.
"The Bunnymen have dug an admirable first burrow. Merseybeat with spiked waters is worth getting addicted to," wrote Trevor Morris.
In this country Crocodiles met with universal critical acclaim: George Kay called it "an album that must figure a place among the the year's best" and Roy Colbert – noting "the writing is more positive than Curtis and more believable than Devoto" of Magazine – said of this "spectacularly good debut" that "any band that plays its two strongest hands on the second last cuts of each side [Monkeys, All That Jazz] has got to be real different. And real good. Five stars".
Crocodiles arrived between the death of Ian Curtis and Joy Division's Closer, the same month as Dexy's Midnight Runners' Searching for the Young Soul Rebels and a few weeks before the Associates' Affectionate Punch and the B-52's second album Wild Planet.
My copy was much played alongside other albums of the time like Siouxsie and the Banshees' Kaleidoscope, Talking Heads' Remain in Light and Magazine . . .
But Echo and the Bunnymen were different, there was an emotional uplift across Crocodiles wrapped up in 10 memorable and discrete songs. "Gloriousness" as Drummond said.
Pulling it off the shelf by chance for these pages was like meeting an old friend who hadn't changed a bit in the intervening decades, and I felt – despite all evidence to the contrary – I hadn't either.
Good feeling that.
Still a great album.
.
You can hear Crocodiles – the expanded and remastered 2007 edition – on Spotify here.
.
Elsewhere occasionally revisits albums -- classics sometimes, but more often oddities or overlooked albums by major artists -- and you can find a number of them starting here.