Graham Reid | | 5 min read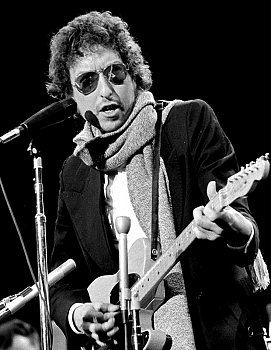 While there is no such thing as a "lost album" by Bob Dylan, if Planet Waves in 1974 hadn't included the enduring and sentimental Forever Young, it might qualify.
Falling between the folk-country
New Morning
and the Famous return To Form that was
Blood on the Tracks
, the water around Planet Waves was muddied by Dylan's departure from his longtime label Columbia for David Geffen's Asylum (a short relationship, Dylan returned to Columbia after just this one album) and Columbia releasing a cobbled-together album under the leaden title Dylan mad up of lesser outtakes from his final year with them.
Planet Waves also followed a greatest hits package, the Pat Garrett and Billy the Kid soundtrack and arrived a few months before the double live album Before the Flood recorded during the enormously successful tour with the Band.
For a guy not doing much there was a lot of Bob Dylan in the world in the early Seventies.
Yet despite massive ticket demand for that Bob+Band tour and Planet Waves going to number one on the US charts (surprisingly his first US #1 album), thereafter the album subsequently failed to sell as Dylan might have expected . . . which most likely lead to the falling out with Geffen.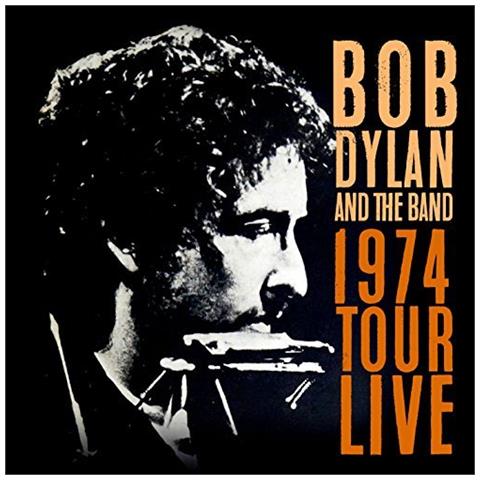 A year after its release it was largely forgotten – on that tour he started playing songs from it but quickly dropped them with only Forever Young remaining – and then he delivered the hugely acclaimed Blood on the Tracks.
Pulled from the shelf at random for this column, Planet Waves proves a more interesting collection than memory serves and doesn't deserve to be relegated to a footnote in his long story.
In some ways Forever Young – part letter to his son Jesse, part sermon, always endearingly sentimental – is the least of the songs by being the most obvious. And while the slow version which closes the first side is lovely, the short fast version which opens the second side is an unwelcome guest which undermines the lyrics and sentiment.
Throughout Planet Waves – recorded in three days with the Band – Dylan looks at love and relationships from various angles (as he would do to better effect on Blood on the Tracks) and at the time it was recorded, late '73 in LA, his marriage to Sara was strained.
They had sold their Woodstock house and were building a sprawling and shapeless mansion – 20 rooms – north of Malibu. It became a source of tension according to those around them. Within six months the marriage was over.
So across Planet Waves – written and recorded before the final breakdown – we hear him vacillating between pure love alongside farewell messages and vague signals abut past and future infidelities.
Some writers – among them Michael Roos and Don Omeara writing in '87 – also read the lyrics as being about Dylan's ambivalence in returning to live performance and the road: "Is he singing to his wife or to his audience?" they asked.
The answer to that and other such questions ("Is he celebrating domestic life or rejecting it?") they concluded was "Both".
Maybe, maybe not.
The album also has songs deeper than that divide: Going Going Gone could be read as much as being an existential crisis as about either of those topics (although the second verse could be addressed to Sara and their relationship) and it is elevated by Robbie Robertson's taut guitar work.
In fact, although this is a musically loose album (the rambunctious, sexual rollick of Tough Mama like a marginally scrubbed up song from The Basement Tapes), that adds to some of its charm, especially on something as steeped in nostalgia and memory as Hazel which seems to be him recalling a long ago love.
One of the finest songs here is also reflective: Something There is About You – lifted by Garth Hudson's organ – is full of mystery, questions and also references his birthplace: "Is it the way your body moves, or is it the way your hair blows free, or is it because you remind me of something that used to be, something that's crossed over . . . rainy days on the Great Lakes, walking in the hills above old Duluth . . . that brings back a long forgotten truth".
Is it about the loss of innocence? His sharp and yearningly soulful tone suggests not as it has an edge of pain etched into the memory.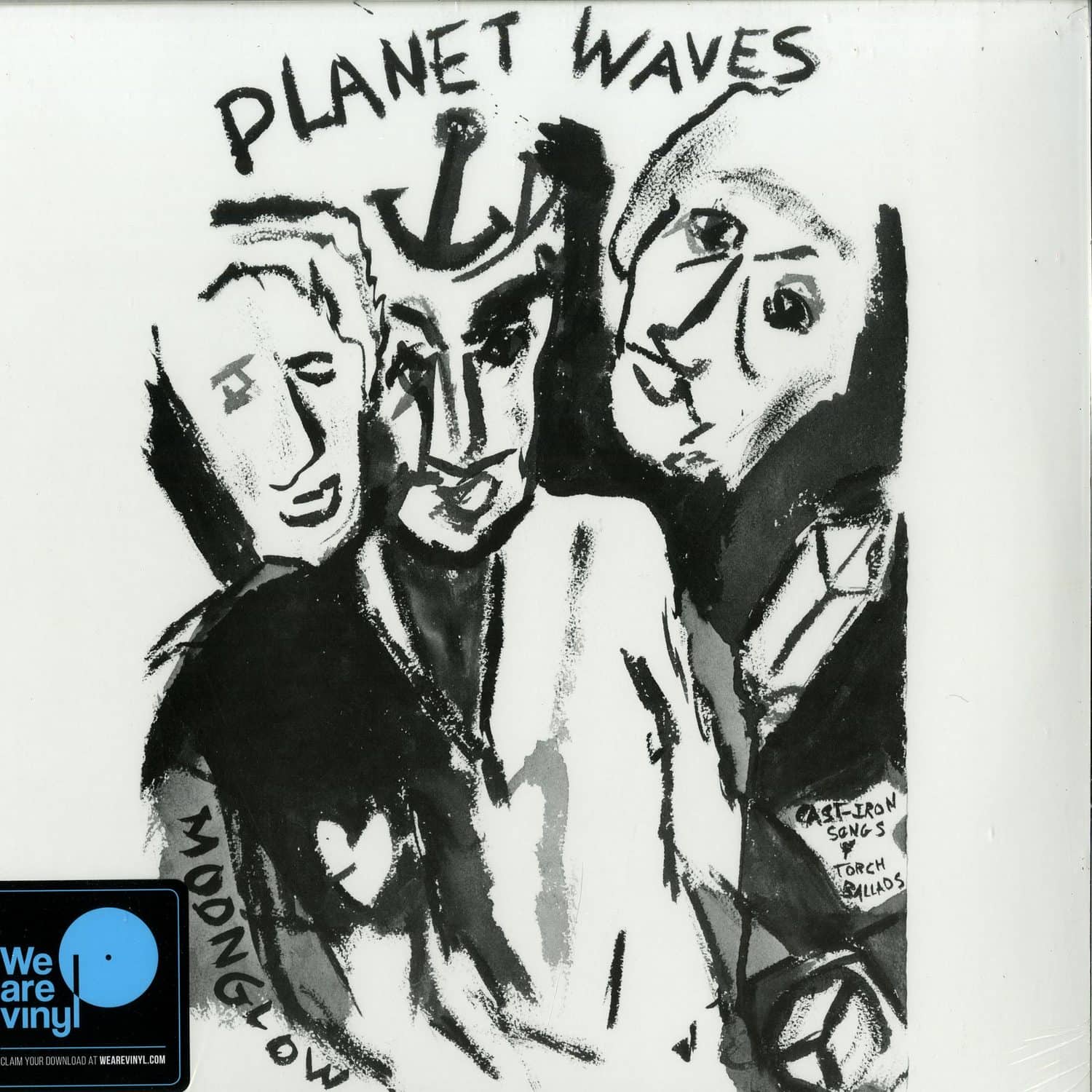 The best here perhaps is the bleak sounding Dirge with just Dylan on piano and Robertson on acoustic guitar. It harks back to his more surreal lyrics of six years previous, but also nails down something about love (or the career) in words dripping with nasty, cold fury and cynicism: "I hate myself for loving you, and the weakness that it showed, you were just a painted face on a trip down Suicide Row . . . I hate that foolish game we played and the need that was expressed, and the mercy that you showed to me, whoever would have guessed?"
It is cold cold song and stands out in this company where On a Night Like This, Hazel and You Angel You radiate a kind of country-flavoured warmth.
And the antithesis of Dirge is Never Say Goodbye which is almost bucolic in its musical atmosphere with lyrics as simple as "footprints in the snow, silence down below . . . you're beautiful beyond words, so beautiful to me, you could make me cry, never say goodbye . . . because my dreams are made of iron and steel".
A lyrical sentiment followed up in the closer Wedding Song (and an afterthought added during mixing):"I love you more than life itself, you mean that much to me . . . ever since you wandered in the circle's been complete, I say goodbye to haunted rooms and faces in the street, to the courtyard of the jester which is hidden from the sun, I love you more than ever and I haven't yet begun.
You breathed on me and made my life a richer one to live . . ."
If this was a letter to Sara it is beautifully simple sentiment and one which wold have won a heart, but his delivery sounds so desperate as to be off-putting, as if there is a menace coiling inside of him.
And surely Sara would hear the other letters here which seem written to the pleasures of previous lovers, and numerous to come.
Maybe after the funereal Knocking on Heaven's Door, with Forever Young and Wedding Song he was becoming The-Songwriter-For-Every-Occasion?
Wedding Song however drives home a point he had been making repeatedly: "It's never been my duty to remake the world at large, nor is it my intention to sound the battle charge . . ."
If there is a broad theme across these songs it is the empowerment love (in whatever shape it comes, then or now or soon) is of value and the greater agenda of the world is of little consequence in al of that.
The love of an artist is free of such larger demands but seeketh only itself to please and satisfy.
Planet Waves is certainly not a great Dylan album lost or not. However out of the 39 studio albums just how many truly are?
But it is a fascinating collection of songs where they may be threads running through. Or maybe not.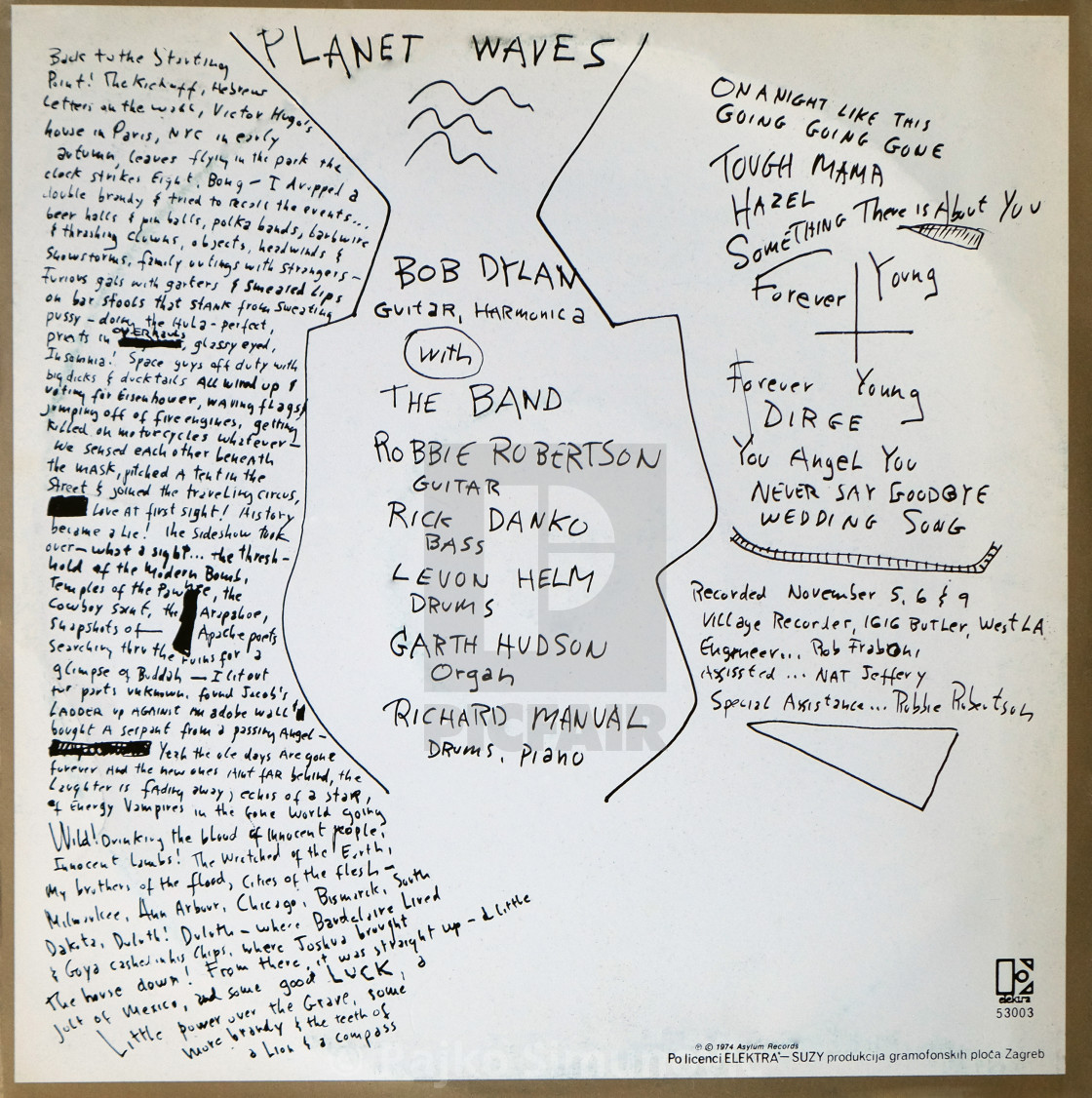 What we do know however is it was his only album on a label aside from Columbia, and the only where every song was with the Band, or members thereof.
It also, in its refracted visions, pointed to what would come after with Blood on the Tracks.
And at least four songs here – Going Going Gone, Something There is About You, Forever Young and Dirge – are important in the canon.
Outstandingly horrible cover art front and back by Bob, though.
.
You can hear this album on Spotify here
.
Elsewhere occasionally revisits albums -- classics sometimes, but more often oddities or overlooked albums by major artists -- and you can find a number of them starting here.