Graham Reid | | <1 min read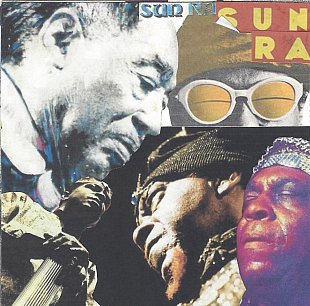 The article this collage accompanied was about a Sun Ra album which ran counter to how many had heard and embraced him, as the spaced out jazz musician heading off to the stars and beyond.
Sun Ra had also lead big bands and knew how to write charts which were blues-based and swinging.
In that, he was closer to Ellington (hence his cameo here) than some prog-rock band.
The album in question was Some Blues But Not the KInd That's Blue from '73 and it probably surprised those who had come to him from that other angle.
And for some reason this art which was used in Real Groove (if I recall) hasn't appeared at Elsewhere since.
Here it is now.
Sun Ra but not the kind that's "Sun Ra"
.
For other Art by Elsewhere go here.