Graham Reid | | 1 min read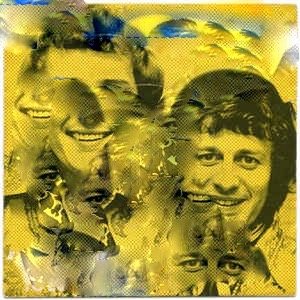 After a lifetime listening to what Noel Coward dismissively called "cheap music", Elsewhere is in no doubt about the reductive nature of pop music.
But sometimes that's part of its charm.
We hold some affection for Herman's Hermits' version of the old music hall song I'm Henry The Eight just for the sheer silliness of it ("second verse, same as the first").
And the industrial clunk of Hotlegs' Neanderthal Man can always bring a smile (and a memory of hearing it while working the nightshift and the massive, similarly clunking machine called the bottomer at what used to be Forest Products in Penrose). You'd be surprised by who was behind that one!
But a couple of songs have a very high irritation factor and we know that by simply typing the words "Hey Mickey" we will have that annoying song by Toni Basil ("Hey Mickey, you're so fine you blow my mind, hey Mickey") going through our head in the half-awake hours tonight.
Same with Gimme Dat Ding by the Pipkins, an uncalled for insult to the sensibilities.
But thinking about that song some while ago send us on a quest: who the hell were the Pipkins and why are they troubling us so?
Turned out tobe an interesting story because the people behind that hit were one of the most successful British songwriters of the late Sixties/early Seventies (who father a Stroke) and a chart-topping singer.
And they conceived . . Gimme Dat Ding?
You can read that story here . . . but the art which accompanied it?
Here's the leap: because they were both pretty anonymous I decided to blur their images and also obliquely refer to the album cover for Herman's Hermits' much ignored but interesting Blaze (their last gasp in '67) because there was a colour similarity. And that multiple-image idea (also seen on Pink Floyd's Piper at the Gates of Dawn) was popular at the time.
Well, it made sense to me.
And I also thought it might add an air of mystery to the Pipkins which was the reason for that page WE NEED TO TALK ABOUT where it appeared.
Did it?
Dunno.
What I do know is I won't sleep tonight because of Toni Basil's Hey Mickey . . .
.
For other Art by Elsewhere go here.