Graham Reid | | 6 min read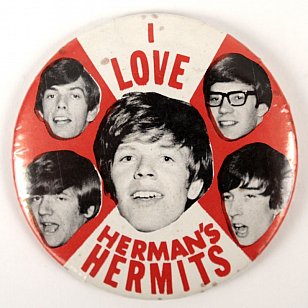 In the mid Sixties, no self-respecting fan of the Beatles, Stones, Who, Kinks and others took Herman's Hermits seriously.
They were a vacuous pop band fronted by the cute Herman (Peter Noone) whose crooked front tooth seemed to get as much attention as their music.
To their small credit however, they were sometimes pretty enjoyable in what they did and their early singles included the catchy I'm Into Something Good, Can't You Hear My Heartbeat and the especially good Silhouettes.
Needless to say they wrote none of these songs, but their producer Mickie Most could certainly pick a good song: those hits came from the pens of Goffin-King, Carter-Lewis (of the Ivy League) and Bob Crewe respectively.
After that things went a bit awry and they started doing music hall songs like I'm Henrey the Eighth I Am and Leaning on a Lamppost (the latter made famous by George Formby).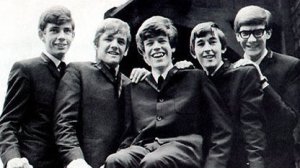 Those trite and slight singalongs followed the equally simplistic Mrs Brown You've Got a Lovely Daughter which gave them their first number in the UK . . . and it went to the top of the charts in the US.
They were massive in the States – those music hall songs seems to be so "English" and unusual over there – and they did all the essential television variety and pop shows as yet another face of the British Invasion. A more pop-friendly one too.
There's a funny scene in the Beatles' Anthology DVD where, in about late '64, an American reporter desperate to prove the Beatles are on the wane asks a little girl, who can't be more than about 10, who her new favourite band is.
You can guess who she says.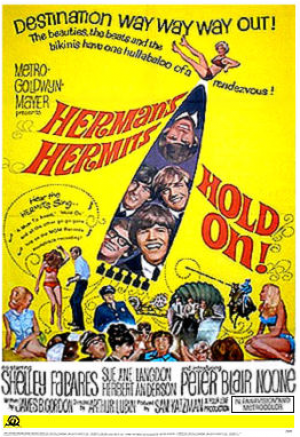 As with other British acts of the period – the Dave Clark Five, Freddie and the Dreamers (from Manchester like the Hermits), Gerry and the Pacemakers etc – they too made a film in which they played versions of themselves.
It was the awful Hold On! of '65 – revealing the era's infatuation with the space programme – with Shelley Fabares who had made her name on the early Sixties US television series The Donna Reed Show. She was between Elvis flicks – Girl Happy and Spinout – when she got the role of playing yet-another love interest for a pop star.
The problem British acts – other than the Beatles – had when they took to the screen was they were largely anonymous. Fans recognised Dave Clark (and perhaps the Five's singer Mike Smith), Freddie and Gerry . . . but the other Fivers, Dreamers or Pacemakers meant nothing.
The Beatles had three frontmen and four distinct personalities which had been well established by A Hard Day's Night in '64, the same year Herman's Hermits formed.
Outside of chipper and chirpy Herman, on the big screen Herman's Hermits had no such presence or personality. Although that didn't prevent a follow-up film three years after Hold On! called . .. yep, Mrs Brown You've Got a Lovely Daughter.
Their flame started to flicker about then and was extinguished in the early Seventies when they split (although there were the inevitable reunions).
So Herman's Hermits were a featherweight band in a decade which bred strong middleweights and quite a few heavyweights.
Even in the Seventies when rock encyclopaedias and reference books started to appear their name was nowhere to be found. They were never rock, always a pop singles band . . . and yet . . .
In The Perfect Collection; The Rock Albums Everybody Should Have And Why which appeared in '82 there is a Herman's Hermits album between Dave Dee, Dozy, Beaky Mick and Tich's If Music Be The Food Of Love and the Easybeats' Good Friday (aka Friday on My Mind).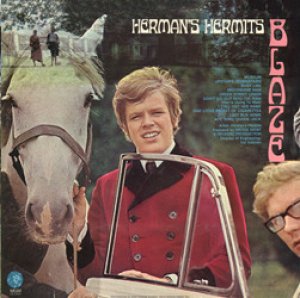 This list of 199 essential albums edited by Tom Hibbert includes Velvet Underground, the Ramones, Patti Smith, Iggy Pop, lots of Stones and reggae . . . and Herman's Hermit's '67 album Blaze.
It is perhaps the most unlikely entry of them all.
Many of the albums included have a cover photo accompanying the brief text but there is none for Blaze, and there was much confusion about the album anyway.
Blaze wasn't even released in the UK at the time and some later pressings had the truly awful US back cover photo on the front (Herman/Peter with a horse which confusingly looks like a still from the Mrs Brown film of a year later?)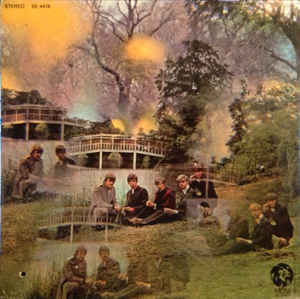 The actual cover of the American pressing is pretty cool because it's a multiple image photo not dissimilar to Pink Floyd's Piper at the Gates of Dawn which appeared in Britain – but barely registered in the US – two months previous. But the image also turned up on the front of a UK hits collection the following year.
Further confusion.
But the cover aside, what is it about this album which warranted a rare inclusion in the credibility stakes?
Well, it's pretty good, that's what.
At a stretch – yes, a bit of stretch admittedly – it was like Revolver as presented by a clever but lightweight pop band who'd smoked a little marijuana.
The trippy pop of Moonshine Man written by the band's Keith Hopwood and Derek Leckenby (guitars) and bassist Karl Green completely lifts the bassline of George Harrison's Taxman and leans a little on Donovan's Sunshine Superman.
Their in-band writers weren't bad at all, but they could only write album songs and not hits.
You could almost imagine Green Street Green written by jobbing songwriter Geoff Stevens (who also penned The Crying Game, founded the New Vaudeville Band and whose There's a Kind of Hush had recently been good for Herman's Hermits) as the Ringo singalong. Or the lightweight, country-flavoured I Call Out Her Name written by Leckenby-Hopwood-Green.
There's a discernible whiff of marijuana-inspired pop here: the opener Museum (by Donovan and having appeared on his Mellow Yellow album six months previous) comes with sitar and conjures up multi-coloured clothes, Indian drones and London when the swinging stopped and the stoning got going.
It was released as a single and disappeared.
In fact, the Blaze album sprung no hits despite the inclusion of the interesting Upstairs Downstairs, another song by hit-writer Graham Gouldman who wrote For Your Love for the Yardbirds and Bus Stop for the Hollies (both of which HH's also covered) and whose No Milk Today had been one of the Hermits' more creditable songs.
To call their version of Kenny Jones' string-embellished Don't Go Out in the Rain Sugar a hit – as some have done – is really stretching it: it wasn't even released as a single in Britain and just got into the US top 20, quite a dump after their previous top 20 and top 10 chart-botherers.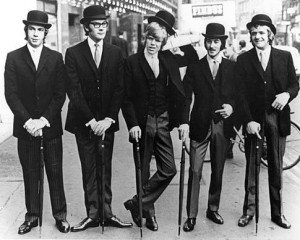 The cheerful Herman style – he was now closer to 20 than 15 when the band started – was pushed back for songs (like Busy Line) which had a more melancholy and introspective feel.
But that was of no interest to their pop audience, or even smart folks who'd already written them off as pop cottonwool, like Freddie and the Dreamers a kind of gimmick act.
Few former fans would want to hear Herman/Peter – the wonky tooth long gone – singing the Stephens-Carter song One Little Packet of Cigarettes or the more adult Last Bus Home: "You've walked out of the in-crowd with a girl you've just met for a little late-night living on your own . . .".
Few very young teens want their pop heroes to grow up to become actual adults and take away the innocence of their youth. Bands like the Beatles were rare in that regard.
So for the little girls who loved Peter Noone just two years before – as in later generations with stars like David Cassidy – there was nothing on the Blaze album for them, even if they heard it . . . which most didn't.
But let's go back to that book The Perfect Collection to hear what contributor Mike McDowell (editor/publisher of Blitz) had to say about Blaze, the great disappearing album in different covers which closes with some strange voices and a smidgen of Lonnie Donegan's My Old Man's a Dustman.
McDowell wrote "If ever a band was perceptive enough to perform their autobiography, Blaze shines as the best example. The rhythm section of Green, Leckenby and [drummer] Whitwam soars throughout the recording".
Aside from the awful tie-in soundtrack to Mrs Brown, it would be the last album Herman's Hermits made.
After being big pop stars just two years previous, they didn't exactly go out on a high.
Blaze, their best album, charted at 75 in the US . . . and not at all in their homeland.
Blaze was reissued on vinyl for Record Store Day in 2015 but the album does not appear on Spotify or at iTunes in its entirety. Many of the tracks appear broken up over compilations, but you can find the complete album on You Tube.